WASHINGTON ― House Speaker Paul Ryan's position in the GOP conference appears a little more secure after President Donald Trump, not Republican leaders in Congress, struck a deal last week with Democrats to keep the government funded and raise the debt ceiling. But rather than actually solidifying Ryan's position, the agreement may only have bought the speaker some time.
"President Trump making a deal on a short-term spending item takes pressure off of the speaker from a performance standpoint," House Freedom Caucus Chairman Mark Meadows (R-N.C.) told HuffPost on Monday, "but adds additional pressure on GOP leadership overall."
Meadows was the member who led the charge in 2015 against former House Speaker John Boehner, offering a proposal just before the August recess to force him out as speaker, hardening opposition that ultimately led the Ohio Republican to step down. Now Meadows seems to be posturing against Ryan, pointing out that the Wisconsin Republican's leadership has left Republicans with little leverage for a December spending deal and hardly any accomplishments.
The chatter that Meadows might be planning something intensified last week after Axios reported that he met with Breitbart News Executive Chairman Steve Bannon and its Washington political editor, Matthew Boyle, to discuss alternatives to the current GOP leadership team. The Washington Post also reported last week that Meadows and former Freedom Caucus Chairman Jim Jordan (R-Ohio) were gauging whether former Sen. Rick Santorum (R-Pa.) or former House Speaker Newt Gingrich (R-Ga.) might be interested in leading House Republicans, though that talk might be more subterfuge than reality.
One source familiar with discussions told HuffPost that Meadows and Jordan were more interested in making Majority Whip Steve Scalise (R-La.) the speaker, displacing Majority Leader Kevin McCarthy (R-Calif.) and making either Jordan or Meadows the majority leader.
Those desires might be just as fanciful as anointing someone outside of Congress as speaker, however, as there's no indication Scalise ― who was wounded in June by a gunman who attacked Republicans during a congressional baseball game practice ― would try to leapfrog McCarthy or cooperate in a plot to take out Ryan.
Ryan's and McCarthy's offices declined to comment, but Scalise's communications director, Chris Bond, told HuffPost that these sorts of palace intrigue stories may make for good headlines but they're rarely based in reality. "Right now Congressman Scalise is focused on completing his inpatient rehabilitation so he can return to the Capitol and continue serving as majority whip, a job he loves," Bond said. 
Making this plot even more far-fetched, the source familiar with the discussions indicated that part of the conservative plan to take out McCarthy would be to require anyone who seeks the speakership to leave their current leadership position to seek a new spot ― something McCarthy might not do and GOP conference rules might not require.
Either way, Meadows swears there is no formal plan to take out the speaker right now. He said any discussions that may have taken place were so premature that they seemed to have excluded a number of conservative agitators who almost certainly would be involved in an actual plot to force out Ryan.
"I don't know that there's any substantial conversations about leadership races that are transpiring right now," Meadows said Monday. And conversations with a number of conservative lawmakers over the last week generally seem to back that up.
But even as Meadows dismissed the talk that there could be an effort to ditch Ryan, the very next thing he said was "there's a real frustration that nothing's getting done."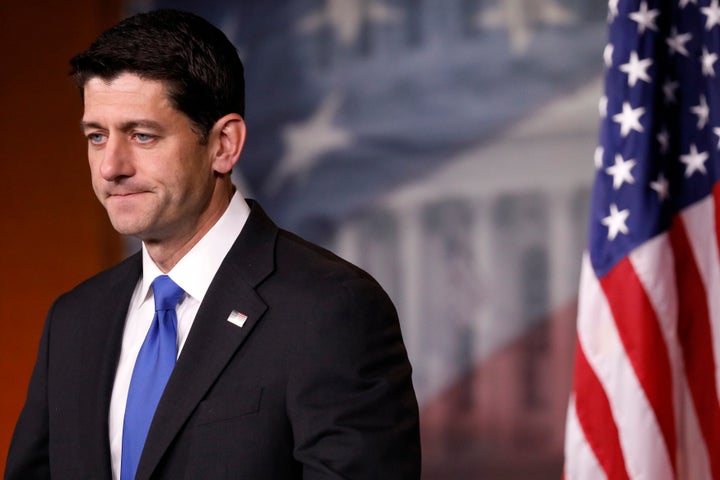 Meadows noted that Republicans had not yet delivered on health care, a border wall or tax reform. And he suggested the deal cut between Trump and Senate Minority Leader Chuck Schumer (D-N.Y.) and House Minority Leader Nancy Pelosi (D-Calif.) was only buying Ryan time before Republicans would have to come up with something for a longer-term spending deal.
"If our leadership waits until December to address debt ceiling, funding the government and everything else, it will not bode well for them," Meadows said.
Although the Freedom Caucus largely voted against the deal to raise the debt ceiling and extend government funding until December, it has tried to avoid blaming Trump for the deal, arguing instead ― somewhat miraculously ― that Trump had to make the deal because Ryan left him no choice.
That was the argument Jordan made repeatedly last week and on the Sunday talk shows, noting that Republicans went home without a debt ceiling plan for the longest non-election-year August recess in more than a decade. Jordan also said no one was talking about "changing the leadership."
Meadows has also refused to acknowledge any sort of potential coup, though his answers have had perhaps a little more wiggle room. (Last week, before news of Trump's deal had broken, Meadows told HuffPost that he knew of no "meaningful" leadership discussions.)
Meadows also denied Monday that he has any interest in being speaker or majority leader, and he said he wasn't looking for any candidate to take on the speaker.
If our leadership waits until December to address debt ceiling, funding the government and everything else, it will not bode well for them.

Rep. Mark Meadows (R-N.C.), chairman of the House Freedom Caucus
"The only time I ever look for a candidate is a few months before Jan. 3 of every year," Meadows said, referring to the biennial speaker election on the first day of Congress.
"At this point, we've got our leadership people in place. It is my hope and prayer that they perform, that they actually get something across the finish line."
Meadows still thinks Republicans can get tax reform done this year, and he suggested accomplishing that goal would be a key toward keeping the president and other House Republicans satisfied with leadership. But Meadows also noted that Republicans ― in the House, Senate and White House ― haven't agreed on even the broadest strokes.
Still, when you talk to Republicans about Ryan's position in the conference, it's clear there's a basic level of dissatisfaction. It's just one that perhaps hasn't spread very deep into the rest of the GOP conference.
For instance, Freedom Caucus member Paul Gosar (R-Ariz.) repeatedly refused to say last week whether he still supports Ryan as speaker, and Louie Gohmert (R-Texas), who noted that he's been frustrated with Ryan "for some time," refused to say last week whether he would vote for a "motion to vacate the chair," a parliamentary proposal that would remove Ryan as speaker.
But other members, some of them in the Freedom Caucus, didn't even feel as if frustration with Ryan was that high now. (Rep. Justin Amash of Michigan said he didn't think the frustration was "particularly high" compared with recent months.) Other members noted that dissatisfaction with the speaker hadn't quite reached their constituents the same way it had at the end of Boehner's tenure.
And yet Ryan and his allies do seem to be preparing for war. Over the weekend, The Wall Street Journal ran an editorial daring Meadows to challenge Ryan, and lawmakers friendly with the speaker noted how Trump's deal had already undercut Freedom Caucus leaders, with the president taking the blame for a bad deal for Republicans, not Ryan. 
One senior GOP aide told HuffPost that no deals or endorsements were going to earn the Freedom Caucus a spot in leadership. "If these guys want more influence, they should focus on winning over and aligning with someone currently in one of the many leadership spots. That will take compromise, and I don't know that these guys know how to do that," the aide said.
The Freedom Caucus' power all along, however, has been as a potential spoiler to Republican policies the group doesn't deem sufficiently conservative. They may not have 218 votes to elect one of their own as speaker. They may not even have a majority of the GOP conference to win in a closed-door race for majority leader. But with roughly three dozen members in their ranks, and a few other sympathetic to their causes who aren't in the group, they may have the roughly two dozen votes to remove a speaker ― or prevent anyone else from taking the job without their sign-off.
One conservative lawmaker noted last week how Ryan had told the GOP conference on Wednesday that the next few months would define the future of the nation and the Republican Party.
"He's absolutely right about that," the lawmaker said. "It also could define his future."
Calling all HuffPost superfans!
Sign up for membership to become a founding member and help shape HuffPost's next chapter
BEFORE YOU GO
PHOTO GALLERY
2017 Scenes From Congress & Capitol Hill