When Congress returns in early September, Republicans and Democrats will only have a few short weeks to raise the debt ceiling. House Speaker Paul Ryan (R-Wis.) faces a problem: The gap between what House conservatives want for raising the debt limit and what they can actually get is looking increasingly vast ― and Ryan may pay a price if he simply turns to Democrats and passes a clean raise to the government's borrowing authority.
House Freedom Caucus Chairman Mark Meadows (R-N.C.) told HuffPost this week that conservatives have proposed a menu of options to GOP leadership. Their ideas include adding debt prioritization language to a limit increase, which would prioritize Treasury debt payments ahead of other spending, and codifying the Trump administration's informal rule ― one regulation in, two out. Freedom Caucus Republicans are also open to making around $250 billion in mandatory spending cuts, as well as attaching a debt ceiling raise to their health care bill.
But none of those options are looking all that likely, with any borrowing limit increase needing the sign-off of at least eight Senate Democrats. And with Republicans controlling Congress and the White House, there's little incentive for Democrats to give Republicans any concession.
If anything, Democratic aides insist, it's Republicans who will have to give in to Democratic demands. One possible option would be to couple the debt ceiling with funds to reimburse health insurance companies serving poor customers. The Trump administration has threatened to withhold those funds, which were promised to insurance companies as part of the Affordable Care Act, but Congress could guarantee the payments.
One senior Democratic aide told HuffPost that negotiations haven't really begun at this point, but a lot of Democratic members are uneasy about approving more debt only to allow Republicans to cut taxes for the wealthy as a result. At this point, another senior aide said, Democrats are taking a "wait and see" approach.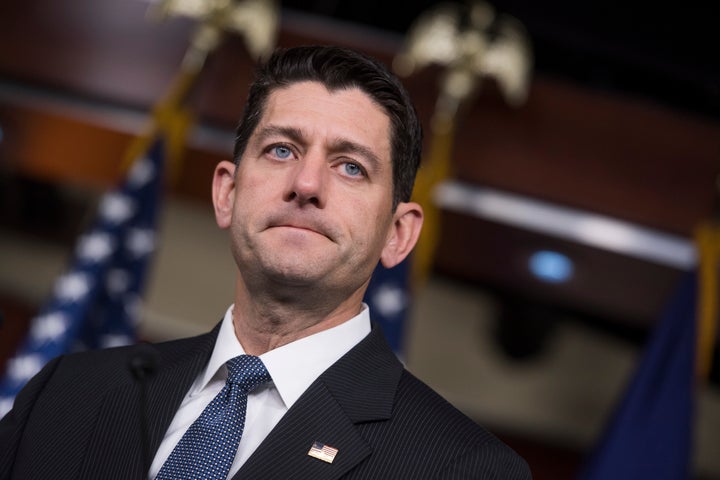 Ryan's office said it's too early to comment on the negotiations or his position on the debt ceiling. But there's a growing sense among conservatives that Ryan's position is more tenuous than he anticipates, especially if he passes a clean debt ceiling raise with the help of almost every Democrat and a small coalition of Republicans.
"It would be extremely difficult for a Republican speaker to put forward a clean debt ceiling and look his conference in the face and believe he's done a job well done," Meadows told HuffPost.
What exactly that means is unclear ― Meadows wouldn't say more. But Republicans speaking on the condition of anonymity were more candid, with one member saying that if Ryan puts forward a clean debt ceiling raise, "it becomes the start of the end for the Ryan speakership."
Another conservative member summed up Ryan's position this way: "He doesn't get it. He's not going to make it to tax reform if he doesn't get through this."
If conservatives actually make the debt ceiling a litmus test for the speaker, Ryan may resist the pressure from Democrats ― and, potentially, the White House and Senate Majority Leader Mitch McConnell (R-Ky.) ― to simply raise the limit without changes. But taking a hard stance could have serious economic implications, calling into question the United States' ability to pay its bills and raising interest rates for future government borrowing. In effect, playing a political game of chicken with the debt ceiling may end up costing the government, and taxpayers, more.
"He's not going to make it to tax reform if he doesn't get through this."
But if you believe some Republicans, Ryan isn't going to cave.
"I would be surprised if Paul Ryan thinks we should do a clean debt ceiling increase," former Freedom Caucus Chairman Jim Jordan (R-Ohio) told HuffPost. "Frankly, I can't believe the speaker of the House is going to go along with a clean debt ceiling increase."
Jordan insisted that Republicans, with control of Congress and the White House, had to get some concession for raising the debt limit. "The idea that we're going to raise the debt ceiling and not do anything structurally on the long-term debt concerns just makes no sense," he said. Jordan pointed to other deals in the past to argue that Republicans had to get something.
"Even if it was 'no budget, no pay,'" Jordan said, referring to a gimmicky 2013 law that placed future restrictions on congressional salaries if lawmakers didn't agree to a budget, "Republicans always get something."
But part of the problem for Republicans is they're still negotiating with themselves. Based on conversations with conservatives this week, even if Republicans secured some small concessions, it seems unlikely they'd get the support of every conservative. Even if they did, it still wouldn't be enough in the Senate. And some Republicans are just apt to vote against more debt.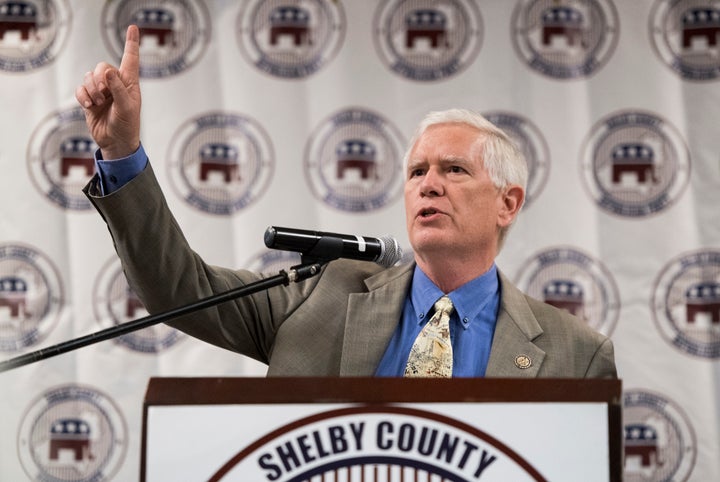 "It doesn't make any difference to me whether it's Barack Obama or John Boehner as president and speaker of the House; my position is unchanged," Rep. Mo Brooks (R-Ala.), who is running for Senate, told HuffPost. "I will not vote to raise the debt ceiling unless there is a serious effort to address the underlying cause of the problem."
Brooks said a "clean debt ceiling raise" was actually a "dirty debt ceiling raise," because lawmakers would be putting the country on a path to insolvency and bankruptcy, leading to the gutting of Medicaid, food stamps and national security.
"That seems like a pretty dirty thing to do to our kids and grandkids and our country," Brooks said.
Asked what increasing the limit without any concessions would mean for the speaker, Brooks danced around the topic, but he suggested that no reforms would be a problem for him.
"I like Paul Ryan personally," Brooks said. "I'm gonna limit this discussion to public policy, and an increase in the debt ceiling without any substantive effort to fix America's deficit problem is a betrayal of America's future and our children and grandchildren."
Rep. Dave Brat (R-Va.) had a similar thought.
"It's not about Paul Ryan," he said. "It's about the Republican brand and fiscal responsibility. Why would we put a clean debt ceiling increase without any reforms whatsoever on a Republican president's desk?"
Brat continued that he had not seen any provision in the Republican platform calling for "$600 billion deficits as far as the eye can see and the bankruptcy of America on the backs of our children."
"Why would we put a clean debt ceiling increase without any reforms whatsoever on a Republican president's desk?"
Rep. Jeff Duncan (R-S.C.) told HuffPost that lawmakers needed "some sort of Spend-aholics Anonymous, a 12-step plan, and possibly an intervention in order to end the Congress' propensity to spend money that we don't have."
But if Republicans can't get Democrats to go along with the sort of sweeping ― or even more limited ― reforms they want in exchange for raising the debt ceiling, would Republicans actually let the government default?
President Donald Trump has recently settled on stock market gains as a signature achievement. The pressure to raise the debt ceiling would intensify quickly once markets start reacting to a default crisis. Already, Treasury Secretary Steven Mnuchin says Congress ought to just pass a clean bill.
That message, however, has been muddled elsewhere in the administration. For one, Office of Management and Budget Director Mick Mulvaney ― himself once a fierce Freedom Caucus member who has voted against raising the debt ceiling ― has said he'd like to see spending cuts or debt prioritization changes before Congress raises the borrowing limit.
Trump hasn't weighed in himself, but it's easy to imagine him refusing to sign a bill that, say, continues government funding, raises the debt ceiling, excludes money for his wall along the southern border, and includes Obamacare-related funding. And with government funding running out at the end of September, around the time that Congress would have to increase the debt limit, it's easy to see all those issues getting rolled into one debate that Ryan, or McConnell, or Trump, or conservatives, or Democrats could derail.
Popular in the Community