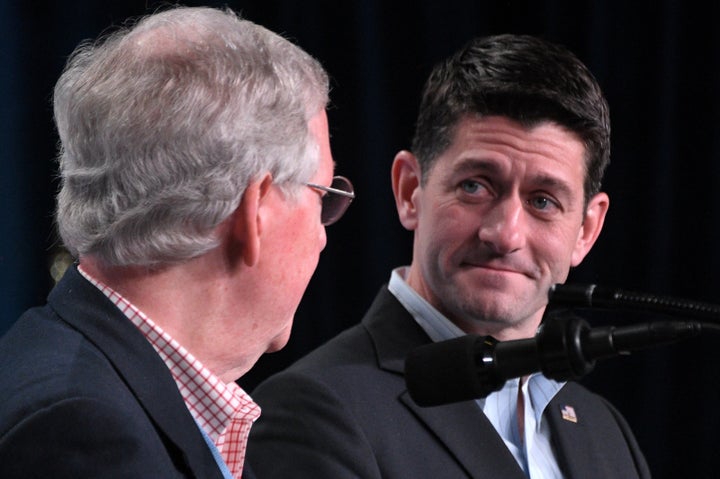 WHITE SULPHUR SPRINGS, W.Va. — With new controversy surrounding the release of a memo alleging FBI abuse ― a memo that Democrats say Rep. Devin Nunes (R-Calif.) materially changed ― Speaker Paul Ryan (R-Wis.) has a theory as to why Democratic leaders are calling on him to remove the Intelligence Committee chairman: They want a distraction.
"I think they're just playing politics and I think they're looking for a political distraction, is what I get out of that," Ryan said Thursday, speaking from congressional Republicans' annual policy retreat at the Greenbrier resort in West Virginia. "Look, the tax cuts are working. Tax reform is working."
Ryan continued that the economy is going well, America has ISIS on the run, and Democrats want to "sidetrack us for some political gain."
"I think they would love nothing more than to play politics and change the subject," he said.
Ryan showed little awareness that he himself was sidestepping a question about a Republican effort to play politics: The Nunes memo is, after all, being used by Republicans to try to undermine and distract from special counsel Robert Mueller's investigation into Russia's alleged connections to the Trump presidential campaign.
The speaker did later address the reports that Nunes changed the memo, saying those changes had occurred before the Intelligence Committee voted to release the document, not after as the ranking Democrat on the House panel, Rep. Adam Schiff (D-Calif.), had alleged. Ryan also said those changes were an important step before releasing the memo, so that sources and methods of intelligence collection would be protected.
When Ryan was asked if he really believed this memo wouldn't be used to undermine the Mueller investigation, he said he was suggesting that "people should not draw lines, people should not implicate—"
"People are drawing lines," NBC reporter Kasie Hunt interjected.
"Well, that's what I'm suggesting. People should not be drawing lines. People should not be implicating independent issues. This does not implicate the Mueller investigation," Ryan said, apparently happy to believe people weren't already using the memo to do just that.
Popular in the Community