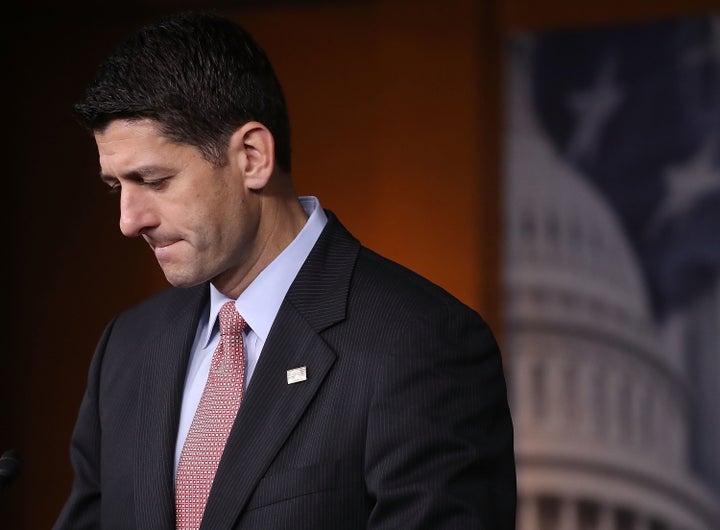 WASHINGTON ― House Speaker Paul Ryan (R-Wis.) on Friday responded to a newly disclosed recording of Donald Trump talking about women in vulgar terms the way he has with so many other Trump outrages: First with silence, and then with a statement.
"I am sickened by what I heard today," Ryan said through a spokesman, about five hours after The Washington Post published a 2005 recording of Trump boasting of groping women and trying to have sex with a married woman. "Women are to be championed and revered, not objectified. I hope Mr. Trump treats this situation with the seriousness it deserves and works to demonstrate to the country that he has greater respect for women than this clip suggests.
"In the meantime," said the statement, Trump won't campaign with Ryan on Saturday in Wisconsin, which would have been the first public appearance of the two men together. Ryan instead will stand on stage with Trump's running mate, Indiana Gov. Mike Pence.
Congressional Republicans lined up Friday night to denounce Trump's crude remarks. For five hours, Ryan's office didn't respond to requests for comment as GOP leaders worked out their coordinated statements. Ryan's statement, which does not revoke his support for Trump's campaign, is the product of political calculation, not revulsion.
This isn't the first time Ryan has spoken forcefully after Trump has said something offensive, but he hasn't wavered in his endorsement.
When Ryan was asked in May about Trump's comments on women — decades of calling them "bimbos," a "beautiful piece of ass," or saying their success on his show, "The Apprentice," was "dependent on their sex appeal" — Ryan could barely contain his excitement in telling CNN producer Deirdre Walsh he wasn't going to get into "the day-to-day, up-and-down of this campaign."
Friday's Washington Post article on Trump's 2005 remarks, with an audio recording, gives an especially raw view of Trump.
"I did try and fuck her," he said of the married woman. He suggested he often made uninvited advances on beautiful women. "I just start kissing them. It's like a magnet. Just kiss. I don't even wait," Trump said.
And he said he gets away with it. "When you're a star, they let you do it," he said. "You can do anything."
He added: "Grab them by the pussy. You can do anything."
Ryan, as "sickened" as he may be by what he heard, sends a signal with his continued support of the GOP nominee. Whether he likes it or not, Ryan is complicit in Trump's actions and words by suggesting the comments shouldn't disqualify him from the presidency.
Meanwhile, in Ryan's separate little world, he sent out a tweet Friday afternoon about legislation for a victims of sexual assault bill of rights, which President Barack Obama signed into law on Friday.
But Ryan's actions and his words aren't matching up.
Ryan, once again, tolerated Trump's comments.
If he were sincerely outraged, we would have heard something sooner, and he would have offered more than just a statement disavowing Trump's comments. He would have disavowed Trump himself.
This article has been updated to include Ryan's statement.
Support HuffPost
The Stakes Have Never Been Higher
Popular in the Community