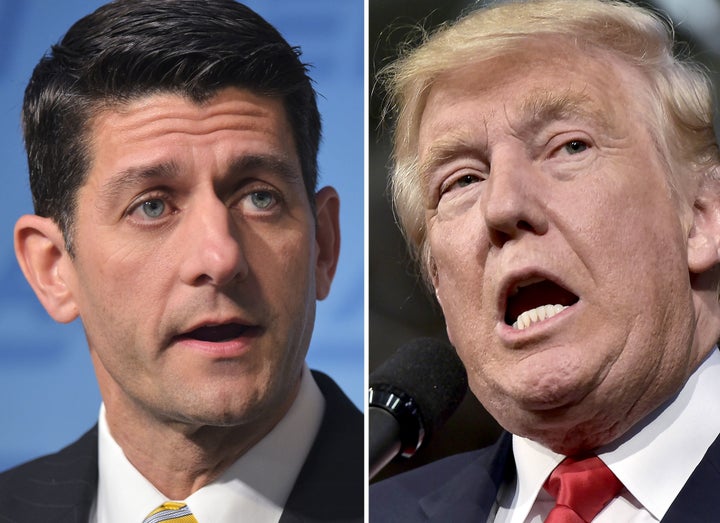 WASHINGTON ― One day after women started coming forward to accuse Donald Trump of sexual assault, and three days after Speaker Paul Ryan told House Republicans that he would no longer defend Trump ― though also wouldn't withdraw his endorsement ― Ryan had lunch Thursday with Wisconsin business leaders and did his best impression of the "this is fine" dog.
As Trump's campaign burns to the ground, Ryan is doing everything he can to ignore the GOP presidential nominee and put on a happy face.
"Not much going on these days," Ryan said at the beginning of the luncheon address in Brookfield, Wisconsin. "Not much to talk about."
Later on, he said, "forget about the buzz of the day, and forget what Twitter storm is going on, I don't know, in the last 20 minutes."
Acknowledging that there's "an elephant in the room" and then failing to substantively address that elephant ― as he literally did Saturday ― is fast becoming Ryan's modus operandi.
Yes, Ryan wants you to know, there is most definitely something bad happening. But what is that bad thing happening?
Ryan hasn't taken questions from anyone since Trump's 2005 remarks came out about inappropriately groping and kissing women. On Saturday, he attended the annual Fall Fest in Elkhorn, Wisconsin, sans Trump or his running mate, Indiana Gov. Mike Pence. (Trump was originally scheduled share the stage with Ryan, before the Access Hollywood comments came to light, and then was supposed to be replaced by Pence.)
On Thursday, Ryan was supposed to take questions from the audience at his lunch round table ― though not the press ― but the speaker left immediately after concluding his remarks. He wouldn't risk an audience member asking about that obvious elephant in the room.
And that's because Ryan's position seems untenable.
He is at once saying he is "sickened" by Trump's words. "Women are to be championed and revered, not objectified," Ryan said in his statement on Friday, responding to Trump's 2005 remarks.
And yet he is still supporting Trump. Ryan hasn't issued a statement about new allegations that Trump actually did the things he bragged about in that hot mic incident. And his office is referring all press inquiries about it to the Trump campaign. (Is the Trump campaign supposed to comment on what Paul Ryan thinks about these new allegations?)
The speaker may be silent on Trump, but he's still finding the time to go after Democratic nominee Hillary Clinton.
Facing some backlash for his posturing against Trump, Ryan issued a 132-word statement Wednesday. But it wasn't about the party's presidential nominee. Ryan was responding to hacked emails, released by Wikileaks, in which Clinton's communications director, Jennifer Palmieri, referenced the Catholic faith of 21st Century Fox Chairman Rupert Murdoch and NewsCorp Chairman Robert Thomson. "I imagine they think it is the most socially acceptable, politically conservative religion ― their rich friends wouldn't understand if they became evangelical," she wrote.
Reacting to Palmieri, who is Catholic herself, Ryan said, "The Clinton campaign's disdain for the Catholic faith and Christian evangelicals is staggering."
"All Americans of faith should take a long, hard look at this and decide if these are the values we want to be represented in our next president. If Hillary Clinton continues to employ people with biased and bigoted views, it's clear where her priorities lie," Ryan added in the statement, without a hint of irony.
Meanwhile, allegations that Trump pushed himself on women, fondled and forcibly kissed them and barged in on naked contestants in his Miss Teen USA pageant are met with silence.
Ryan told his House GOP colleagues that he would no longer be defending or campaigning with Trump ― a move that was seen by Trump and some House Republicans as an act of aggression against the nominee.
And so Ryan is stuck in this awkward position of trying to distance himself from Trump, but without unendorsing him. He can't defend Trump's actions or words, so he'll just be quiet.
As long as you go out and elect all the Republicans on the ballot on Nov. 8.
Popular in the Community