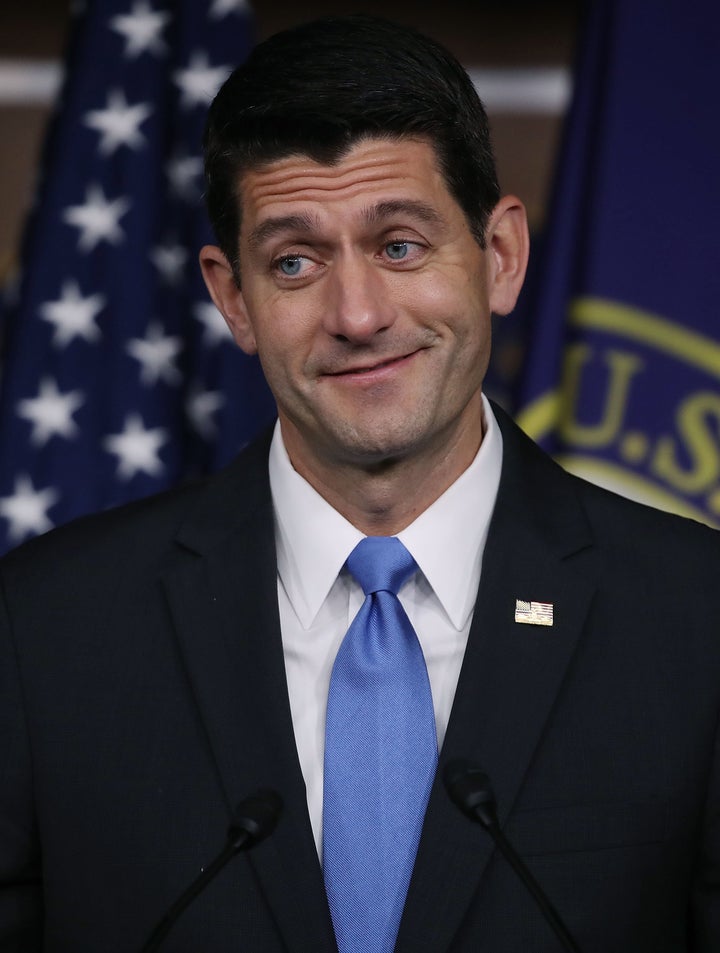 MADISON, Wis. ― How do you hold a question-and-answer session with House Speaker Paul Ryan (R-Wis.) these days and make sure the words "Donald" or "Trump" never come up? You make sure the event is a farce.
The event Friday at the Madison Masonic Center Foundation was billed as an address by the speaker, followed by a Q&A with students. But a friendly Republican moderator chose friendly Republican questions from friendly Republicans, and everything was very friendly.
Ryan took questions from seven students, all of whom asked some version of 'What will you do next Congress?' or 'How can we be better messengers for the Republican message?'
(Ryan was able to pull out his Better Way agenda numerous times to answer the first question, and he responded to the second brain-buster by offering the insightful advice that students should be friendly and debate issues.)
The moderator, Vicki McKenna, a local radio host who made no secret of her allegiance to the Republican Party during the event, said at the outset that she chose the questions from a set that students submitted ahead of time. While the students did get to ask the question themselves, McKenna was clear that the students shouldn't hold the microphone, and if they had a follow-up, they should ask her first.
No one had a follow-up. No one needed one.
Ryan told his House Republican colleagues on Monday that he was done defending Trump, though he also said he wouldn't unendorse the nominee.
And outside of a brief statement last Friday following the release of a tape showing Trump bragging that he had sexually assaulted women, Ryan has been silent on Trump. On Saturday, at an event that Trump was originally supposed to attend with Ryan, the speaker acknowledged "an elephant in the room" without actually saying anything else about that elephant.
On Friday, Ryan mentioned Hillary Clinton's name six times, as he made the case that if she were handed the presidency, Clinton would remake America "in the mold of liberal progressivism."
Ryan has said he sees the presidential election as a binary choice, so the only logical conclusion when he rails against Clinton is that he's for Trump. He's just not going to say that. And no one's going to make him, particularly not an amiable moderator or a bunch of college students.
In response to questions about whether there were ground rules to the event, Ryan's political spokesman, Zack Roday, told HuffPost: "The students submitted questions and Paul answered as many as he was able to in the time allotted. We didn't filter out any questions about Trump, no."
McKenna did not immediately respond to a request for comment on how she selected the questions.
REAL LIFE. REAL NEWS. REAL VOICES.
Help us tell more of the stories that matter from voices that too often remain unheard.
BEFORE YOU GO
PHOTO GALLERY
Christian Women Preach