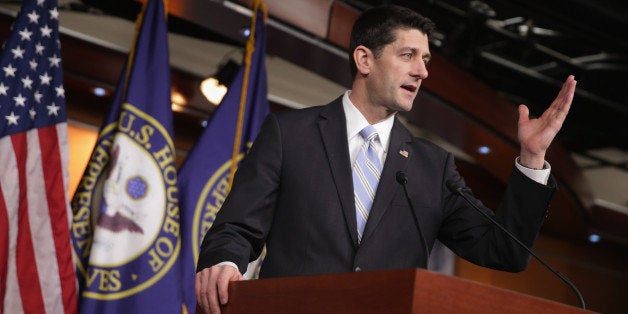 As Paul Ryan tries to extend the bipartisan honeymoon that accompanied his inauguration as Speaker of the House into 2016, passing the much-lauded criminal justice compromise that a group of senators unveiled last fall looks awfully tempting as a next act.
But as a lawmaker who prides himself on his wonkishness, the speaker might want to think twice before going for the easy win. The Senate bill does some good, but it's a messy proposal that gives with one hand and takes with the other. Meanwhile, Ryan has a carefully researched alternative on his desk -- a bill authored by his fellow Wisconsin Republican and friend Jim Sensenbrenner, together with Virginia Democrat Bobby Scott. The Sensenbrenner and Scott bill, known as the SAFE Justice Reinvestment Act, is backed by some of the chamber's most conservative Republicans. And there is more to come: A bipartisan task force that Congress created two years ago to examine the federal prison system will soon issue recommendations that could shake up the debate.
"They aspired to be bold," said Nancy La Vigne, the lead staffer for the Charles Colson Task Force on Federal Corrections. The group operated on the principle that public safety was more important than hitting any particular target for cutting the prison population, La Vigne said. Even so, she expects the Colson reform proposals will go further than any legislation now on the table.
Of course, the question is whether anything that goes beyond the Senate compromise has a chance of passing. (Some advocates have nicknamed that bill Sriracha, catchier than its official title, the Sentencing Reform and Corrections Act). The two gatekeepers of justice legislation, Senate Judiciary Committee Chairman Chuck Grassley and his House counterpart Bob Goodlatte, are both reform skeptics. Grassley negotiated Sriracha, and Goodlatte is sponsoring a trimmed-down version of it in the House. Pushing them further will be hard. What's more, Sriracha boosters fret that there is not much time to act before 2016 election fever takes over, and after that, the momentum for justice reform might unravel.
That's where Paul Ryan comes in. The Speaker himself has previously co-sponsored a sweeping proposal to cut drug-related mandatory minimum sentences in half, and he included criminal-justice reforms in his 2014 anti-poverty plan. If Ryan now proves willing to lean on Goodlatte, and by extension Grassley, reform might take longer to achieve ¬-- but it could also turn out much better.
Ryan need not worry that such a move would expose him on his tender right flank. Some of the House's most right-wing members have signed on to Sensenbrenner and Scott's SAFE Justice bill. The legislation had 57 co-sponsors as of early January, including 28 Republicans. Among them are Freedom Caucus members Raúl Labrador of Idaho and Ted Yoho of Florida, and other right-wing diehards such as Thomas Massie of Kentucky and Mia Love of Utah. The Colson
Task Force also has strong conservative bona fides. Its namesake was a conservative folk hero, a Watergate villain-turned-prison evangelist. It was created in 2014 at the urging of former Republican Congressman Frank Wolf of Virginia, and the chairman is J.C. Watts, a former GOP Congressman from Oklahoma.
As Scott wrote in a November memo pleading with reform advocates to fight for his bill with Sensenbrenner, "It is false to act as though the appetite for significant and wide-ranging reform does not exist."
Nor should reformers fear that the opportunity for criminal justice reform will be fleeting. If the House and Senate pass rival bills this year and fail to reconcile them, the issue will stick out as a major agenda item to come back to in the new Congress -- especially if Democrats win control of the Senate, pushing Grassley out of his veto role on the Judiciary Committee. Media interest in the many injustices of our prison system remains insatiable. Liberal activists are pushing the issue harder than ever, and they are now matched by a robust conservative reform movement.
The Colson report will be important because it will provide projections about the impact that various policy options would actually have on the federal prison population. Neither Sriracha nor the SAFE Justice legislation offers anything like that. We do have some numbers on the Senate bill, but they are incomplete and not particularly impressive. Consider:
The U.S. Sentencing Commission estimated in October that under Sriracha, 4,300 out of the roughly 75,000 people who are sentenced to federal prison per year would receive shorter sentences each year. That's equal to about 6 percent. The biggest chunk of these beneficiaries - some 3,300 - would see their sentences cut thanks to an expansion of the so-called "safety valve," which allows defendants in drug cases to sidestep the mandatory-minimum sentence. The overall impact will be tiny, however. Within five years, the Sentencing Commission projects the Senate bill's safety-valve relief would save close to 1,600 prison beds. That's less than 1 percent of today's federal inmate population, which stands at 196,000.
The Sentencing Commission also estimated that about 7 percent of current federal prisoners could have their sentences shortened under Sriracha. Nearly half of those 7 percent would benefit from a clause that simply gives crack-cocaine offenders already in prison a chance to get their sentences reduced to the new, more-reasonable levels authorized in a 2010 reform. The issue has been controversial, but it should be considered a patch on a prior policy choice, not a major new decision.
The upshot, Molly Gill of Families Against Mandatory Minimums told HuffPost, is that Sriracha is "a very modest bill with a very modest impact." This minimalism is a result of the fact that many of the merciful provisions in the bill contain exemptions or end up extending punishments to new groups of people. As Human Rights Watch's Antonio Ginatta wrote, "The bill resembles an accordion -- it shrinks and then expands."
What makes the Scott and Sensenbrenner legislation better? The authors have not gotten access to the Sentencing Commission data that would have allowed them to create projections. But their legislation does many of the good things the Senate bill does, and a bunch more that the Senate bill leaves out, such as requiring that eligibility for drug-trafficking mandatory minimums be based not on the quantity of drugs involved but on the offender's role in the conspiracy. What's more, Scott and Sensenbrenner have none of the caveats that burden the Senate bill.
The Senate's Sriracha bill and its House companion have both cleared their respective judiciary committees. Meanwhile, the SAFE Justice bill never got a hearing in the House Judiciary Committee, and in fact, it seems Goodlatte has been doing his best to preempt the legislation. So the Speaker might want to think twice before rushing Sriracha to the floor.
Paul Ryan took the speakership vowing to decentralize power and re-energize House committees. It's a noble cause, but it's fair to ask that in return, the committees serve as open forums that do serious policy analysis, not just legislative sausage-making. On criminal justice, Ryan has a chance to establish that principle.
Calling all HuffPost superfans!
Sign up for membership to become a founding member and help shape HuffPost's next chapter