 TAMPA, Fla. -- Before Rep. Paul Ryan left the stage Wednesday night at the Tampa Bay Times Forum, journalists took to Twitter for some real-time fact-checking.
Soon after, several media outlets, including The Huffington Post, called attention to misleading statements from Ryan's speech. The New Republic's Jonathan Cohn asked if it was the most dishonest convention speech" ever. New York's Dan Amira described it shortly before midnight as "appallingly disingenuous and shamelessly hypocritical," with his colleague Jonathan Chait -- who claims to have "the equivalent of a master's degree in Ryan lie-ology" -- later calling out the Republican candidate for "brazen dishonesty."
At around 12:15 a.m., the Associated Press hit the wire with a piece detailing "factual shortcuts" on issues like Medicare, economic stimulus, and the closing of a GM plant in his hometown of Janesville, Wis.
The political media has received its own share of criticism for a "he said, she said" approach to covering politics, giving Democrats and Republicans the chance to simply rebut one another -- sometimes anonymously -- without making a judgment about whether a statement is actually true or false.
But as fact-checking has increased in the 2012 race, so has the backlash against it from the the conservative media, quick to suggest "liberal bias" at play. Not surprisingly, several right-leaning journalists and bloggers pushed back Thursday against the flurry of Ryan fact-checks.
The Washington Post's Jennifer Rubin -- whose colleagues Dylan Matthews and Glenn Kessler each found falsehoods in Ryan's speech -- offered a counter-fact-check. Breitbart's John Nolte declared that the "Era of Media Fact Checkers Intimidating Republicans Is Over." And in analyzing the AP's piece, Hot Air's Ed Morrissey wrote that "fact checkers have made a mockery of their own profession by stepping all over their own biases to refute Ryan."
Despite the conservative media pushback, the emerging consensus among fact-checkers is that Ryan's speech was blatantly misleading. While CNN's fact-check found Ryan's statement on the GM closing to be technically true, it was also "incomplete," neglecting important pieces of context.
Michael Oreskes, the AP's senior managing editor for U.S. news, disagrees with any suggestion of bias.
"When we do it to one candidate, the people who support that candidate feel their candidate's been singled out," Oreskes told The Huffington Post. "Next week, we'll be doing it with the Democrats."
Oreskes said that the "fact-check has become a basic part of our campaign coverage." In this case, five AP reporters, each with different areas of expertise, contributed to fact-checking Ryan's speech. Oreskes said they relied on their own reporting -- including that surrounding the closing of the Janesville GM plant -- not opposition research.
Doing such fact-checking, he said, has become commonplace, with the news organization looking closely at statements from Democrats and Republicans three times per week on average. "What you're seeing here is something we do regularly, being propelled onto a much bigger stage," Oreskes said. "This was the biggest audience Paul Ryan's had. This was the biggest audience for our fact-checkers."
While Democrats may be quick to cite the AP's latest fact-check, Republicans have done so in the past. In fact, Oreskes noted that the RNC has cited AP fact-checks of Democrats twice in mass emails in the month of August.
The practice of media fact-checking -- and the backlash to it -- has been on display throughout the Republican Convention.
On Tuesday, Romney pollster Neil Newhouse said at an ABC News/Yahoo panel in Tampa that the campaign doesn't care its ad attacking Obama's waiver policy on welfare has been labeled false by several media outlets.
"We stand behind those ads and behind the -- the facts in those ads," Newshouse said. "And you know what? What these fact-checkers -- fact-checkers come to this with, you know, their own sets of, you know, thoughts and -- and beliefs. And you know what? We're not going to let our campaign be dictated by fact-checkers."
Obama seized upon that line the following day on the stump.
Jake Tapper, the ABC chief White House correspondent who jumped in the fray during Ryan's speech to tweet that he was against the debt commission report, told the The Huffington Post that not all fact-checking can be done instantaneously on Twitter. He pointed out that the GM plant issue, for one, is a "more complicated story" than can be wrapped up in 140 characters.
Still, Tapper said fact-checkers and reporters regularly fact-checking candidate statements need to be "vigilant," regardless of the criticism levied from either side.
"I've seen liberals and conservatives make fun of fact-checkers," Tapper said. "I've seen both the Obama campaign and the Romney campaign make claims challenged by fact-checkers. The truth of the matter is, it's a thankless job."
Related
Before You Go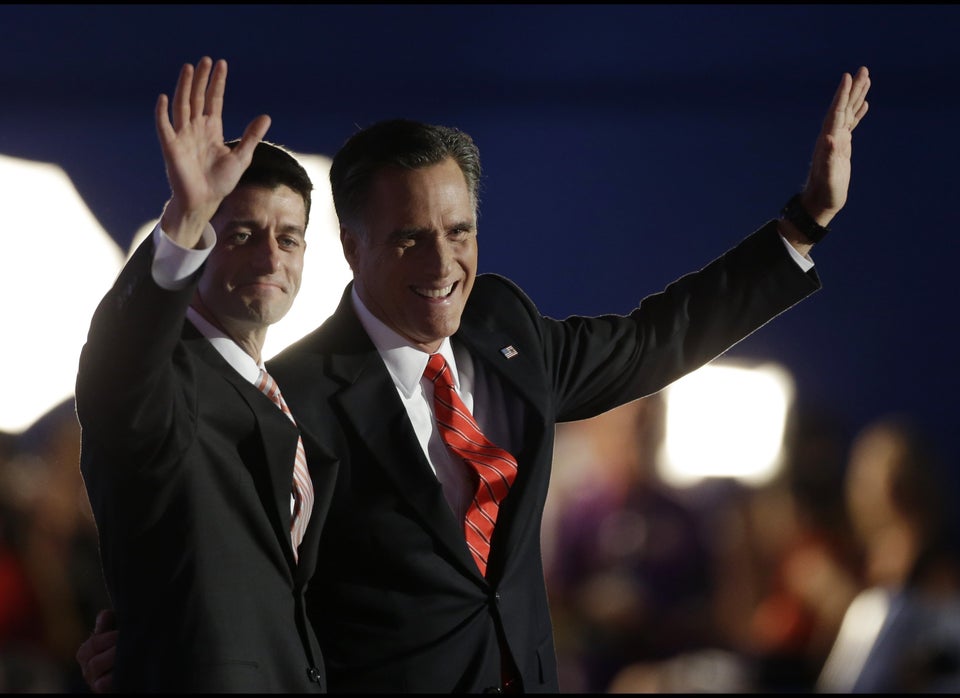 Republican National Convention 2012
Popular in the Community