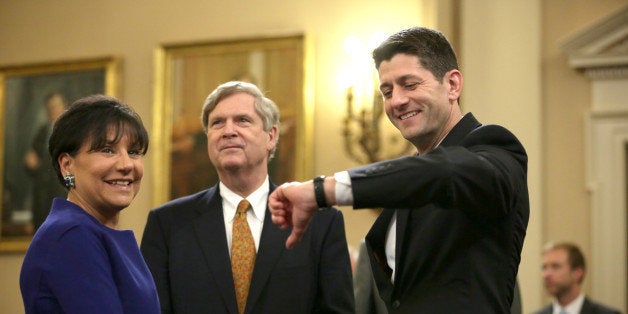 WASHINGTON -- House Ways and Means Chairman Paul Ryan (R-Wis.), the go-to person on trade for Republicans and the White House alike, says he's more confident than ever that he'll be able to give the president what he wants.
Over the past month, Ryan has pushed hard to corral Republican support in the House for legislation that would give President Barack Obama fast-track powers to funnel trade deals through Congress, thereby avoiding amendments and filibuster threats. Ryan's message: The bill "empowers" lawmakers and "brings more accountability, and transparency."
"That is effectively the message I am giving to our members, and I think it's a very convincing argument," he said on Thursday.
Gaining fast-track power from Congress is critical to Obama's agenda, and to the White House's ongoing negotiations with 11 Pacific countries attempting to seal the deal on a major trade agreement known as the Trans-Pacific Partnership, or TPP.
Speaking Thursday to a packed room of at least 30 reporters, Ryan exuded confidence.
"I feel very good," he said. "Two years ago, I said we were going to need 50 Democrats to get this done. We won't need that anymore. We are still going to need the president to deliver votes, and more than they have right now... But candidly, I have never been as confident about it as I am right now."
It's a bold statement ahead of what is expected to be a long and grueling debate over trade in the House this month. Ryan's comments came hours after House Minority Leader Nancy Pelosi (D-Calif.) said she thinks Republicans will need the cooperation of at least 200 members of their own party to get fast-track across the finish line. Pelosi added that it's not her responsibility to help Obama out.
The TPP debate has turned into one of the rare occasions where Obama is facing off against his own party -- even against Pelosi and Senate Minority Leader Harry Reid (D-Nev.), the party's leaders in Congress who are usually the president's most stalwart partners when it comes to advancing his agenda.
Ryan and other GOP leaders have had to move delicately in courting other members of their party, just as Obama has had to proceed with caution while targeting Democrats.
"Having someone from the Obama administration call [Republicans] isn't particularly helpful," said Ryan on Thursday. "It's basically us talking to them."
Ryan added that Obama is "working the phones pretty hard," judging by the number of Democrats who have told Ryan the president has reached out to them.
But Democratic leadership in the House isn't lending a hand to the effort, as a majority of the party is vehemently opposed to fast-track and trade deals. Democrats argue that such measures hurt American workers and create opportunities for environmental and human rights abuses.
"It is a very large number in our caucus that is not supportive" of fast-track, Pelosi said.
Ryan, for his part, said he isn't trying to court Democrats, instead leaving that up to Obama -- though the task presents a heavy burden for White House officials.
"We are basically depending upon the president to deliver the votes he needs to deliver," Ryan said Thursday, though he added that the trade bill would not be brought to the floor unless Republicans knew they would have the votes to pass it.
The most recent estimate The Huffington Post has heard, provided two weeks ago by one member of Congress, put Republican votes at 170. But Ryan's confidence this week suggests that number may have gone up.
On Wednesday, The Wall Street Journal reported that Obama had told Rep. Jim Himes (D-Conn.), vice chair of the New Democrat Coalition, that he has 20 Democratic votes in his pocket.
Ultimately, the vote is expected to be close, and policy issues will likely bog down the debate even further.
At issue for Democrats is the Medicare offset included in the trade adjustment assistance bill, intended to help U.S. workers displaced by jobs lost to trade deals. Democrats want another option that will pay for the assistance, not cuts to Medicare.
Ryan said Thursday that Republicans are willing to give Democrats what they want on trade adjustment assistance.
"We are open to changing the offset. This is something that I've always been open to changing if it's felt to be necessary," he said. "How and where, when we make a decision, I'll let you know."
Ryan also needs to resolve the issue of certain language included in the Senate-passed bill that blocks countries marked with a Tier 3 designation on human trafficking -- the worst marker a nation can receive from the State Department -- from entering trade deals with the U.S.
That poses a problem for Obama's work on the TPP, where one of the 12 countries hoping to be included is Malaysia -- a Tier 3 offender on human trafficking.
Fixing that would involve putting some modified language in a customs trade enforcement bill that's expected to go to conference between the Senate and the House.
"We are pretty much in agreement on about 85 percent of that bill, so I do not foresee a very long conference whatsoever," Ryan said.
He added that the modified language -- which would allow Tier 3 countries to participate in trade deals like the TPP as long as they make concrete plans to rectify their modern-day slavery problem -- was approved by Sen. Bob Menendez (D-N.J.), the author of the original measure, as well as by other lawmakers.
"We think it's important to stand against human trafficking and the compromise worked out... [It's] something that outside groups think is good language. We have already agreed to put that in conference in the customs bill," said Ryan.
Ryan advised Menendez to "take yes for an answer" because the House would be "putting his [new] language in the customs bill."
When pressed on Malaysia's slavery record, and his view that U.S. leadership on trade boils down to a "moral authority issue," Ryan said the Senate's version of the trafficking language would have hurt other countries.
"Don't harm other countries we are trying to deal with -- Japan, Canada, Australia -- because of Malaysia's problems... We shouldn't confer Malaysia's sins to these other countries we are trying to get agreements with. And that amendment, done that way, would have done that," said Ryan, adding that the language passed in the Senate "would have derailed getting trade agreements with other countries."
For the first time ever, Ryan said, the U.S. has made human rights a "primary negotiating objective. We have never done that before."
Calling all HuffPost superfans!
Sign up for membership to become a founding member and help shape HuffPost's next chapter
BEFORE YOU GO
PHOTO GALLERY
Paul Ryan Has Deep Thoughts