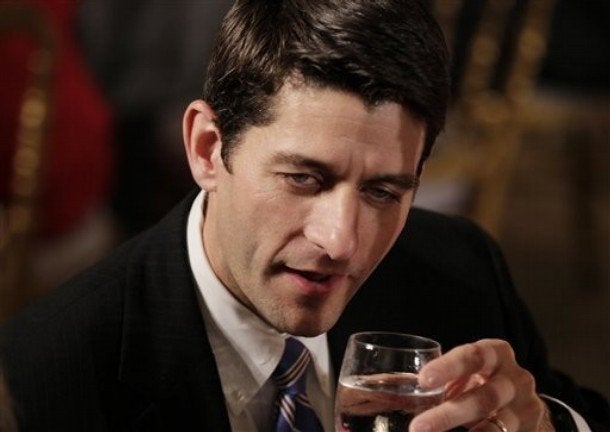 WASHINGTON -- Democrats were planning a large protest at a Republican state senator's fundraiser on Thursday evening, but the event's big attraction, Rep. Paul Ryan (R-Wis.), will now be a no-show.
Kapanke Campaign Manager Jennifer Harrington confirmed to The Huffington Post that Ryan will not be attending, repeatedly stressing that it was entirely the campaign's fault for failing to confirm the congressman's attendance before sending out the invitation.
"Our event staff never confirmed with the Congressman's office that he was actually coming and sent out the invitation without confirming with his office," said Harrington. "The mistake was entirely on our end. He had never planned on coming. He's attending a family event this evening."
The fundraiser is still slated for Thursday evening, and Kapanke will be there. Ryan's spokesman confirmed that the congressman will not be at the event.
Kapanke is Democrats' top target for recall after he and his fellow Republicans voted for Gov. Scott Walker's (R) legislation stripping public employees of their collective bargaining rights.
"Dan Kapanke has walked in lockstep with Scott Walker and he has stood by Paul Ryan's plans to end Medicare, but Ryan's appearance at a fundraiser this evening was abruptly and without warning canceled," said the party's statement. "He may try hiding it from the public, but Coulee Region residents can rest assured that, behind closed doors, Dan Kapanke still is right behind Paul Ryan's destructive plan that will make seniors pay more for health care so that billionaires can get tax cuts."
Harrington said that Ryan remains supportive of Kapanke, and they hope to schedule an event with him at some point.
If Ryan had shown up to the event, it's likely that he would have faced large protests. A Facebook posting advertised "a press conference and rally to bring attention to the devastating consequences of the Ryan-Kapanke plan to privatize Medicare, cut Badger Care and put our most vulnerable citizens on the chopping block."
Ryan has repeatedly faced protests as he's traveled through the Midwest talking about his budget proposal, with people holding signs reading slogans such as "Hands Off My Medicare" and "Paul Ryan plan: Let them eat cat food."
Wisconsin's Government Accountability Board is set to rule Monday on whether to schedule recall elections for three of the Republican senators -- including Kapanke -- against whom Democrats filed petitions.
Up to nine state senators (six Republicans and three Democrats) potentially face such elections.
UPDATE: A print version of the invitation (with the promise of Paul Ryan's attendance), passed along to The Huffington Post by a source in Wisconsin:
Calling all HuffPost superfans!
Sign up for membership to become a founding member and help shape HuffPost's next chapter