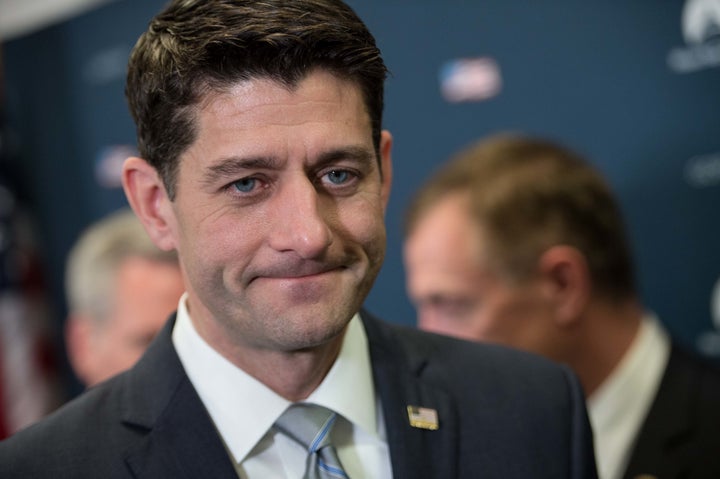 WASHINGTON -- After a marathon markup session lasting nearly 10 hours, the House Budget Committee narrowly advanced a spending blueprint late Wednesday night that almost certainly lacks majority support in the House, leaving GOP leadership with a familiar question: Now what?
Speaker Paul Ryan (R-Wis.) is still weighing his options, but the former budget chairman is all too familiar with the different concerns among the House Republican factions. 
There are the conservatives who think the budget spends too much; the defense hawks who want to make sure it spends enough on the military; and the appropriators who just want to make sure they get to spend.
But all of those decisions are in real jeopardy over a disagreement on the top-line spending number. On Monday, more than 30 members of the conservative House Freedom Caucus said they would not support the budget. And without those votes, Republicans would lack the majority to adopt the document, imperiling the return to a regular appropriations process and threatening to make post-office naming bills a staple of the congressional agenda.
Which is exactly what Ryan is seeking to avoid.
The speaker is trying to convince lawmakers to get onboard with the $1.070 trillion limit that Republicans and Democrats agreed to in October so that the House can get on with appropriations. But conservatives argue the House should go back on that deal and conform to the $1.040 trillion number established under the 2011 Budget Control Act.
In a roughly hour-and-a-half-long meeting with aggrieved lawmakers on Wednesday, Ryan privately acknowledged that Republicans are "not even close to the votes on anything," according to one lawmaker present, Matt Salmon (R-Ariz.).
When Ryan says "anything," he means a budget at either number. In fact, Ryan told the members present there were more votes for $1.070 trillion than for $1.040 trillion. "But none of them are really even close," Salmon reported. "And it's not just the Freedom Caucus either."
Of course, GOP leaders haven't actually done a formal survey of their members on the $1.040 trillion number -- something Republican Study Committee Chairman Bill Flores (R-Texas) asked Ryan to do on Tuesday.
"I'm saying, 'Prove it,'" Flores told reporters Wednesday morning.
But the big problem with the $1.040 trillion number is, it seems to be a non-starter with appropriators.
"It's in the law," Appropriations Chairman Hal Rogers (R-Ky.) told The Huffington Post on Wednesday, referring to the October budget deal; $1.070 trillion "is in the statute. And that's what we will follow." 
Rogers said doing appropriations at the lower number would mean Congress ends up passing a continuing resolution to punt spending decisions into the new year. "Because the Senate will not go along," he said. "It would drive us inexorably toward a CR."
Conservatives just don't buy that argument, however.
As far as those Republicans are concerned, the appropriations process probably ends with a continuing resolution anyway -- as has been the case in the last two presidential election years -- and those same conservatives feel a responsibility to put forward legislation they believe in, regardless of the already-baked legislative outcome.
And besides, if going with the lower budget number drives Congress toward a continuing resolution, so would not doing a budget at all, they say.
By statute, the House can begin considering appropriations bills on May 15 even if there isn't a budget. But GOP leaders openly wonder how many spending bills they could get through their chamber without an agreement on a top-line number -- and to what end?
Many conservatives, however, think the House should stop worrying about how its actions affect the Senate. "Start playing on our terms," House Freedom Caucus member Paul Gosar (R-Ariz.) told HuffPost on Wednesday. "They want to play for a CR in the lame duck? Get rid of the lame duck."
"And I'm tired of playing with the Senate's rules," Gosar said. "It's time for the House to stand up on its own two feet, do its job, and send them back over to the Senate -- and make them do their job!"
But there may not be a way for Ryan to get the budget through the House with the lower number. 
A GOP leadership aide told HuffPost on Wednesday that we should assume Republicans have "looked into all the options," and advancing the budget with a $1.040 trillion top-line, the aide said, would come at the expense of "a lot" of the defense hawks, "probably all" of the appropriators, and "most" of the moderate members in the so-called Tuesday Group.
The aide added that the lower spending number would prevent "any real appropriations process and would be even more difficult to pass."
No one in any leadership suite, it seems, is claiming they can get their way on the budget. And this may be the key difference between Ryan and former Speaker John Boehner (R-Ohio).
Where Boehner would often go along with the unrealistic expectations of his conference, Ryan is front-loading the problem and being straightforward with his members. He's not going to pretend appropriations bills at the $1.040 trillion level will be signed into law, and he's not going to have a farce appropriations process that just ends with a CR at the $1.070 trillion level. 
Ryan has told members they're either going to do the budget at $1.070, or they're not going to do a budget. He's been emphatic that he won't turn to Democrats to "deem" the spending number, and he says that ultimately, whether the House does a budget is up to the members.
And while conservatives are frustrated they're not getting their way, many at least appreciate the honest approach.
Of course, the person who is damaged most by failing to do a budget is Ryan. But conservatives might see some advantages to keeping Ryan's power in check.
When asked on Wednesday if conservatives were better served with a weak speaker, Flores seemed to redefine what gives a speaker his or her power.
"We're better served with a strong speaker," Flores said, "but a strong speaker is a speaker that works with the membership that he has to develop the best solutions."
Put more bluntly, in the words of another Texas Republican, Freedom Caucus member Randy Weber, "We want a strong speaker, but we don't want one who runs over people."
Calling all HuffPost superfans!
Sign up for membership to become a founding member and help shape HuffPost's next chapter