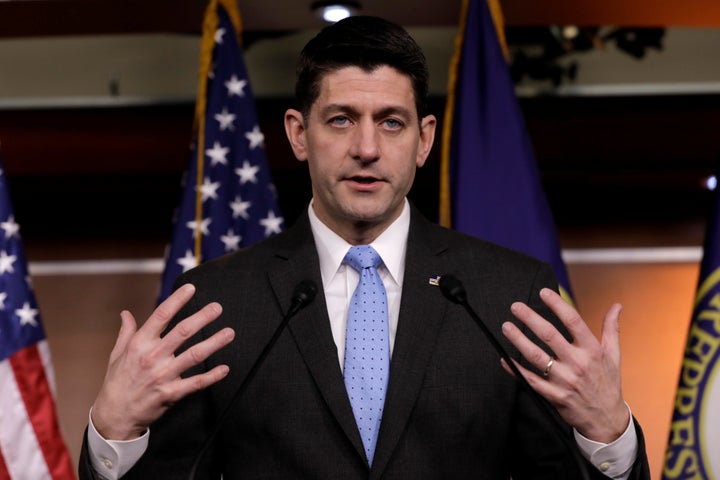 WASHINGTON ― House Chaplain Patrick Conroy was suddenly forced out of his job last week by Speaker Paul Ryan (R-Wis.), and while it's not clear why, Democratic lawmakers and Hill sources say it was driven by Ryan's distaste for one of Conroy's prayers about the GOP's tax bill.
As first reported by The Hill, Conroy was clear in his resignation announcement that it wasn't his choice to go. It was Ryan's.
"As you have requested, I hereby offer my resignation as the 60th Chaplain of the United States House of Representatives," reads Conroy's letter to Ryan, dated April 15. Conroy, who has been the chaplain since 2011, will officially resign on May 24.
The Hill reported that four different sources ― two Democrats and two Republicans ― said Conroy was told he had to quit or he would be fired. There's been no reason given for why he was let go, but Rep. Gerry Connolly (D-Va.) tells HuffPost that his GOP colleagues have pointed him to a prayer that Conroy made on the House floor last fall amid the debate on the GOP tax bill.
PRAYER

The Chaplain, the Reverend Patrick J. Conroy, offered the following prayer:

God of the universe, we give You thanks for giving us another day. Bless the Members of this assembly as they set upon the work of these hours, of these days. Help them to make wise decisions in a good manner and to carry their responsibilities steadily, with high hopes for a better future for our great Nation.

As legislation on taxes continues to be debated this week and next, may all Members be mindful that the institutions and structures of our great Nation guarantee the opportunities that have allowed some to achieve great success, while others continue to struggle. May their efforts these days guarantee that there are not winners and losers under new tax laws, but benefits balanced and shared by all Americans.

May Your blessing, O God, be with them and with us all this day and every day to come, and may all we do be done for Your greater honor and glory.

Amen.
Connolly said Republican lawmakers told him Ryan was peeved because he read that prayer as a "tilt to the Democrats" because it implied criticisms of the tax cuts being more beneficial to the rich (which they are).
"I am informed reliably by my Republican friends about this," said the Virginia Democrat. "They cite that as evidence as that being more political than he's comfortable with."
Another Democratic source familiar with the situation said "several lawmakers" relayed to him that Ryan's decision was driven by the prayer.
The speaker's office denied that Conroy was forced out over a specific prayer, but would not clarify if the chaplain's prayers during the tax debate were related to his termination. The office also gave no reason for Conroy's termination.
"The speaker consulted with the minority leader, but the decision was his," said Ryan spokeswoman AshLee Strong. "He remains grateful for Father Conroy's service."
During their Thursday caucus meeting, Connolly said Democrats were "stunned" to learn Conroy had been forced out. The reaction quickly turned to outrage, he said, and that spurred him to write a letter to Ryan demanding details on why the chaplain was let go.
He is starting to collect signatures for it, but it's already got fellow Catholic Reps. Walter Jones (R-N.C.), Marcy Kaptur (D-Ohio) and Carol Shea-Porter (D-N.H.) on it.
Rep. Bill Keating (D-Mass.) told HuffPost that he talked to GOP lawmakers who were "shocked" to hear Conroy was forced out, too. Before Thursday, many in both parties thought Conroy had chosen to leave.
"I happen to know some Republican members not happy with this," he said.
Keating said that he, too, heard that it may go back to Conroy's prayer during the tax debate, but wasn't sure if that was true.
"It's mind-boggling if that's part of it," he said. "The prayer is actually a call for fairness."
Ultimately, nobody can say for sure why Ryan decided to fire the chaplain. But absent any information, Connolly said, it can lead to ugly guesses.
"We're all left to speculate this is political or bigoted or personal," he said. "You can't do this in the dead of night without risking that."
Popular in the Community