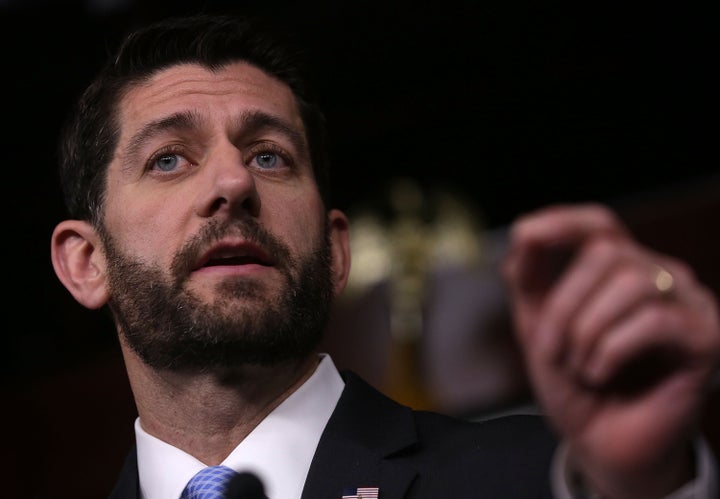 The Wisconsin Republican notes that, as speaker, he's actually the chairman of the GOP convention, and he's repeatedly told reporters that he's not going to weigh in on every Republican primary poll -- or any of them at all.
But Ryan is not shying away from one electoral prediction: No matter who Republicans put atop their ticket, Ryan says, House Republicans will keep the majority.
"No I feel very confident about that," Ryan told a handful of reporters gathered in his office late last week.
Even when he was specifically asked about one particular Republican winning the nomination -- cough Donald Trump cough -- Ryan suggested control of the House didn't depend on a particular person carrying the ticket.
"Whoever our nominee is going to be, House members are very close to their constituents," Ryan said. "Our members are very gifted people who know how to get elected in difficult climates, no matter what they are."
Ryan didn't specify whether Donald Trump could be a cause of that "difficult climate" or whether he was speaking more generally, but either way, he suggested it wouldn't be an issue. "I think we're going to have a good climate," he said.
Ryan contended that eight years of President Barack Obama's progressive policies had produced "miserable results," and he didn't think voters were going to want "more of the same."
Of course, not every voter shares Ryan's less than charitable assessment of Obama's effect on the country, but the new speaker is sure to find plenty of people who agree that House Republicans aren't going to lose the majority in 2016.
Currently, there are 246 Republicans in the House and 188 Democrats, with one vacancy after former Speaker John Boehner's retirement. Boehner's Ohio district is expected to stay Republican in a special election set for June. Therefore, to flip the House, Democrats would need to pick up 30 seats -- an extraordinarily unlikely task.
But it's not impossible, not when the party winning the White House has picked up House seats in 11 of the last 15 presidential election years and Obama won in 209 congressional districts in 2012. Split-ticket voters, we'll also note, are at historic lows.
Another layer to the battle for the House is Ryan's new philosophy that members aren't going to shy away from politically perilous votes.
"There's a plus side and a downside to regular order and opening up the process," Ryan said. "People got to take votes. And that's just the way the cookie crumbles."
In recent years, the House has ducked a number of difficult issues by not allowing certain amendment votes, or even bringing up certain contentious pieces of legislation. Many House members, however, chafed under that system, and Ryan came into the speakership promising a more open amendment system.
"I'm no stranger to taking tough votes and explaining them in difficult political situations," Ryan said Friday, noting that he came to Congress in a swing district. "It clearly can be done. So you just got to lean into it and do it."
Ryan said lawmakers came to Congress to do things, not just avoid tough issues. And he said members actually want to legislate.
"When John Boehner, you know, threw the curveball of his unanticipated resignation, it threw the place into a bit of chaos," Ryan said. "Members were very worried about where this was all going. And it looked like Congress was going to seize up and come to a screeching halt."
Ryan continued to say that lawmakers expressed relief when he made it clear that he wanted to pass big pieces of legislation under a more open process, with Congress going on to approve a major education bill, a major transportation bill, customs enforcement legislation, a massive tax extenders package, and an omnibus bill.
Meanwhile, even with an extraordinarily busy seven weeks, Ryan said he has stayed true to his personal commitment to his family, keeping his weekends free for family time. In fact, Ryan said, because of his experience as vice presidential nominee in 2012, the speakership has been a much easier adjustment.
His experience has given him wisdom; his wisdom, in turn, discernment.
"You get a sense of serenity of things," Ryan said. "I have a sense of serenity about things that I never had before because of the experiences I've had."
When a reporter remarked that Ryan had been using words like "zen" and "serenity" with noticeable frequency, Ryan noted that he has been doing yoga once a week.
"Yoga's great, man; don't knock it till you try it," he said.
Popular in the Community