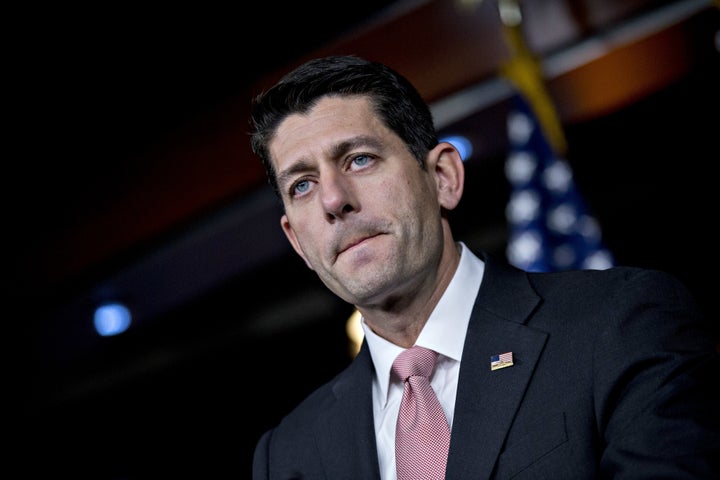 WASHINGTON ― When Paul Ryan took the speaker's gavel in October, he wanted things to be different.
Former Speaker John Boehner had just resigned from Congress over the threat of a conservative mutiny, and Ryan ― who never really wanted the speakership in the first place ― made it clear he'd only take the job if he had the overwhelming support of the GOP conference, the House Freedom Caucus included.
While the HFC never gave Ryan an official endorsement, 27 out of 39 members in the group supported the Wisconsin Republican's bid for speaker, partly because Ryan said he wanted to open up the legislative process.
Not nine months later, however, with Ryan clamping down on the appropriations process to handpick which amendments get votes on the House floor, that promise isn't looking so intact ― and the Freedom Caucus has noticed.
The situation came to a head on the House floor Tuesday night. HFC members told Ryan they were prepared to take down a rule ― a party-line procedural vote that allows a bill to come to the floor ― over GOP leadership not allowing votes on certain Republican amendments. In this particular case, it was two proposals from conservative Thomas Massie (R-Ky.) dealing with D.C. gun laws. Both were blocked from consideration on a Financial Services appropriations bill.
"Oh, the rule was going down," Rep. Raul Labrador (R-Idaho) told The Huffington Post late Tuesday night.
Ryan and other members of the GOP leadership circled up with about 20 members of the Freedom Caucus during the evening vote series and assured conservatives they would discuss the new process for appropriations bills coming to the floor, according to members present.
Ryan recently announced that spending bills would now come to the floor under what's known as a structured rule, meaning leaders decide which amendments get votes. (Boehner was generally able to bring appropriations bills to the floor under an open rule, meaning any member could offer an amendment and get a vote.) The Freedom Caucus went along with Ryan's plan ― even offered support for it ― because the speaker told members it was a necessary shift to prevent Democrats from offering contentious amendments that, Ryan contended, were designed to take down spending bills.
Now, with Republican leaders blocking GOP amendments, HFC members are starting to think they were wrong to ever go along with the strategy ― and they seem committed to taking down rule votes in the future that block GOP amendments.
"I think that's what's going to start happening here pretty soon," Labrador said.
Asked whether that was an official position that the HFC had reached during their Tuesday night meeting after votes, Labrador was cagey.
"That's, uh...an intuition," he said, to a chorus of laughs from HFC Chairman Jim Jordan (R-Ohio) and HFC board member Mark Meadows (R-N.C.).
Another HFC board member, Mick Mulvaney of South Carolina, said the structured rule situation had been "a learning process" and he was "encouraged" that GOP leadership would not be blocking any more relevant Republican amendments.
"Today was very instructive to both sides," Mulvaney said Tuesday night.
Another HFC member, Scott Perry of Pennsylvania, said the decision to support structured rules on appropriations was a "work in progress."
"There's nothing to say it can't be reeled back if it doesn't work," Perry continued.
Ryan told HFC members on the floor that Massie's gun amendments would have sunk the Financial Services bill. Conservatives pointed out to Ryan that Massie had a similar amendment adopted two years ago ― which Ryan voted for ― and the bill still passed. But Ryan argued that, in the wake of the Orlando shooting and with Democrats seizing the House floor over a desire to see certain gun control votes, "current events changed it from not a poison pill to a poison pill," according to one member present in the floor scrum.
Ryan was able to sell the Freedom Caucus on supporting the Financial Services rule by promising to discuss the structured rule issue with them further, and by potentially giving Massie a standalone vote in committee on his gun proposals. But the HFC looks apt to vote down a spending bill rule if it blocks Republican amendments.
That would be a dramatic shift from where the Freedom Caucus was just a few short weeks ago. The group was almost entirely supportive of Ryan's plan, though some expressed concerns and Rep. Justin Amash (R-Mich.) actually decided to vote against any structured appropriations rule for a bill that used to be open.
"I didn't have confidence in it from the beginning, but I think it's fair for people to say they wanted to give Paul a chance," Amash said Tuesday.
Of course, Ryan may be saved by the bell. With just eight legislative days scheduled before the August recess, there won't be many more chances to test whether GOP leadership blocks Republican amendments on appropriations bills.
But Labrador doesn't think those bills are the only test.
"There's a big vote coming up on speaker that is the ultimate rule vote," Labrador said Tuesday night, referring to the January speaker election.
Contacted for a comment on Labrador's seeming threat of a coup, Brendan Buck, Ryan's chief communications adviser, shrugged it off.
"I'll just say I think we're alright," Buck said.
Calling all HuffPost superfans!
Sign up for membership to become a founding member and help shape HuffPost's next chapter