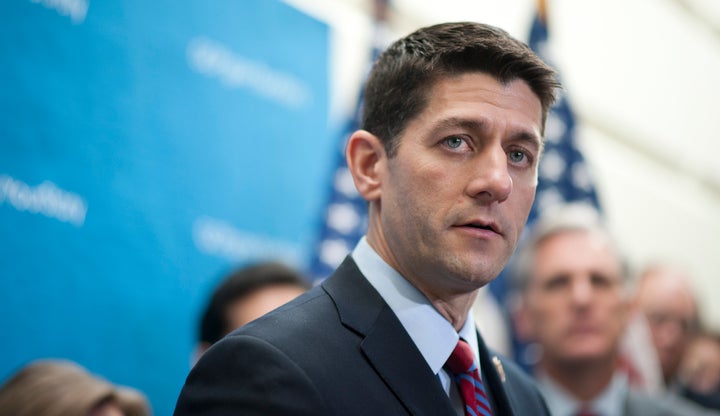 WASHINGTON -- House Republicans finally agree on something: how desperately they want Rep. Paul Ryan (R-Wis.) to be the next speaker.
It was all they could talk about after a GOP conference meeting on Friday morning.
"I would love to see Paul Ryan run," said Republican Conference Chairwoman Cathy McMorris Rodgers (Wash.).
"Yes. I want Paul Ryan," said Rep. Hal Rogers (R-Ky.), chairman of the House Appropriations Committee. "I think he can unify the conference."
"Definitely my No. 1 pick," said Rep. Peter King (R-N.Y.). "He's considered very smart. Very hard-working. Very honest. He ran for vice president of the United States. So people who attack him, it would look as if they just won't accept anyone."
Even one other speaker candidate, Rep. Jason Chaffetz (R-Utah) and one potential candidate, Rep. Darrell Issa (R-Calif.), said they'd prefer Ryan.
"I'm going to keep working on Paul Ryan," Issa said.
"I would not run against Paul Ryan," Chaffetz said.
The Wisconsin Republican, who chairs the House Ways and Means Committee, could also help to bring in money for the party, said Rep. Greg Walden (R-Ore.), chairman of the National Republican Congressional Committee.
"He is certainly known around the country. From an NRCC perspective, he'd be terrific," said Walden. "He's a dear friend. I think he'd be a great speaker." Mitt Romney, who tapped Ryan to be his vice president in his 2012 White House bid, also reached out to urge him to run for speaker.
If only Ryan seemed interested.
"Chairman Ryan appreciates the support he's getting from his colleagues, but is still not running for speaker," said Ryan's spokesman, Brendan Buck.
Republicans are scrambling to find someone to lead the House after Majority Leader Kevin McCarthy (R-Calif.) unexpectedly dropped out of the speaker race on Thursday. He was widely expected to win, and there wasn't a backup plan. GOP lawmakers have to elect someone soon -- Speaker John Boehner (R-Ohio) wants to leave Congress by the end of the month, though he said he'll stick around through the speaker race debacle.
Not everyone is so sure they want Ryan to run. Backers of tea party favorite Rep. Daniel Webster (R-Fla.) still want him to be speaker instead. Rep. Thomas Massie (R-Ky.) told reporters the decision to delay Thursday's election after McCarthy dropped out made the GOP caucus look like a "banana republic."
And fellow members of Ryan's Ways and Means Committee said he'd be a great speaker, but that he had important things to do as leader of the tax-writing panel.
"I would love to see tax reform accomplished, and I think it can best be accomplished if Paul is the chair," said Rep. Dave Reichert (R-Wash.).
Another Ways and Means Committee member, Rep. Tom Reed (R-N.Y.) allowed that at least Ryan was thinking about it, despite Ryan's own all-but-complete rejection of the idea.
"Obviously, being a vice presidential candidate, there's a calling to serve," Reed said. "I think what he's going through is making the analysis of how best can he serve the country, how best can he serve the American people. And that's why this is a tough decision for him."
Some veteran lawmakers thought Ryan could still change his mind.
"I know Paul Ryan pretty well, and I think so highly of him. He always does the right thing," said Rep. Tom Cole (R-Okla.). "I'm sure he'll think it through and do the right thing here. And in my opinion, the right thing is for him to run."
For now, it comes down to Ryan deciding for himself. His colleagues are watching for signs that maybe, maybe, he'll come around and run.
"He's smiling today, so that's good," said Rep. Kristi Noem (R-S.D.).