WASHINGTON -- Finally settling the turmoil that has gripped the House Republican caucus for weeks, members of the party formally nominated Rep. Paul Ryan (R-Wis.) to be their speaker Wednesday, picking the fresh-faced former vice presidential candidate who had repeatedly said he didn't want the job.
"This begins a new day in the House of Representatives," Ryan said soon after being nominated.
And while he praised the service of retiring Speaker John Boehner (R-Ohio), he also pledged to do a better job running a House that has been riven by internal tensions in recent years -- so much so that it led to a government shutdown in 2013, not to mention historically low levels of productivity.
"Tomorrow we are turning the page. We are not going to have a House that looks like it looked the last two years," Ryan said. "We are going to move forward. We are going to unify."
And he made it clear that he would hold Republicans responsible.
"Our party has lost its vision and we are going to replace it with a vision," Ryan said. "We believe that the country is on the wrong track. We think that the country is headed in the wrong direction, and we have an obligation here, in the people's House, to do the people's business, to give this country a better way forward, to give this country an alternative. We are going to respect the people by representing the people."
Ryan won the nomination with just 200 votes as 43 members, largely with the hard-line Freedom Caucus, cast ballots for Rep. Daniel Webster (R-Fla.). There was also 1 vote for Rep. Marsha Blackburn (R-Tenn.) and 1 vote for House Majority Leader Kevin McCarthy (R-Calif.).
The entire House will vote Thursday on the speakership, and Ryan will need 218 votes to win. The fact that he fell short of that number on Wednesday could be seen as a sign that his selection has not completely eased the minds of his party's most conservative members.
McCarthy was forced to abandon his bid to replace Boehner because he could not get enough of the party's 247 members to back him. But members leaving the conclave Wednesday said the defections were meant to send a signal, not to sink Ryan, and that enough of them would vote on the floor for the Wisconsin lawmaker the next day.
"I think the people that voted the other way voted for their candidate, and he's a good man, but I also think they have a lot of admiration and respect for Paul Ryan," said Rep. Tom Cole (R-Okla.). "I think we'll be well above [218]."
"I know a lot of folks who voted for Webster that will support the conference nominee," said Rep. Mick Mulvaney (R-S.C.), an outspoken member of the Freedom Caucus who said he would back Ryan. "I think he gets 230 votes tomorrow."
It was a far cry from earlier this month, when McCarthy's failure raised the prospects of a dramatic and messy showdown on the House floor. Some Republicans were openly discussing siding with the other party to fill the void.
Mulvaney said the atmosphere within the conference was "very amicable" throughout the entire affair, adding that Ryan's speech to the conference moments before the vote was "a positive message about starting fresh."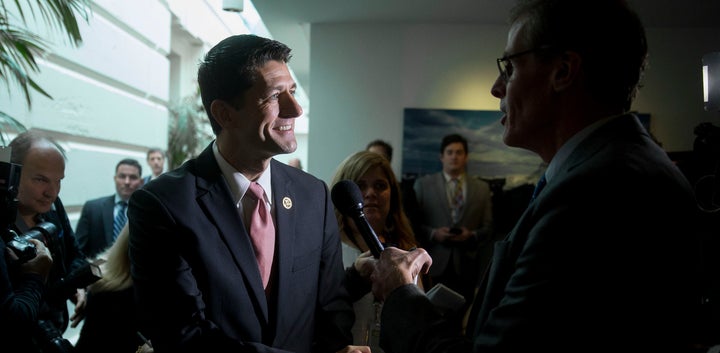 Prior to Wednesday's vote, Ryan did his best to reassure members in a morning meeting that he would make Congress more effective and change the way the House does business. He said he would answer the pleas of many members to open up the process and let more of them have a say.
He left smiling, and walking quickly with his usual coffee cup clutched in his hand. He declined to comment to reporters, but at least one other GOP leader endorsed his approach.
"I have a lot of confidence in Paul Ryan," said Rep. Cathy McMorris Rodgers (R-Wash.), the chair of the GOP conference, when asked if Ryan could deliver on his promises.
Ryan's selection was somewhat clouded by lingering anger over Boehner's final significant act as speaker -- pushing a budget bill to the floor Wednesday that ignores hard-line demands to block a hike in the debt ceiling.
Before addressing his fellow members in the morning, he also released a statement, vowing to do better in the future.
"What I've heard from members over the last two weeks is a desire to wipe the slate clean, put in place a process that builds trust, and start focusing on big ideas," Ryan said. "It's time for us to turn the page on the last few years and get to work on a bold agenda that we can take to the American people."
The broken process is a large part of why Ryan didn't want to be speaker. He and his staff had watched in disbelief as tea party-aligned Republicans routinely sabotaged Boehner, forcing him to pull legislation as basic as funding the Department of the Interior.
Another reason to spurn the job was that as head of the tax-writing Ways and Means Committee, Ryan was in a position to lead consequential legislation that would be close to his heart, especially a long-delayed rewrite of America's tax rules.
He only relented after many in the party declared he was their only hope, and after getting pledges of support from the caucus' various warring members -- not to mention a promise to let him have time with his family.
Ryan can thank the budget deal Boehner cut in part for giving him room to try and make good on his pledges to renovate the House. The deal extends the debt limit until March 2017 and ensures the government will be funded until September 2017, taking off the table the two biggest, most controversial items that conservative Republicans have used for the last four years to try and extract concessions from Democrats.
Michael McAuliff covers Congress and politics for The Huffington Post. Talk to him on Facebook.
Popular in the Community