WASHINGTON -- A House Speaker who was relieved to quit his job handed the gavel to a successor who never wanted it Thursday as the House of Representatives voted to replace John Boehner with Paul Ryan.
Ryan, 45, who ascends to the speakership after a tumultuous several years for his party, was overwhelmingly elected, with 236 members of the the GOP casting ballots in his favor. He pledged to heal the divides in Congress that plagued Boehner for most of his five years in the chair, both in the GOP and the full House.
"I never thought I'd be speaker," said Ryan, who hails from Janesville, Wisconsin, and was his party's vice presidential nominee in 2012.
"Early in my life, I wanted to serve this House. I thought this place was exhilarating because here, you can make a difference," Ryan said, before nodding to the chaos that led to a government shutdown in 2013 and a near default on the debt in 2011.
"Let's be frank. The House is broken," Ryan said. "We're not solving problems, we're adding to them."
But he went on to say that he would do his best to fix the dysfunctional legislature, and appealed for both honesty and charity from all members.
"I am not interested in laying blame. We are not settling scores. We are wiping the slate clean," Ryan said. "Neither the members nor the people are satisfied with how things are going. We need to make some changes, starting with how the House does business."
Ryan represents a sharp contrast with Boehner, a 65-year-old cigarette smoker who is often compared to characters from the show Mad Men. Ryan, a health enthusiast dedicated to intense workouts, presents a younger, more hopeful bearing to the world.
He tried to bring that sensibility to the House floor on Thursday.
"The people of this country have done all of us a great honor," Ryan said. "Now, let's prove ourselves worthy of it. Let's seize the moment. Let's rise to the occasion. And when we are done, let us say we left the people — all the people — more united, happy, and free."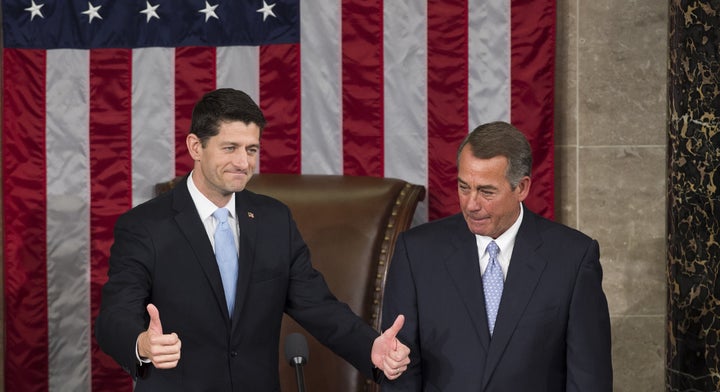 Boehner, a notoriously emotive leader from Ohio, kept a box of tissues at his side as he began proceedings and bade farewell.
"I leave with no regrets, no burdens," Boehner said. "If anything, I leave the way I started, just a regular guy, humbled by the chance to do a big job. That's what I'm most proud of."
Boehner didn't choke up as much as he might have, but he found it hard when he talked about the staffers who helped him, and his humble beginnings as one of 12 children.
"I describe my life as a chase for the American dream, and that chase began at the bottom of the hill just off the main drag in Reading, Ohio, right outside Cincinnati," Boehner said. "Top of the hill was a small house with a big family, a shining city in its own right. The hill had twists. The hill had turns, and even a few tears -- nothing wrong with that," Boehner said, dabbing his eyes.
"But let me tell you, it was just perfect. Never forget, we're the luckiest people on the Earth," Boehner said.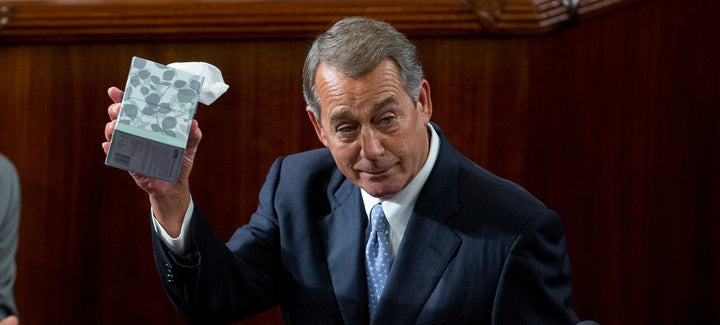 After Boehner's goodbye, and after the names of Ryan and Minority Leader Nancy Pelosi (D-Calif.) were formally placed in nomination, the House held a roll-call vote to put Ryan in charge. Nearly all Republicans stood behind Ryan, making him the youngest person to hold the post in 150 years.
Ryan initially resisted calls to run for speaker after Majority Leader Kevin McCarthy (R-Calif.) so memorably imploded earlier this month, quitting the race when it became clear he could not be sure of getting a majority on the floor. House conservatives threatened to throw their support behind Rep. Daniel Webster (R-Fla.) instead of McCarthy. Webster ended up with nine votes.
Boehner himself alluded to the difficulty of holding his job, noting that he did not complete the mission he set for himself of remaking government in a conservative Republican image.
"The mission is not complete, but the truth is it may never be," Boehner said. "One thing I came to realize over the years that I have been here is that this battle over the size and scope and cost of our government in Washington has been going on for more than 200 years. And the forces of the status quo go to an awful lot of trouble to prevent change from happening." 
"Real change takes time," he added in an implicit criticism of the tea party Republicans, particularly those in the new Freedom Caucus, who chafed at the pace of Boehner's efforts and ultimately forced him to quit.
"Yes, freedom makes all things possible, but patience is what makes all things real. So believe in the long, slow struggle," he said. "Believe in this country's ability to meet her challenges and to lead the world. And remember, you can't do a big job alone," he said, in a small bit of advice to Ryan, who will now be in charge of melding together the fractious House and GOP conference.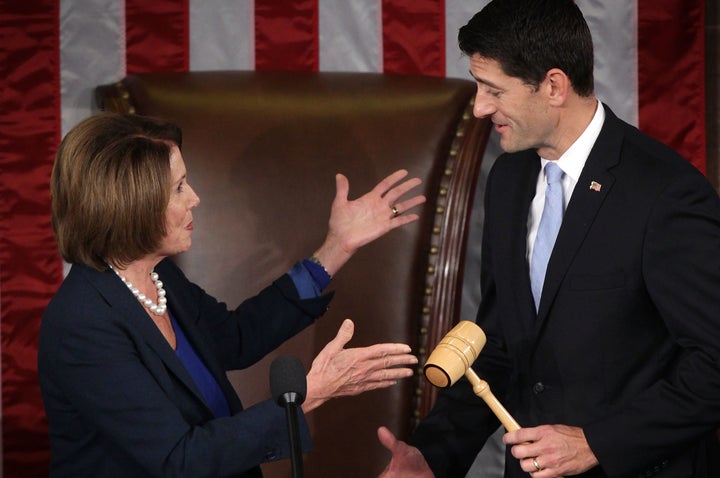 While Ryan presents a fresh face and was hailed as a unifying figure, he is already well-known in Washington and has plenty of enemies among Democrats. His bid to change Medicare into something like a voucher program and his draconian budget proposals made his name shorthand for GOP extremism in Democratic campaign ads.
Still, Pelosi offered Ryan an olive branch to start their work together.
"On behalf of House Democrats, I extend the hand of friendship to you," Pelosi told Ryan, holding up the gavel that she, too, once wielded. "This is the people's House. This is the people's gavel, and in the people's name, it is my privilege to hand this gavel to the speaker of the House, Congressman and Honorable Paul Ryan."
PHOTO GALLERY
Paul Ryan's Speaker Election
Calling all HuffPost superfans!
Sign up for membership to become a founding member and help shape HuffPost's next chapter