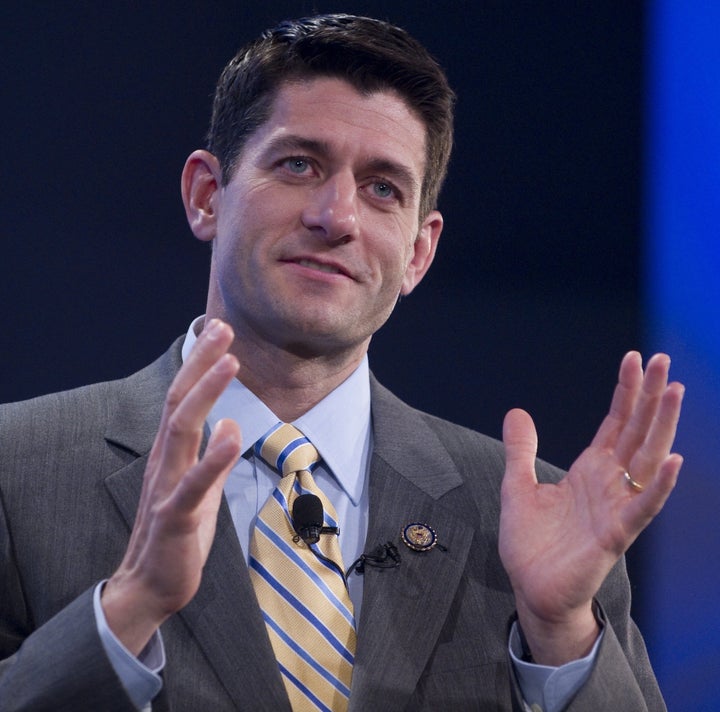 WASHINGTON -- On Thursday evening, Wisconsin Rep. Paul Ryan said yet again that he is not considering a run for the GOP presidential nomination. But when asked by Fox News' Neil Cavuto whether he would change course from past rejections of a presidential bid, Ryan hesitated before saying, "Look, I think I want to see how this field develops."
"I think there are going to be other people getting into the race," he continued. "You know I was hoping Mitch Daniels would get into the race. He obviously didn't do that. But there's such a long way to go. Obviously I believe Republicans need to retake the White House."
At this point, Cavuto interrupted and asked whether Ryan was "holding out that possibility if the field doesn't develop to your liking."
"No, I'm not really thinking like that," Ryan said. "I'm not giving it serious consideration because to do that you really have to get in this thing full-throttle."
Ryan then launched into what he often has said, that he wishes to remain chairman of the House Budget Committee.
"That's just where I think I can be most effective at this time," he concluded.
But there are plenty of reasons for Ryan to reconsider his past statements about a run for the White House. His comment about Daniels is a clear indication that he had hoped the Indiana governor would carry the mantle of debt reduction and entitlement reform. But Daniels is out, and the Republican primary has entered a new phase of turbulence with renewed interest in former Alaska Gov. Sarah Palin, New Jersey Gov. Chris Christie and Texas Gov. Rick Perry as potential candidates.
Ryan might also see a policy incentive -- not just a political one -- to contemplating a run. His plan to cut federal spending by trillions of dollars and overhaul Medicare has taken a beating from Democrats in recent weeks, and Republicans have failed to mount an effective counter response.
Recent polling on public attitudes about the plan has been dismal -- though conservatives have said polling questions have been slanted -- and a Democratic candidate is credited with winning a special congressional election in New York last week in part because of her Republican opponent's support for the Ryan plan.
Ryan said in the Fox interview that "within a handful of months" he believes the country will rally to his side. But he may need a louder megaphone.
There have been other indications that Ryan's resistance to a presidential run -- which is based in large part on his reluctance to be away from his wife and three young children -- is softening.
Sources close to Republican National Committee Chairman Reince Priebus –- who is also from Wisconsin and is encouraging Ryan to run -– say that it is not just unilateral pressure from Priebus that is sparking rumors. They say Ryan is himself considering making a move.
Weekly Standard founder Bill Kristol has been pushing a Ryan presidential campaign for many months, and wrote last week that an appearance on Fox by the congressman showed that he was opening the door.
Ryan said at the time that he was being encouraged to run "quite a bit," but said that "right now where I am at this moment, I need to focus on this budget fight we're in."
Kristol wrote that "it would be a great and fitting irony if the victory of Democratic scare tactics in [congressional district] NY-26 spooks other Republicans into backing off from bold deficit reform and reduction plans, which in turn forces Ryan into the presidential race -- ultimately the Democrats' worst nightmare."
Further, Ryan delivered a speech on foreign policy Thursday night in Washington to the Alexander Hamilton Society, the kind of thing a prospective candidate for president just might do. That drew some raised eyebrows from Stephen Hayes, a Fox News and Weekly Standard contributor.
"Interesting," Hayes wrote on Twitter Thursday. "Paul Ryan giving a foreign policy speech in Washington tonight. 'Decline is a Choice.' Hmmm."