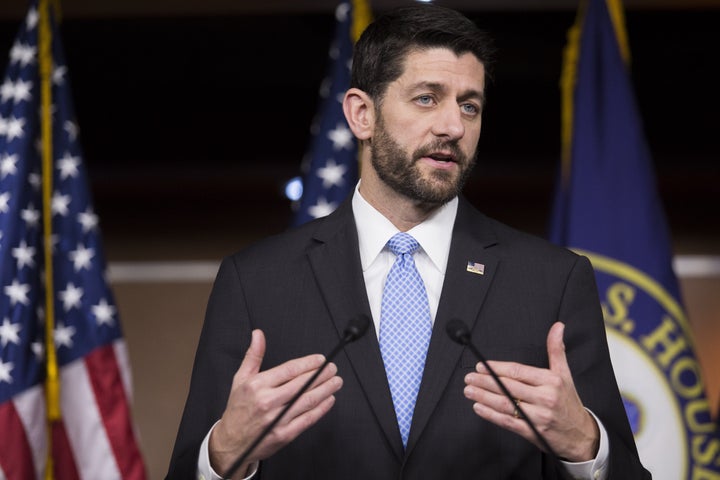 WASHINGTON -- The $1.1 trillion spending bill had all the hallmarks of a deal former Speaker John Boehner would have cut -- and yet something felt different.
Paul Ryan (R-Wis.) capped off his first seven weeks as speaker on Friday with a strong, bipartisan showing on the omnibus funding bill, passing the measure with 150 Republicans and 166 Democrats.
It wasn't that the legislation was a better deal than what Boehner might have negotiated, nor was it that Republicans passed the legislation on their own. As was so often the case in the Boehner era, Ryan relied on Democratic votes to get the spending deal across the finish line.
But the conservative acrimony over a 2,000-plus-page bill -- a piece of legislation that was, in part, brokered over a private dinner between Ryan and House Minority Leader Nancy Pelosi (D-Calif.) -- never fully materialized.
"I just think I'm opening up the process more," Ryan told a small group of reporters gathered in his Capitol suite on Friday. "They know that I inherited this deal, and so they know that this wasn't my concoction, nor my desire."
It's true that Ryan has opened up the process. In his short time as speaker, he's allowed conservatives to get votes on a whole slew of amendments. And he's had more open lines of communication. He's even been hosting dinners with different groups of Republicans, including strict conservatives -- a stark contrast to Boehner, who seemed to prefer unwinding with the same three or four lawmakers every night.
But what is it about Paul Ryan that has seemed to unite Republicans -- or, at least, temper the anger that conservatives felt toward John Boehner?
"I just don't know the answer to that question," Ryan said. "I don't spend my time looking back on this stuff -- I really don't. I'm a different style, a different person. I have an idea of what to do, and what it is is to listen to members."
Of course, Ryan does have an idea. "More to the point," he said, "I'm not really interested in going back and, you know, Monday-morning-quarterbacking the last guy."
Any Monday-morning quarterbacks interested in really auditing Boehner's time as speaker would probably include the toxic climate that outside groups had created for the Ohio Republican. They would include Boehner's lack of interest in hearing from the conservatives in his party, or really in even interacting with them. And they would certainly detail the ways in which Boehner closed off the legislative process to save vulnerable Republicans from having to take votes that could be thrown back at them in attack ads.
Ryan, however, is moving on.
He's told his GOP colleagues that they are going to take some politically punishing votes. He wants to pass all 12 appropriations bills next year, and that can be politically perilous. Appropriations amendments can expose members to tricky votes on abortion, guns, even the Confederate flag. As someone who came to Congress in a battleground district, however, Ryan has signaled that he doesn't care.
"I'm no stranger to taking tough votes and explaining them in difficult political situations," he said. "It clearly can be done."
To that end, Ryan has promised to produce an Obamacare replacement next year -- something he was enthusiastic about on Friday, even though earlier in the week, he'd demurred when asked whether the House would actually vote on that bill, or even produce text that the Congressional Budget Office could determine the cost of.
For now, conservatives are willing to give Ryan a pass on the omnibus bill and hope that he keeps his word on an open process next year. But there are early signs of dissatisfaction.
For one, conservatives weren't pleased with the final omnibus product.
"That's all that matters," Rep. Raúl Labrador (R-Idaho) told The Huffington Post on Thursday. "It's the end result that matters, not, you know, 'are you more articulate' or 'can you give a better presentation.'"
Labrador continued that Ryan's "honeymoon" was over, and that if the omnibus bill was Ryan's "first big test," he wasn't sure the speaker came off looking so good.
Extending the metaphor, however, Labrador said the test wasn't a final exam. "We still have all of next year," he said.
And that's what conservatives are really watching for.
Rep. Dave Brat (R-Va.) told HuffPost on Friday that Ryan had bought himself some leeway with the far right by keeping his word about the open process before the omnibus.
"But the question is, how much were his hands tied by the prior budget process?" Brat said.
"More importantly," he continued, "when it comes to a discussion on leverage, I have some serious problems. The House has 247 Republicans -- and that is all the leverage we need."
Of the roughly 40 members of the House Freedom Caucus, only a few voted for the spending deal. And with the expectation that Ryan can get lopsided legislation signed into law by a Democratic president, the new speaker will continue to have his work cut out for him.
But Ryan seems to expect that. He shrugged off conservatives voting against the omnibus as an expected outcome, and for a man who told reporters on Friday that he has taken up turning deer meat into sausage as a hobby, he seems to have plenty more deals he'd like to cut.
Popular in the Community