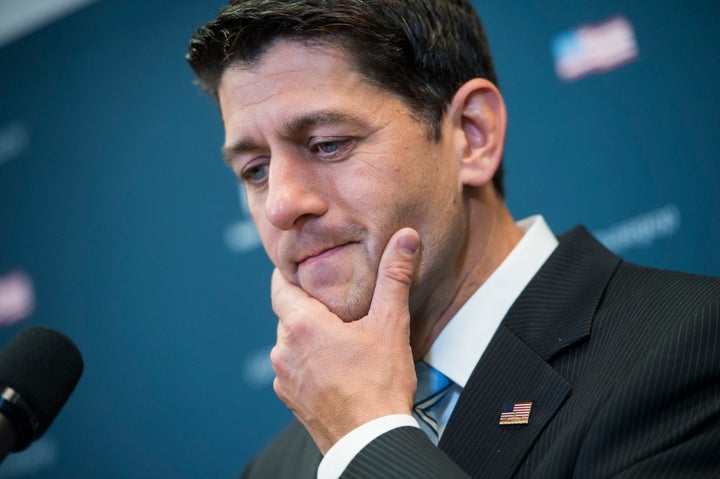 WASHINGTON ― Following the worst mass shooting in recent U.S. history, House Republican leaders came before the press on Tuesday and made it clear they intend to do absolutely nothing on guns.
Speaker Paul Ryan (R-Wis.) emphasized a comprehensive mental health reform bill that Republicans and Democrats passed into law in 2016 as a key effort by Congress to protect people from attacks such as the one in Las Vegas Sunday night.
He also pointed to Majority Whip Steve Scalise (R-La.) as a symbol of "healing." (Scalise was joining other House leaders for his first press conference since being seriously wounded by a gunman in June during a practice for the Congressional Baseball Game.)
"Just Steve being back here today, it's evidence of the power of miracles, the power of prayer, of us healing and getting back together," Ryan said. "Our fellow citizens need both of these things right now."
Those who lost loved ones or were wounded in the Las Vegas massacre "need to heal, they need to grieve, they need to pray, and we need to come together," Ryan added. "And it's just important that we reflect the fact that our heart is with them."
Scalise offered similar thoughts, saying, "Those families need our prayers. They need to be uplifted." He also urged people to visit their local blood banks.
Ryan, when asked specifically what Congress was doing to protect people from mass shooters, had little to offer other than his comments on prayers and healing. The mental health bill he touted focused on ensuring there isn't a shortage of psychiatric hospital beds, rather than addressing the availability of guns.
"Mental health reform is the critical ingredient to making sure that we can try and prevent some of these things that have happened in the past," Ryan insisted.
When the reporter tried to follow-up with a question about Republicans undoing an Obama administration regulation in February that had made it tougher for certain mentally ill people to get a gun, Ryan ignored it.
Instead, he went to veteran budget reporter Jonathan Nicholson from Bloomberg BNA, seemingly expecting a question about House Republicans adopting a budget this week that will help advance tax reform.
But Nicholson asked about the February GOP bill that rolled back a regulation requiring those who had applied for Social Security disability benefits because of "mental incompetency" undergo an FBI background check before purchasing a gun.
"There were people who were, whose rights were being infringed," Ryan answered. "And that wasn't just, it was ― it's a little more complicated than you're describing."
"You don't think that goes in the opposite direction of what you just said?" Nicholson pressed.
"Protecting people's rights was very important, and that's what that issue's all about," Ryan answered, moving on to a third and final question.
He called on Wall Street Journal reporter Kristina Peterson, who asked about the so-called sportsmen bill, which would mostly just allow more federal land to be used for hunting but could offer a natural venue for lawmakers to debate gun control.
Ryan said he had no plans to bring up the bill at this time, and then pivoted to the budget, which he noted he did plan to put on the floor this week as a step toward Republicans delivering on tax reform.
"Because we think that's one of the most important things we can do to improve people's lives," he said.
The entire press conference was an exercise in ducking questions and pivoting. Asked what Congress was doing about guns, Ryan cited mental health reforms. Asked about Republicans making it easier for the mentally ill to purchase firearms, Ryan said it was about protecting rights. And asked about a specific bill that involves firearm use, Ryan's answer was tax cuts.
Popular in the Community