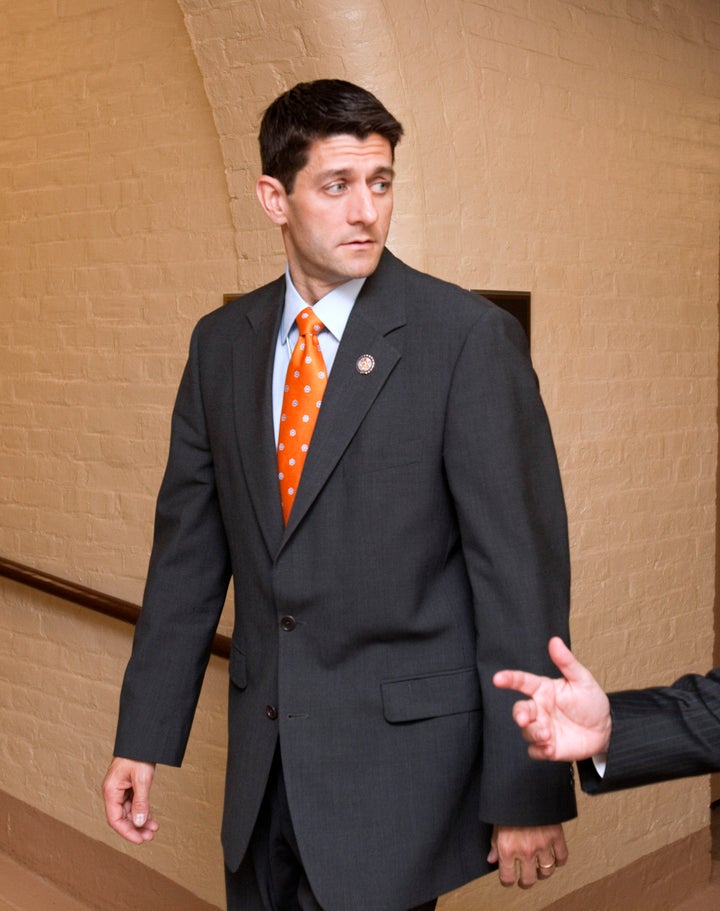 A new survey released Monday by the Pew Research Center finds slightly more Americans oppose than favor the budget and Medicare plan advanced by the Republicans and Rep. Paul Ryan (R-Wis.) and finds that opposition is especially high among seniors and those following the issue most closely.
According to the survey, 36 percent of American adults favor the plan and 41 percent are opposed. That includes a larger percentage of respondents who strongly oppose the plan (30 percent) than strongly favor it (22 percent).
Other recent national polls have shown even greater opposition to the Ryan plan. These surveys asked very different questions but, as shown in the table below, found roughly the same relatively low level of support -- varying between 34 and 36 percent -- for Ryan's proposal to transform Medicare into a voucher system.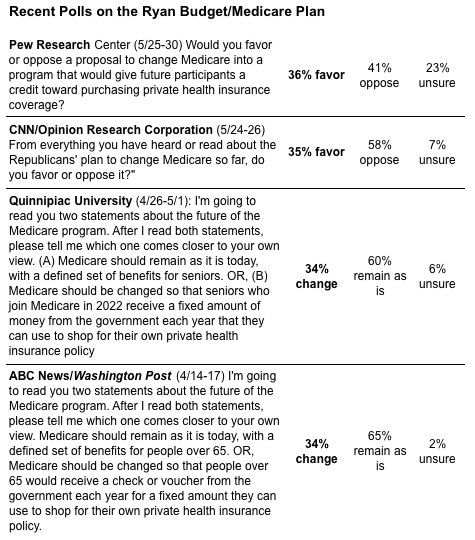 Why did the Pew Research question yield less opposition and more uncertainty than the other polls? One reason is that, unlike the CNN question, it does not explicitly identify the plan as sponsored by the Republicans. A second may be that the Pew Research question immediately followed another that asked respondents how closely they had been following the Medicare proposal. Many of the 28 percent who said they had heard "nothing at all about it" may have felt nudged to express uncertainty on the next question.
The questions posed by Quinnipiac University and ABC News/Washington Post differ in two ways: They use a different format, explicitly posing the choice between the proposal and letting Medicare "remain as it is today." And they also provide more details about the proposal, specifically noting that the proposed credit people would receive would be "fixed amounts" of money.
The Pew Research survey shows that the greatest opposition comes from older respondents. A majority (51 percent) of Americans age 50 and over oppose Ryan's plan, and only 29 percent favor it. Those age 50 and older also seem to be the most engaged in the debate -- 27 percent of Americans between ages 50 and 64, and 30 percent of those over age 65, said they had heard "a lot" about the plan, compared to 20 percent of respondents as a whole.
Americans ages 49 and under, meanwhile, are more likely to support the plan. 46 percent of 18-29 year olds say they support it, including 27 percent who say they strongly support it. Those between ages 30 and 49 are slightly less supportive than the youngest age cohort, with 38 percent in favor and 36 percent opposed (23 percent in that age group strongly support the plan and 25 percent strongly oppose).
However, these age groups are less likely to have heard a lot about the plan, signalling a lower level of engagement with the issue among younger Americans. Thirteen percent of 18-29 year olds and 15 percent of 30-49 year olds say they have heard "a lot" about the plan.
The Pew Research Center poll was conducted May 25-30 among 1,509 adults, and had a 3.5 percentage point margin of error. The full report, including toplines and selected crosstabs, is available here.

Popular in the Community