 WASHINGTON -- Although Paul Ryan has repeatedly stated that his plan is to "save Medicare," when speaking before a more conservative audience several years ago, the Wisconsin congressman seemed to have a different characterization for his proposal: privatization.
As seen in a video provided by a Huffington Post reader, Ryan spoke in 2005 before the Atlas Society, an Ayn Rand-inspired advocacy group, making the case for privatizing Medicare and calling the current system a "government monopoly" that is rationing care.
"Other things that are in this Medicare bill that you need to look at are … the fact that we are basically -- to use Ed's ugly word -- we are basically privatizing the system," Ryan says, when asked to elaborate on his proposals for Medicare at the time. "Because starting next year, senior citizens will have a choice of private plans from which to choose for all of their benefits."
"Medicare today is a government monopoly where you have this building right down the street running Medicare, price controlling and rationing care," he continues. "Starting next year, that building down the street -- HHS -- has to compete with all these other private providers. They -- the government, has to compete with other private providers, and they compete against each other for seniors' business. So seniors start for once having choice."
What Ryan describes is not very different from what he has tried to push through his controversial 2011 budget plan, which called for turning traditional Medicare into a voucher-based system. Since then, Ryan, who was named Mitt Romney's vice presidential nominee in August, amended his proposal to include traditional Medicare coverage as an option.
Ryan has sought to distance himself from the idea of a voucher-based system since joining the Republican presidential ticket, sitting down in several interviews to tout shared support with Romney for legislation that would offer a combination of private Medicare options, while preserving traditional Medicare.
The severity of Ryan's words in the 2005 speech when he describes Medicare, as well as Medicaid and Social Security, offers insight into where he truly stands on the issue: that three of the country's most critical entitlement programs are rooted in what he calls a "third-party socialist-based system" that must be replaced by an "individually-prefunded, individually-directed system":
According to a transcript of the video sent by the reader, Ryan says:
And so what we have coming now at the beginning of this century is a fight. If we ran government on autopilot -- CBO just came out with a really good report -- and do nothing, Medicare, Medicaid, and Social Security will grow so fast and consume so much that the government will consume 26% of our national economy, 26% of our GDP. Historically, government in this country runs at about 18% of GDP. We will consume 26% of GDP if we do nothing. So you have to understand that all they have to do is to stop us from succeeding. Autopilot will get them to where they want to go. It will bring more government, more collectivism, more centralized government if we do not succeed in switching these programs and reforming these programs from what some people call a defined-benefit system to a defined-contribution system -- and I am talking about health-care programs as well -- from a third-party socialist-based system to an individually-prefunded, individually-directed system.
Ryan made a similar pledge in a 2011 interview with conservative news site Human Events, also sent by the HuffPost reader. In the interview, Ryan identifies the key difference between his plan and President Barack Obama's health care law with respect to Medicare as a disagreement over privatization versus a public option.
"What we're doing is we're moving Medicare from a govern[ment]-run system to our market-based system," Ryan says. "What Obamacare does -- it takes a private sector health care system and makes it a government-run system."
"Medicare is a public program with a small private option," Ryan adds later. "We're turning Medicare into a private program where you can take the public system in that private choice-based premium support system if you want to."
Support HuffPost
The Stakes Have Never Been Higher
Before You Go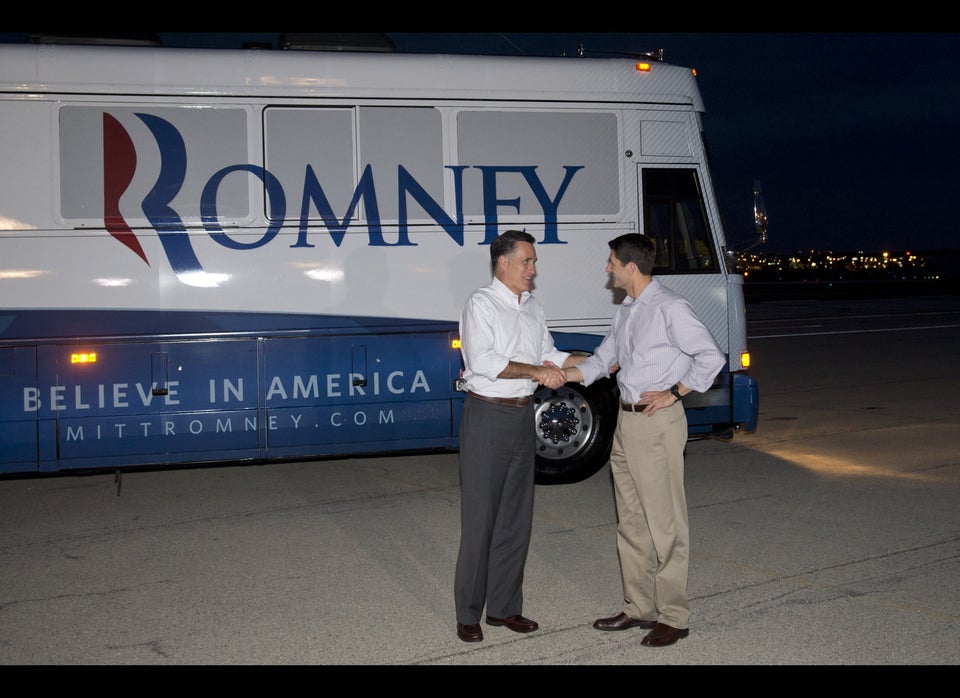 Romney-Ryan 2012 Soundtrack
Popular in the Community