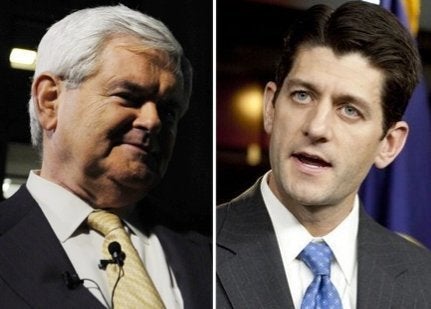 WASHINGTON — The architect of the House Republican plan for overhauling Medicare says presidential candidate Newt Gingrich's critical description of the proposal was deeply inaccurate and a gross mischaracterization.
Last week Gingrich called Rep. Paul Ryan's (R-Wis.) Medicare proposal "right-wing social engineering."
"What you want to have is a system where people voluntarily migrate to better outcomes, better solutions, better options, not one where you suddenly impose it," he said. "I am against Obamacare imposing radical change, and I would be against a conservative imposing radical change."
"I made a mistake and I called Paul Ryan today, who's a very close personal friend -- and I said that," said the presidential candidate during an appearance on Fox News. "The fact is that I have supported what Ryan's trying to do on the budget … the budget vote is one that I am happy to say I would have voted for, I will defend, and I will answer any Democrat who attempts to distort what I said."
Gingrich also called Ryan to apologize.
Ryan played down the flap when asked about it on NBC's "Meet the Press" and played up his proposal. It essentially calls for a voucher system to help older people buy insurance in the future.
Many Democrats have rejected the proposal, and some Republicans have been wary of endorsing it.
Ryan says it's time to move beyond the Gingrich comments and focus on dealing with the nation's fiscal problems.
REAL LIFE. REAL NEWS. REAL VOICES.
Help us tell more of the stories that matter from voices that too often remain unheard.