WASHINGTON -- House Speaker Paul Ryan doesn't want to talk about Donald Trump. Except when he does. But definitely not when he doesn't.
The Wisconsin Republican has struggled to maintain consistency on his self-imposed policy of not answering questions about 2016 or the presumptive GOP presidential nominee. Ryan has promised to take a stand when he sees something that "runs counter to who we are as a party and as a country," as he did with Trump's call to ban Muslims, Trump's slow effort to denounce former KKK leader David Duke, and the violence at Trump rallies.
That's a noble policy, of course.
But Ryan's refusal to speak out on so many other occasions leaves him open to easy criticism: Does he not think Trump adequately crossed the line other times?
When he was asked about Trump's comments on women -- decades of calling them "bimbos," a "beautiful piece of ass," or saying their success on his show, "The Apprentice," was "dependent on their sex appeal" -- Ryan could barely contain his excitement over shutting down CNN producer Deirdre Walsh, telling her that he wasn't going to get into "the day-to-day, up-and-down of this campaign."
"I'm not going to take the bait this morning," the House speaker said.
Later in that same press conference, he said his job as the speaker -- and therefore, as the chairman of the GOP nominating convention -- was to be "dispassionate, call balls and strikes."
But Ryan has done more than call balls and strikes.
"This is the party of Lincoln, of Reagan, of Jack Kemp," Ryan said. "And we don't always nominate a Lincoln and a Reagan every four years, but we hope that our nominee aspires to be Lincoln and Reagan-esque."
"It seems Ryan wants to be able to drop in on the 2016 race when it's convenient for him. But he doesn't think it's fair to ask him about it."
Even before Ryan shed his umpire's uniform, he was making grandiose speeches with veiled references to Trump and his demagoguery. He was telling a room full of interns -- and reporters -- that politicians shouldn't "resort to scaring you."
All totally consistent with Ryan's policy because, you know, he didn't use Trump's name.
But even on that point, the House speaker hasn't always treated Trump's name like it was Voldemort's.
The day prior to Ryan's sit-down with Trump, every question from the Capitol Hill press corp was devoted to Trump, and Ryan answered every single one. On the day of Trump's actual visit to Capitol Hill, Ryan went before the press and was forthcoming about his meeting.
On Thursday, Ryan was asked about being the only member of House GOP leadership who hadn't endorsed the presumptive GOP nominee. He had few qualms about answering that question.
The next question was a little more pointed.
"You've said that you'd speak out when you believe conservatism is being disfigured," CNN's Manu Raju said. "When your presumed nominee said he would speak directly to Kim Jong Un, does that cross that threshold?"
"Look: I'm not going to litigate this campaign from this podium," Ryan answered, right after litigating the campaign from that very podium.
It seems Ryan wants to be able to drop in on the 2016 race when it's convenient for him. He wants to play a direct role in the "unification process." But he doesn't think it's fair to ask him about it. He doesn't think it's fair to ask about someone he spoke with for nearly two hours who has proposed a meeting with Kim Jong Un -- not when that person is running for the highest office in the country.
That's a nice policy for someone looking to distance himself from Trump and simultaneously embrace him as the party's nominee.
Asked about the seeming contradictions in Ryan's policy on 2016 and Trump, the speaker's office shrugged off the question. Ryan spokeswoman AshLee Strong told The Huffington Post, "We're sorry the speaker doesn't talk about Trump as much as you'd like."
Before You Go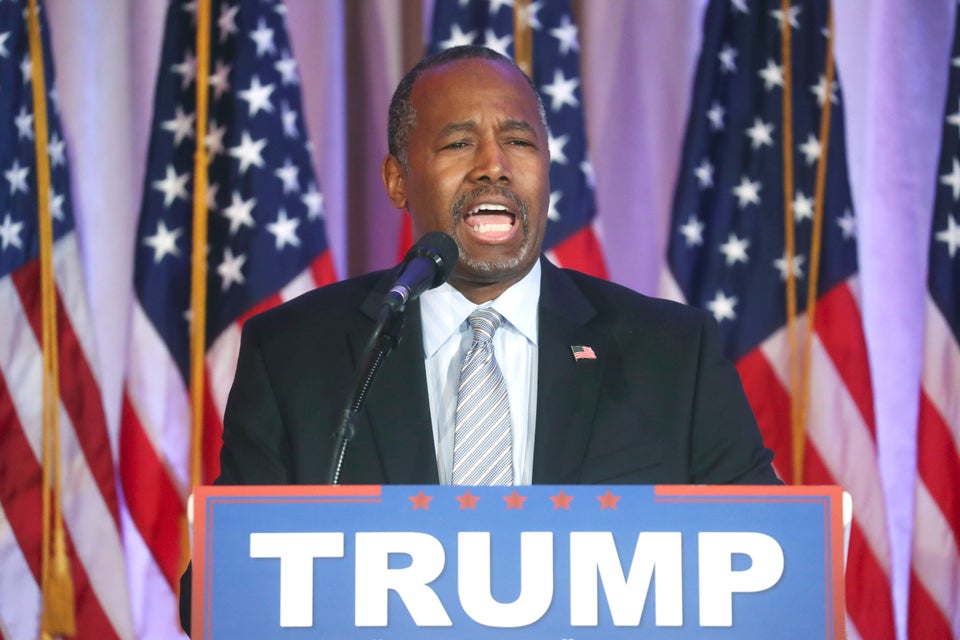 Potential Trump VP Picks
Popular in the Community