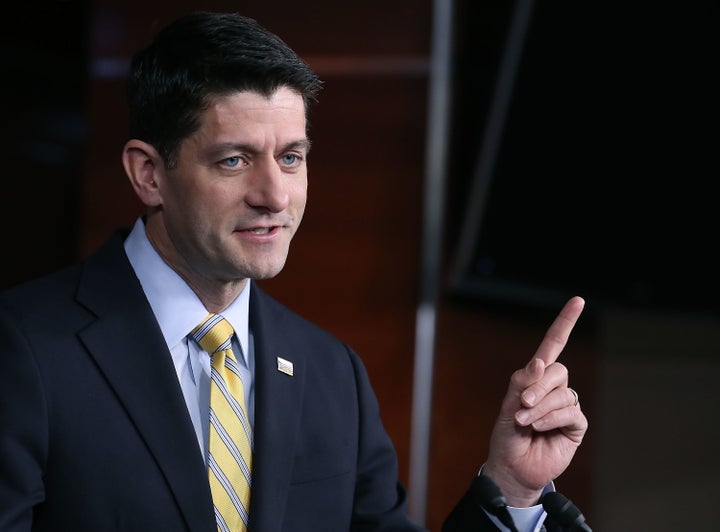 WASHINGTON ― Republicans ― who have spent years trying and failing to offer a detailed alternative to the Affordable Care Act ― will act this year to replace the health care law after repealing it, House Speaker Paul Ryan (R-Wis.) said Thursday.
"Our legislating will occur this year," Ryan told reporters. 
However, the speaker suggested the replacement likely wouldn't go into effect in 2017. 
"The question there is how long will it take for markets to be put in place, for markets to adjust," Ryan said. "That question we don't know the answer to, but the legislating on Obamacare will happen this year."
What's also unknown is what that replacement would actually look like, or what the effects of it may be.
When asked if he believed the GOP alternative would insure as many people as Obamacare, Ryan said he didn't want to get ahead of the committee process. But the speaker didn't seem concerned by a potential conservative coup over the health care repeal.
House Freedom Caucus members met with Sen. Rand Paul (R-Ky.) on Thursday to discuss the budget related to repealing major parts of Obamacare. In that budget, Republicans lay out the "appropriate" amounts of new debt, which comes out to nearly $10 trillion over the next 10 years. 
Ryan dismissed the issue on Thursday, saying he was "really not concerned" with a mutiny on the repeal over debt because Republicans weren't treating this budget like an actual budget. "Our members realize that," he said.
However, Freedom Caucus members haven't come to a formal decision regarding whether they'll accept a budget that codifies those numbers. The roughly 35-person group is set to meet next week to discuss the question.
Either way, Ryan projected confidence that Republicans would quickly work to repeal Obamacare through reconciliation ― a process requiring just 50 votes in the Senate ― and then produce an alternative health plan, as well as an actual budget, soon thereafter.
REAL LIFE. REAL NEWS. REAL VOICES.
Help us tell more of the stories that matter from voices that too often remain unheard.
BEFORE YOU GO