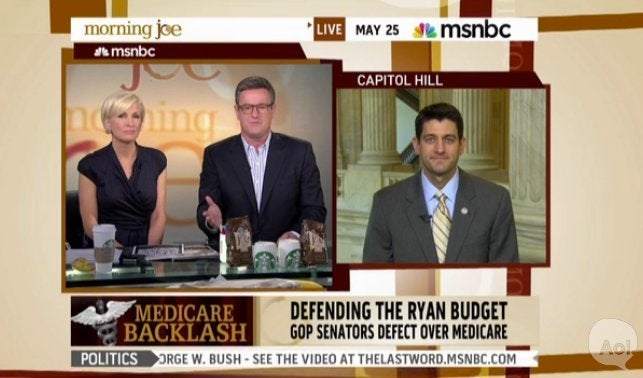 Rep. Paul Ryan (R-Wis.) said in an interview with ABC News on Wednesday that members of his party should not waver in their support for a controversial budget proposal he introduced earlier this year.
The Chairman of the House Budget Committee spoke out on the matter one day after a special election for New York's 26th district congressional seat in which Democrat Kathy Hochul pulled off an upset victory over Republican Jane Corwin. Ryan's proposal emerged a defining factor in the match-up and a hot topic for discussion following the outcome of the race.
"This is not the time to go wobbly," Ryan told ABC News' Jonathan Karl when asked about some Republicans growing apprehensive that their support for his plan could hurt their reelection hopes in 2012. "[Democrats] are going to run these attack ads at us regardless. This is a time for leaders to be leaders. This is not a time for us to follow our fears, this is a time to lead because if we don't address our countries fiscal problems we are going to have a debt crisis and the people who are going to get hurt the first and the worst are the people who need government the most, the elderly and the poor."
HuffPost's Ryan Grim and Mark Blumenthal report on the outcome of Tuesday night's special election:
The 2012 election found its defining issue on Tuesday night, with an insurgent Democrat upsetting a well-financed Republican in a deeply red district in New York state.

The GOP paved the way for the Democrat's victory by voting earlier this year to end the current Medicare program that guarantees health coverage to seniors and replace it with a voucher system that provides premium support for the elderly to purchase private health insurance.
During an appearance on MSNBC's "Morning Joe" earlier in the day, Ryan admitted that some of his Republican colleagues are worried about their stance on his proposal.
"People in the Republican Party are nervous because of these kinds of ads, because demagoguery unfortunately has worked in the past," he said. "But I think people are getting tired of it. I think we have plenty of time to get the facts out there. And once people actually learn the facts, we are fine."
Below, a clip of what Ryan had to say on MSNBC.
REAL LIFE. REAL NEWS. REAL VOICES.
Help us tell more of the stories that matter from voices that too often remain unheard.