WASHINGTON -- Shortly after the Senate passed a sweeping bill to combat the opioid crisis, House Speaker Paul Ryan (R-Wis.) spoke about the need for action.
"There's also a crisis at home I want to touch on," Ryan said unprompted at a press conference earlier this month. "This is one of those times where we all may know -- we certainly do in my family -- we all may know other families who have been affected by this growing epidemic, this problem. It destroys lives. It is destroying families. It destroys whole communities. So I want to commend the Senate for passing a bill to improve treatment and recovery programs to address this growing opioid epidemic."
The House, he added, was hard at work.
"Our committees are looking at this right now and a number of our members have been working on this issue," Ryan said. "We need to make addressing this opioid epidemic a priority, and that is exactly what the House will do. And we want to commend our friends in the Senate for quick action on this issue."
At least from a distance, things look good for the opioid bill, known as the Comprehensive Addiction and Recovery Act. It passed 94-1 in the Senate; House Minority Whip Steny Hoyer (D-Md.) told reporters his party would be happy to have the bill go directly to the House floor under a suspension of regular rules, which requires a two-thirds vote; it has overwhelming support in the House. With the speaker's strong and emotional support, what could go wrong?
The answer is embedded in Ryan's own words: "Our committees are looking at this right now."
Ryan ascended to the speakership on a promise of restoring "regular order" to the lower chamber, shifting power back to committee chairs. It's the same promise that was made by former Speaker John Boehner (R-Ohio), and before him by Speaker Nancy Pelosi (D-Calif.) and before her by Speaker Dennis Hastert (R-Ill.).
Perhaps Ryan will be the first speaker to keep that promise in general, but doing so on the issue of heroin is proving close to impossible.
"I talked to Paul at length over the weekend about it," said Sen. Rob Portman (R-Ohio), the Republican co-sponsor of CARA, in an interview with The Huffington Post last week. "You know, he's running the House a little bit differently and I respect that, saying deference to the committee chairs."
"But this thing passed 94 to 1 and it's an urgent problem," he went on. "This is not like one of these bills you pass around here that's gonna affect something over the next 10 years, so you can take your time on it. I would say that the problem is getting worse, not better."
The previous Monday, Portman said, he'd learned from the chief medical examiner for the Cleveland area that they'd had their worst weekend ever. Eleven people died. "He calls on Tuesday, he says three more people died on Monday," Portman added.
The opioid issue is on the national radar: The White House announced Tuesday that President Barack Obama will speak at the National Rx Drug Abuse & Heroin Summit on March 29 in Atlanta. But the problem for the House is that its more conservative members are still committed to an enforcement-first, war-on-drugs approach to the opioid crisis. On the CARA legislation, "there's been less of a drumbeat on the House side than on the Senate side," said Daniel Raymond, policy director with the Harm Reduction Coalition, an advocacy group. "It feels like it's less of a priority on the House side."
In a statement, the Judiciary Committee, under whose jurisdiction CARA falls, defended its record on heroin legislation by citing a measure it passed that jacks up sentences for fentanyl dealers: "The Committee has taken action as part of its criminal justice reform initiative to address one of the issues fueling the opioid problem. The Sentencing Reform Act, passed by the House Judiciary Committee last fall, contains sentencing enhancements for trafficking in fentanyl, a highly dangerous drug 80 to 100 times more potent than morphine, which is often 'cut' with heroin and has led to a surge of overdose deaths across the country."
Fentanyl is indeed a scourge, but the suggestion that implementing higher federal sentences for fentanyl dealers would do anything to address the opioid crisis is so outdated as to border on offensive. In Louisiana, for instance, heroin dealers can face life sentences in prison, yet the market faces no shortage of heroin. (Meanwhile, there's no guarantee that the broader bill, the Sentencing Reform Act, will become law.)
The committee also singled out two measures it passed dealing with overprescription of opioids, though neither item would do anything for the hundreds of thousands of people already addicted.
Of course, the committee could take up CARA, debate it, amend it and send it back to the Senate. But the new form it would take would likely reflect the hard-line bent of the House GOP conference.
"I'm all for treatment," said Rep. John Mica (R-Fla.) at an oversight hearing on Tuesday. Then he pounded his fist and added: "Treatment is at the end of the process. They've already been addicted. We have got to stop this stuff at our borders." And Mica is a relatively moderate Republican.
The effort to go after supply is no surprise to Portman, who said he used to believe in that approach. "Republicans tend to immediately go to supply side," Portman said. "I know that's not the answer, because I know if we were successful in that, it would then be methamphetamines made in our basement again." He argues that an effective approach would have to deal with the demand for drugs.
A light switched on for Portman some 20 years ago, during a meeting with a constituent.
"It was either '93 or '94. A woman came to my office to talk to me about her son," he said. "I was prepared for it, I had my staff -- being a former staffer myself -- prepare all this stuff. She walked in and I said, 'We spend $15 billion a year on drug interdiction and drug eradication, prosecution of these criminals.' And she said, 'What are you talking about? How is this going to help me?'"
The House Energy and Commerce Committee, which also has some jurisdiction over the issue, pointed to the number of hearings it has held.
"Effectively combatting the opioid epidemic has been an all hands on deck effort. Over the last year we've held over a half dozen hearings, heard from various experts, and advanced important legislation," said subcommittee Chairman Joseph Pitts (R-Pa.) in a statement. The legislation, he said, required "the Secretary of Health and Human Services to conduct a review to identify possible gaps in the research, prevention, and treatment of prenatal opioid abuse and infants born experiencing withdrawal."
The statement also singled out H.R. 4641, a measure that Pitts said would "establish an inter-agency task force on best practices, and we hope to advance it along with other thoughtful solutions soon."
AshLee Strong, a spokeswoman for Ryan, said the committees responsible will put something together "as soon as possible."
"Speaker Ryan is committed to passing the most effective, robust solution possible to address the alarming opioid epidemic sweeping the country," Strong said. "House members on both sides of the aisle have long-worked on this issue, and our Committees will produce a solution as soon as possible so a bill can be signed into law."
The effort to address the heroin epidemic in the midst of a presidential campaign and in a dysfunctional Congress has already had to overcome several hurdles, and been tripped up by at least one. One of the top priorities of public health advocates is addressing the cap on the number of patients an individual doctor can treat with medication to combat addiction. The current caps -- 30 patients in the first year, 100 patients a year afterward -- have created long waitlists and left addicts vulnerable to relapse and death. A piece of legislation to lift the cap to 500 patients a year was left out of CARA, Portman said, because it fell under the jurisdiction of the health committee, which wanted to deal with it separately. (The Health and Humans Services Department has the authority to raise the caps, and has telegraphed plans to do so, but has dragged its feet since the fall.) And so the waitlists will continue to grow to maintain the integrity of the Senate health committee's jurisdiction.
The Senate bill, meanwhile, ran into a brief political buzzsaw earlier this year when Sen. Chuck Schumer (D-N.Y.) began attacking Republicans for insufficiently funding it. A HuffPost story highlighting Schumer's move was integral to breaking the logjam, Portman said.
"That 94-1 vote I attribute to every [advocacy group] on that call -- and you, because I took your article and showed it to all 100-plus groups," he said. "I said, 'Guys, this is what's happening. I'm for the funding, it's a priority for me. I'd fund it instead of something else, but we can never get this through Congress if it's a fight about how much emergency money we're going to put in. Republicans won't support it and everyone knows that.'"
"I talked to Schumer about it afterwards and he was kind of sheepish," Portman went on, "because he was hearing from his groups back home, you know -- 'What are you doing?'"
The various pieces of legislation put together by the House may all fare well if they make it to the Senate. But that has little to do with whether the House will take up and pass CARA. According to a senior GOP House aide, the process will move fairly quickly, at least by congressional standards. "There's discussion to bring heroin legislation to the floor starting in May," the aide said.
Portman said he believes Ryan wants to see something get done.
"He was very encouraging about the general issue, said it's affected his district in Wisconsin. He gets it. He wants to be helpful," Portman said. "I got a sense that he'd like to move."
Matt Fuller contributed reporting.
Before You Go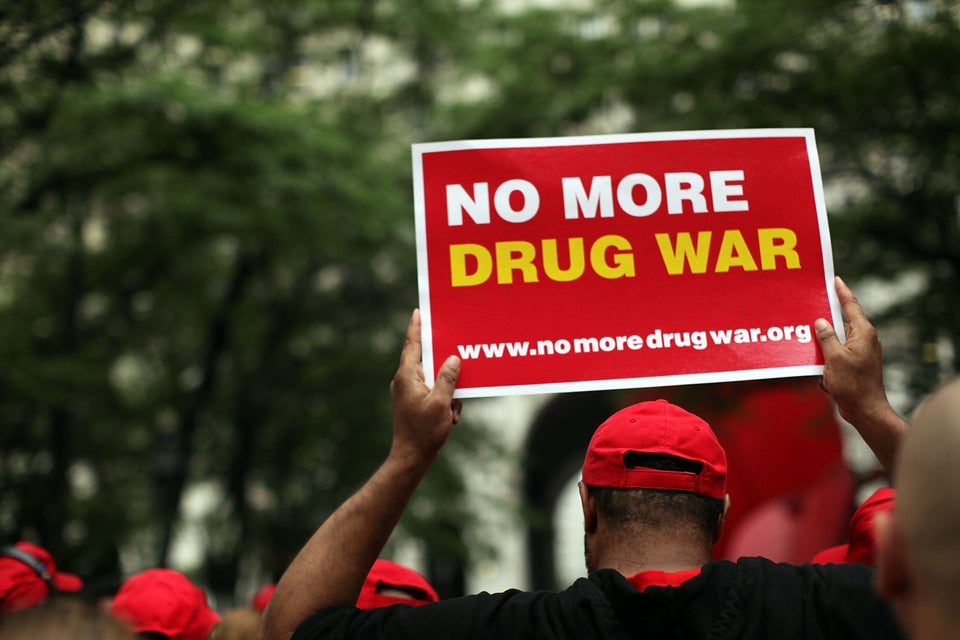 27 Reasons Why The U.S. Shouldn't Lead The War On Drugs
Popular in the Community