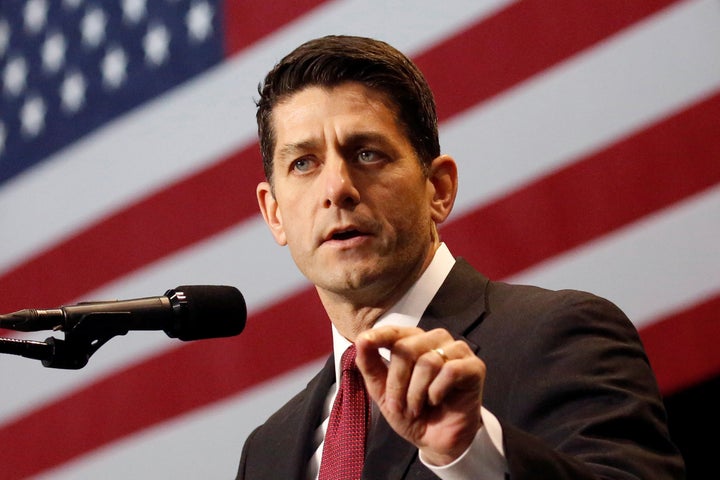 Newly elected Speaker Paul Ryan (R-Wis.) on Sunday resisted calls for him to support a paid family leave policy, saying his personal desire to spend time with his family didn't mean he had to back legislation facilitating it for new parents.
"Because I love my children and I want to be home on Sundays and Saturdays like most people doesn't mean I'm for taking money from hardworking taxpayers to create a brand new entitlement program," Ryan told "Meet the Press."
The resistance from Ryan to pursuing a paid family leave policy is not a surprise. He and the majority of his fellow Republicans have argued that mandated paid leave would be costly to businesses. But when Ryan decided to run for speaker it was under several conditions, one of which was that he'd be allowed to go home on the weekends to spend time with his wife and kids.
With that demand made, advocates were hoping that he'd be open-minded to legislation that would help parents who didn't have the institutional power to demand time at home be part of their employment contract. Ryan said he was supportive of those parents. Just not to the extent that he'd support crafting new laws.
"I think it's good to have balance in your life," he told "Meet the Press," according to a transcript of the interview. "And, you know, I'm from the X generation. As dads it's probably different than the older generation, the way we operate in our families."
"And I think people want citizen legislatures," he continued. "I think people want you to be with the people you represent, seeing, talking, hearing, listening, empathy. And I also think it's important to be with your family on weekends. I'm just talking about more time away. I'm talking about exactly what I've been doing, which is being with my family, being with my constituents on Saturdays and Sundays."
The United States is one of just three countries -- out of 185 -- that does not have guaranteed paid maternity leave. The other two are Oman and Papua New Guinea. New parents in the U.S. are allowed to take up to 12 unpaid weeks off after the birth of a child, provided that they have worked at a company with 50 or more employees for a certain period of time.
Three states currently offer some kind of paid family leave, including New Jersey, California and Rhode Island. But at least 18 other states are currently considering passing new laws, noted Wendy Chun-Hoon, the Washington, D.C., director for the nonprofit Family Values at Work. Nearly two dozen cities now offer some kind of paid family leave; Atlanta most recently passed a new law. The Family Act, which would provide federally mandated leave, is currently stalled in Congress.