 WASHINGTON -- If the selection of Rep. Paul Ryan (R-Wis.) as vice-presidential running mate to presumptive Republican nominee Mitt Romney has produced a "bump" for the GOP ticket, it is somewhere between small and non-existent. That's the conclusion from a handful of new polls released on Wednesday.
Gallup released results from their daily tracking poll that showed Romney with a 2 point edge over President Barack Obama (47 to 45 percent) among the 1,863 registered voters interviewed over the four day period since Ryan was selected. That finding represents just a 1 point improvement for Romney since the previous four-day period. Given that results for each of the two samples come with a 3 point margin of error, Gallup concluded that Ryan's selection "has not done much to change voter preferences, at least initially."
Gallup's analysis explains that the "lack of an immediate increase" for Romney is consistent with the "generally tepid reaction to the Ryan pick" as measured in an overnight poll they fielded on Sunday in partnership with USA Today.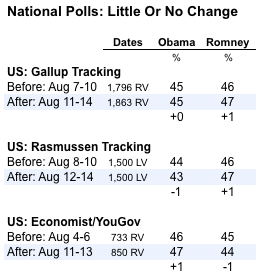 Two other national tracking polls released results on Wednesday showing similar single digit shifts that fell within the respective margins of error of each survey. The Rasmussen Reports automated telephone poll tracking showed a net 2 point gain for Romney, but the YouGov/Economist Internet survey showed a gain of the same magnitude for Obama. If the Ryan choice has produced a polling "bump" at the national level, it is difficult to distinguish from statistical noise.
The HuffPost Pollster chart below, which incorporates data from all national surveys, shows no net change over the last few weeks.
Five automated telephone polls also released on Wednesday, one from Rasmussen Reports and four from the bi-partisan public relations firm Purple Strategies, show a similar pattern. All five were fielded entirely after the Ryan announcement. Once again, they produced changes in the low single digits -- all well within sampling error for each individual poll -- with net gains for Romney in four polls and for Obama in two.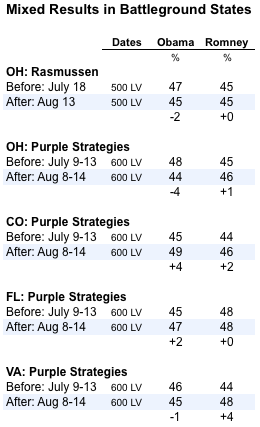 Purple Strategies also sampled 1000 adults across 12 battleground states showing another 2 percentage point net gain for Romney. "Taken as a whole," their analysis concluded, "these data indicate a small bump in the immediate aftermath of the Ryan announcement."
As the Gallup analysis explained, an immediate vice-presidential "bump" of 2 or fewer points is consistent with the changes they measured in reaction to the selections of Joe Biden and Sarah Palin in 2008, but smaller than those registered by previous vice-presidential selections from 1996 to 2004.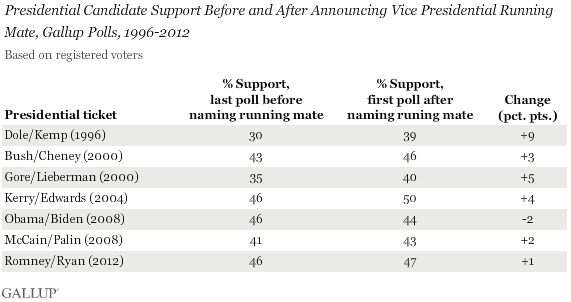 As the Guardian's Harry Enten observed, the median net change produced by past vice presidential selections made before party conventions was 3 to 4 percentage points. So far, the impact of Ryan's selection appears to be smaller, which is consistent with his relatively lower profile prior to his selection as compared to other vice-presidential selections.
A Washington Post/ABC News poll conducted over the weekend showed that Ryan got a quick boost in recognition over the weekend -- most of it favorable, especially among conservative Republicans.
The history of presidential elections polling trends shows that the two party conventions often bring about not only fleeting bumps for each candidate, but sometimes also make a lasting change in voter preferences. So the small bump for Ryan -- if there is a bump -- may be less important than the net impact of the next three to four weeks.
Calling all HuffPost superfans!
Sign up for membership to become a founding member and help shape HuffPost's next chapter
BEFORE YOU GO
PHOTO GALLERY
Political Reaction To Mitt's VP Pick