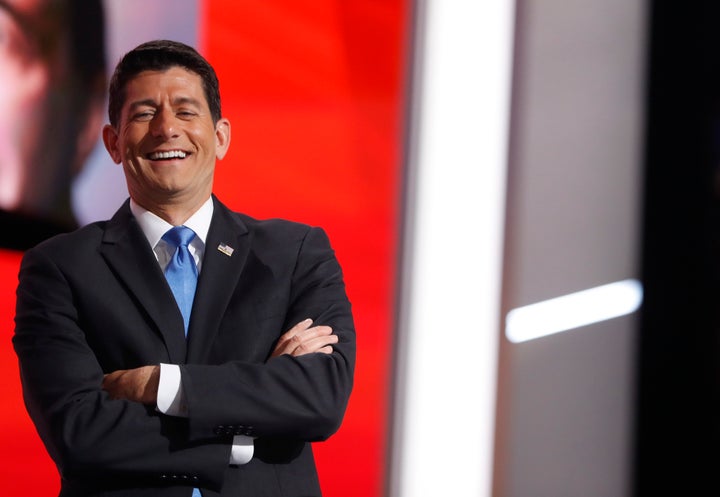 WASHINGTON ― House Speaker Paul Ryan (R-Wis.) easily beat back his first serious primary challenger on Tuesday, sweeping aside his Donald Trump-loving rival Paul Nehlen and moving past a primary race that had recently gained national attention.
Ryan won with more than 80 percent of the vote ― a resounding rejection of the Trump-type politics that Nehlen had embraced in an effort to draw the media spotlight.
Nehlen, a Wisconsin businessman who had never run for office before, showed a willingness to do or say almost anything to get noticed. In May, he challenged Ryan to an arm-wrestling match. In June, he produced a misleadingly titled video called "Exposing Paul Ryan's Drug Problem," which was about the flow of drugs crossing the U.S. border and featured Nehlen trudging through the shallows of the Rio Grande carrying a plastic tub labeled "DRUGS." In July, Nehlen held a press conference outside Ryan's Janesville, Wisconsin, home with mothers of children who had been killed by undocumented immigrants.
But it wasn't until the waning days of the primary campaign when Trump inserted himself into the race that most of the country started paying attention.
Early last week, Trump tweeted a thanks to Nehlen, which seemed to be a tacit endorsement of Ryan's challenger.
Republican National Committee Chairman Reince Priebus was reportedly "apoplectic" at Trump's display of party disunity, especially after Ryan had cast aside his own personal doubts about Trump to endorse him.
Under pressure from GOP leaders, Trump did eventually endorse Ryan ― during the opening ceremonies of the Olympics on Friday night. But the spat had already brought a lot of attention to a primary that, polling indicated, wasn't going to be close.
Still, Ryan faced criticism from some Republican agitators like Sarah Palin and Ann Coulter over his reluctance to fully support Trump, as well as some of his past positions, mostly on trade (Ryan helped to write rules for the Trans-Pacific Partnership).
The race also remained a bit of a question mark because Nehlen made a last-minute appeal to Democrats to vote in Wisconsin's open primary. The idea seemed to be that Democrats would calculate they had a better chance in November of flipping the district if Nehlen were the GOP's candidate. (While Ryan has represented the district for 16 years, it's only rated a slightly Republican area.)
But that argument did not seem to move a significant number of voters. Ultimately, Nehlen was unable to find the traction he needed against Ryan, and the speaker avoided the kind of embarrassing surprise defeat that befell former House Majority Leader Eric Cantor (R-Va.) in June 2014.
REAL LIFE. REAL NEWS. REAL VOICES.
Help us tell more of the stories that matter from voices that too often remain unheard.