WASHINGTON ― House Speaker Paul Ryan (R-Wis.) told colleagues Wednesday morning that he will not seek re-election this year and will retire from the House in January, capping off months of rumors that he was mulling stepping down from his leadership post.
"This year will be my last year as a member of the House," Ryan said during a news conference after meeting with House colleagues and staff. "To be clear, I am not resigning." 
Ryan cited his accomplishments, chiefly the recent GOP tax bill, and his desire to spend more time with his teenage children as his reasons for leaving, saying that time is "fleeting."
"I have given this job everything I had, and I have no regrets," he said.
After several news outlets reported the news early Wednesday morning, Brendan Buck, one of his top aides, confirmed Ryan's announcement in a statement before the speaker's news conference.
Republicans face an uphill battle in November's midterm elections, with dozens of competitive seats and a record number of resignations and retirements.  Democrats are eager to make the election a referendum on both Ryan and President Donald Trump.
Ryan dismissed suggestions that his agenda would hinder GOP chances in the midterms.
"We're going to have a great record to run on," Ryan told reporters Wednesday.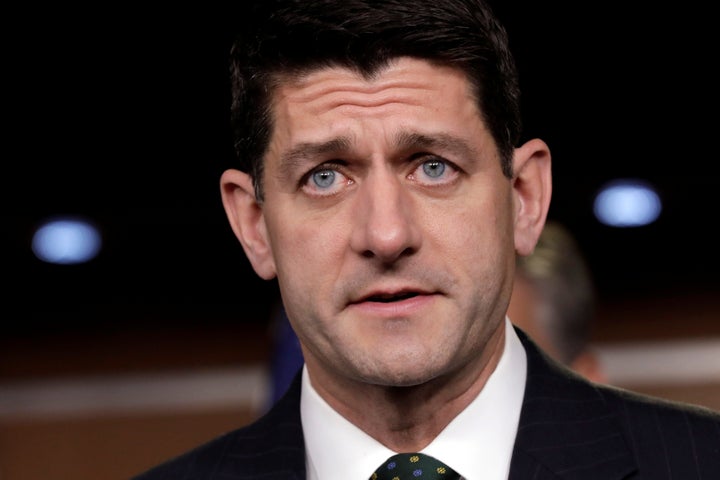 Trump responded on Twitter, offering his support and praise.
Speculation circulated in December over whether Ryan would leave the top House job in 2018 after GOP efforts to push through a massive tax bill ― one of Ryan's legislative priorities ― or after the midterm elections.
"You know, [former Speaker] John Boehner said the thing: 'Hey, I checked all of the boxes I thought were important and I'm moving on to whatever else,'" Amodei told Nevada Newsmakers, referencing what he thought could be Ryan's decision to leave office.
In response to those reports, aides to both Scalise and Ryan adamantly denied the rumors, and Scalise's spokeswoman said the lawmaker "fully" supported his colleague to remain speaker.
Ryan reluctantly took on the job of House speaker following the abrupt departure of his predecessor, John Boehner (R-Ohio), in 2015. The Wisconsin lawmaker had a tumultuous tenure, faced with infighting among various factions of the GOP caucus and the political rise of Trump, for which he received much criticism, particularly for his often tepid responses to Trump's incendiary comments.
But Ryan secured a major win late last year with the passage of an unpopular tax bill he had long touted.
"When people see their withholding improving, when they see the jobs occurring, when they see a simpler tax code, that's what's going to produce the results," Ryan said of the bill's critics in December. "And results are going to be what makes this popular."
Twitter users mocked Ryan in February after he used an anecdote about a school secretary in Pennsylvania who saw her pay go up by $1.50 a week to suggest the tax bill was working.
"She said [that] will more than cover her Costco membership for the year," he tweeted.
Responding to Ryan's announcement, Democratic leaders on Wednesday called on Ryan to work with them during his final months in office.
Describing him as "an avid advocate for his point of view and for the people of his district," House Minority Leader Nancy Pelosi (D-Calif.) said in a statement that "Democrats are hopeful that he joins us to work constructively to advance better futures for all Americans."
Senate Minority Leader Chuck Schumer (D-N.Y.) suggested Ryan should "break free from the hard-right factions of his caucus that have kept Congress from getting real things done," citing "his newfound political freedom."
The Democratic Congressional Campaign Committee called Ryan's announcement a harbinger of what's to come in the midterms.
"Unfortunately, for the many vulnerable House Republicans that Paul Ryan is abandoning, his historically unpopular and failed policies will hang over their reelections like a dark cloud," the DCCC said in a statement. "Stay tuned for more retirements as Republicans increasingly realize that their midterm prospects are doomed."
This story has been updated with more details about Ryan's announcement and reactions to it.
Calling all HuffPost superfans!
Sign up for membership to become a founding member and help shape HuffPost's next chapter
BEFORE YOU GO
PHOTO GALLERY
2017 Scenes From Congress & Capitol Hill