WASHINGTON ― House Speaker Paul Ryan (R-Wis.) announced Wednesday that he's retiring at the end of the year, leaving his party scrambling to find a strong candidate for his seat and Democrats with a better shot at potentially winning the district.
The filing deadline for Wisconsin's 1st Congressional District is June 1, which gives the GOP just under two months to field a candidate they like. A couple of Republicans are already running, but they're not exactly viable. There's Paul Nehlen, a white nationalist who got banned from Twitter and booted from the Wisconsin GOP. Another candidate is Nick Polce, an Army Green Beret and first-time candidate who raised a meager $17,000 in the last filing period.
Bryce is also already raising money off of Ryan's retirement, with his campaign sending out this email barely an hour after the news broke.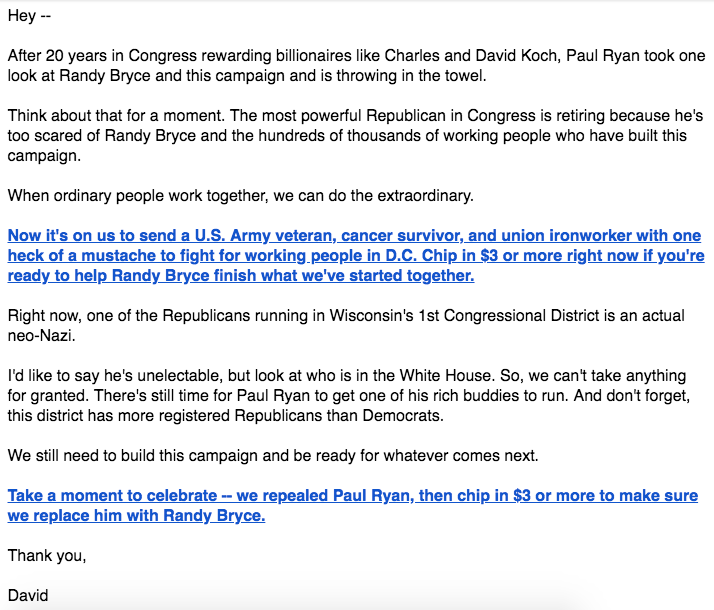 So what's the plan at the National Republican Congressional Committee, the body in charge of getting Republicans elected to the House?
"Our plans are simple," said NRCC spokesman Chris Martin. "Hold the seat and continue to expose the badly flawed records of the Democrats in the race."
But there is no clear GOP frontrunner for the seat.
Nehlen said he wished Ryan "health and prosperity in his retirement, and plenty of time with his family here in Wisconsin." But he dinged Ryan for not doing enough in the House to secure the border with Mexico.
"After twenty years in Congress, the border is still not secure," Nehlen said in a statement that is misleading, if not false. "We need a well-defended double fence, or a wall, every step of the way from the Gulf of Mexico to the Pacific Ocean; otherwise, you cannot effectively deport anyone from this country."
Matt Batzel, a Wisconsin-based national executive director of American Majority, an organization that trains grassroots conservative leaders, said there are "plenty of good options" for other GOP candidates in Ryan's district.
Some of the names he's hearing include state Sen. Dave Craig, University of Wisconsin Regent Bryan Steil and Wisconsin Assembly Speaker Robin Vos.
Two senior House GOP aides also recently floated the idea to HuffPost of Ryan's deputy chief of staff, Andy Speth, running for the seat.
One Wisconsin political operative speculated that state Sen. Leah Vukmir could jump into the race, too. Vukmir is currently running for a U.S. Senate seat, but she's trailing in the primary and might have an easier time in a House race.
Meanwhile, some Republicans are making it clear they're not interested in Ryan's seat. State Sen. Van Wanggaard, whose name was floated to HuffPost by two political operatives, told a local reporter Wednesday that he's not running.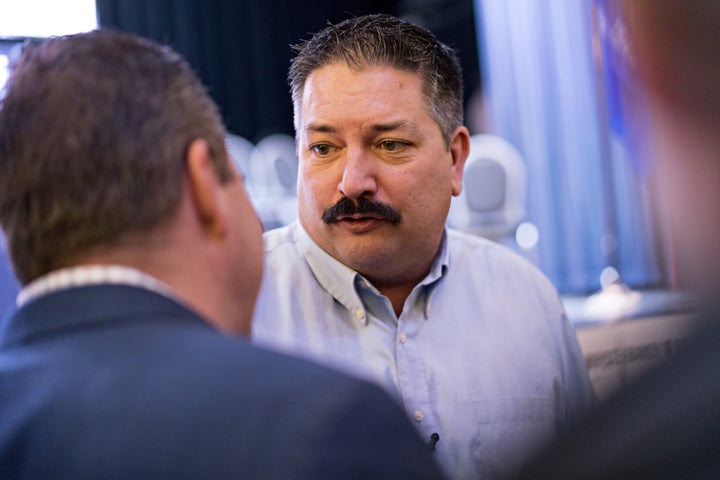 Democrats certainly gain an advantage with Ryan out, and Bryce, for one, is a fundraising machine. The party also appears to have the wind at its backs heading into November. But the district remains pretty solidly Republican: The Cook Political Report rates the seat as "Lean Republican," and Ryan defeated his opponent in 2016 by more than 30 points.
There are also tensions between the Democratic candidates. Bryce, a union ironworker, is running in the August primary against Cathy Myers, a longtime schoolteacher who's miffed about national Democrats rallying behind Bryce. 
Myers has said some of Bryce's comments have been "misogynistic" and criticized a statement his aide made to VICE comparing her to Nehlen, the white nationalist candidate. Supporters of Myers, who raised $264,000 in the last filing period, say Bryce is the creation of Hollywood as he collects donations from celebrities including Gwyneth Paltrow, Susan Sarandon and Charlize Theron. 
"No one has been able to answer this for me: Why is Randy Bryce a better candidate to beat Paul Ryan?" Myers said in a recent interview with The New York Times. "I'm talking about his qualifications, not his money."
Matt Fuller contributed reporting.
REAL LIFE. REAL NEWS. REAL VOICES.
Help us tell more of the stories that matter from voices that too often remain unheard.
BEFORE YOU GO
PHOTO GALLERY
Paul Ryan's Speaker Election