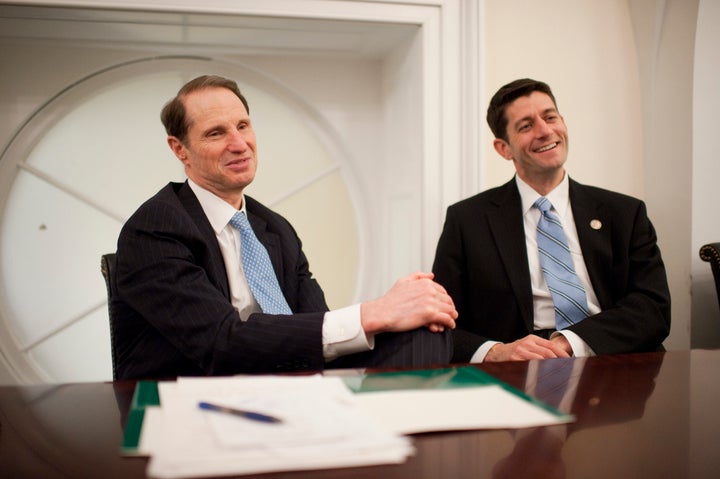 Republicans, in response, may start mentioning a different pair of hyphenated names: Wyden-Ryan.
Last December, Sen. Ron Wyden (D-Ore.) announced that he was joining with Ryan to propose a budget and entitlement reform plan. Romney brought up Wyden's name at his third rally of the day in Manassas, referencing that joint plan as the sign of Ryan's commitment to preserve Medicare.
"The president's put out a plan on Medicare. He would cut spending $700 billion," Romney said to a raucous crowd that the campaign estimated at 8,000. "Paul Ryan and Sen. Wyden said, 'No, we need to restore, retain and protect Medicare.' That's what our party will do."
It is this plan that Romney's own website says "almost precisely mirrors Mitt's ideas," in a section that answers the question of how his plan is "different from the Ryan plan."
The Wyden-Ryan plan complicates Democrats' plans to hit Romney and Ryan on their budget.
President Barack Obama has already been running against Ryan's original 2011 budget for some time now. The president has said Romney "plans to turn Medicare into a voucher program."
Romney did say in June 2011 that he would sign Ryan's first budget proposal if it came to his desk as president, but added that Ryan's plan was "not the plan I'll put forward" if elected.
"I have my own plan," Romney said at the time.
Romney put out his plan last fall, which was similar to Ryan's but differed in a few important ways. It did not eradicate Medicare, which Paul originally proposed doing in 2011 before dropping that idea when he joined with Wyden.
Instead Romney has proposed introducing private plans to compete with Medicare in its current form, and giving seniors a choice between them. In the Wyden-Ryan plan, these plans are part of a government-run exchange.
None of these plans would affect Americans over 55, who would stay in the current system.
Romney's plan also excludes the $500 billion cut to Medicare Ryan proposed in 2011.
And Romney also did not express support for vouchers, which are defined contribution payments given to seniors who use the money to shop around for insurance. Romney favors something called premium support, which is still a defined contribution, but involves the government paying insurers directly.
Ryan made some significant concessions to get Wyden's support. He agreed to have plans placed on government-run exchanges and accepted robust consumer protections to prevent insurance company abuses. In addition, if costs rise above the cap set for the premium support payments to seniors, Congress would be required to act to fix that problem.
"Wyden-Ryan is more like Obama's Affordable Care Act, which also features health insurance exchanges, than Ryan I, which would have forced seniors to fend for themselves," wrote Will Marshall, a centrist Democrat who is president of the Progressive Policy Institute.
Ryan also dropped most of the philosophical language in his original "Road Map," including an entire section about America's "expanding culture of dependency."
"Reform is now essential to ensure that Medicare will remain a guaranteed, affordable lifeline for seniors and taxpayers for decades to come," Wyden and Ryan wrote in the introduction to their compromise plan last December.
"Left unchecked, the growth of health care costs not only threatens the government's ability to guarantee Medicare's promise to millions of seniors, but also puts the solvency of the federal government and the health of the U.S. economy at risk," they wrote. "We can no longer ignore the obvious truth that change within Medicare could actually result in a stronger program."
This post has been updated to include additional information and comments by Romney about the Wyden-Ryan plan.
Calling all HuffPost superfans!
Sign up for membership to become a founding member and help shape HuffPost's next chapter
BEFORE YOU GO
PHOTO GALLERY
Political Reaction To Mitt's VP Pick