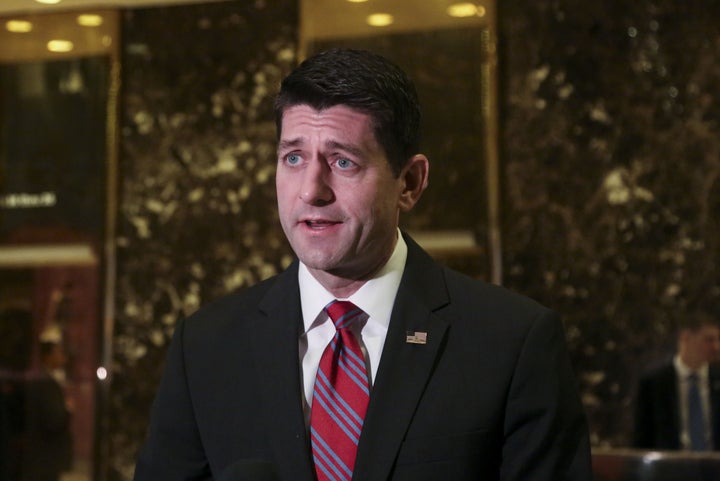 WASHINGTON ― After a round of news stories about House Speaker Paul Ryan (R-Wis.) stopping short of calling for a congressional investigation into Russian interference in the U.S. presidential election, he once again stopped short of calling for a congressional investigation into Russian interference in the U.S. presidential election.
"We must condemn and push back forcefully against any state-sponsored cyberattacks on our democratic process," Ryan's statement on Monday promisingly began, adding that intelligence chair Devin Nunes (R-Calif.) and his committee have been working "diligently on the cyber threats posed by foreign governments and terrorist organizations to the security and institutions of the United States."
"This important work will continue and has my support," Ryan added.
But does that mean the speaker supports investigating how Russia reportedly hacked the Democratic National Committee and published emails in an attempt to sway the presidential election?
That question still hasn't been answered, and Ryan's office did not respond to attempts to clarify his stance.
Nunes, who serves on President-elect Donald Trump's national security transition team, also said nothing about investigating Russian attempts to tilt the election. Instead, he issued a statement on Friday that dedicated 43 of its 77 words to attacking President Barack Obama.
"Unfortunately the Obama administration, dedicated to delusions of 'resetting' relations with Russia, ignored pleas by numerous Intelligence Committee members to take more forceful action against the Kremlin's aggression. It appears, however, that after eight years the administration has suddenly awoken to the threat," the statement read.
Nunes issued a new statement on Monday saying the intelligence committee would be a "vigilant monitor" of intelligence community investigations into Russian interference.
"We will also oversee the production of the report on these attacks requested by President Obama to ensure its analytical integrity," Nunes said. "At this time I do not see any benefit in opening further investigations, which would duplicate current committee oversight efforts and Intelligence Community requests."
Whether that means they'll hold new hearings on the cyberattacks, or simply provide oversight of investigations from other agencies, is again unclear.
As for Ryan, he's already taken a decidedly less aggressive stance toward Trump since he won. When Ryan had a chance to speak out about Trump's decision to make Breitbart News executive Steve Bannon his chief strategist, the speaker said he was "not looking backwards," though Bannon has personally gone after Ryan. And amid questions about how Trump will handle his businesses and potential conflicts of interest, Ryan's answer was "however he wants to."
After The Washington Post reported the CIA's conclusion that Russia had intervened in the presidential election, Ryan's spokeswoman, AshLee Strong, issued a statement on Sunday saying that "Ryan has said for months that foreign intervention in our elections is unacceptable."
"The speaker can not comment on or characterize the content of classified briefings but he rejects any politicization of intelligence matters," she said.
That statement didn't seem to answer anything, so Ryan came out with his new statement that simply reiterated the previous statement using more words.
"As I've said before, any foreign intervention in our elections is entirely unacceptable," the statement read. "And any intervention by Russia is especially problematic because, under President Putin, Russia has been an aggressor that consistently undermines American interests. At the same time, exploiting the work of our intelligence community for partisan purposes does a grave disservice to those professionals and potentially jeopardizes our national security. As we work to protect our democracy from foreign influence, we should not cast doubt on the clear and decisive outcome of this election."
It's that last sentence that's particularly interesting. Ryan doesn't think we should "cast doubt" on the outcome of the election ― which may indicate that he does not support a congressional investigation into how Russia played the American electorate.
House Minority Leader Nancy Pelosi (D-Calif.), meanwhile, made it clear where she stands on investigating Russian interference.
"The U.S. intelligence community has determined that Russia interfered in U.S. elections," she said. "There must be no equivocation or ignoring the seriousness of the intelligence community's conclusion about Russia's actions. Regardless of the outcome of the election, the American people deserve to know the truth and a commitment to protect our democracy from foreign meddling."
Pelosi then said Congress has a responsibility to investigate "Russian hacking into our election," and she said she supported a proposal to form a bipartisan, independent commission.
"Speaker Ryan must join the bipartisan call for a formal investigation into Russia's unprecedented assault on our democracy," she said.
This story has been updated with an additional statement from Devin Nunes.
Popular in the Community