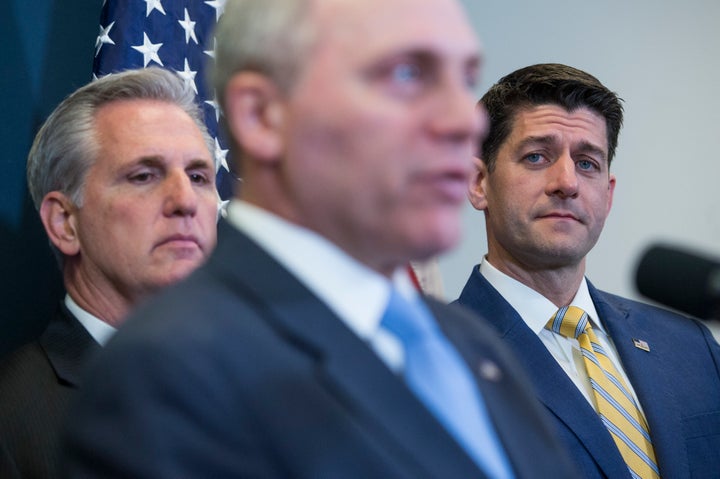 WASHINGTON ― Just 24 hours after announcing he won't run for re-election, Speaker Paul Ryan threw House Republicans another curveball Thursday by telling reporters he believes Majority Whip Steve Scalise (R-La.) supports Majority Leader Kevin McCarthy (R-Calif.) to be the next speaker.
Ryan said he was "encouraged" when Scalise said Thursday morning that McCarthy ought to be the person to replace the speaker.
Sources told HuffPost that Ryan and Scalise had a private conversation Thursday morning, and Scalise reiterated to Ryan his public position that he is not challenging McCarthy for speaker. But Scalise may not have known that Ryan intended to broadcast that statement to the Washington press corps.
Scalise also said Thursday morning on Fox News that he's "never run against Kevin, and wouldn't run against Kevin." But that statement may be more semantics than truth, as both Scalise and McCarthy have been jockeying behind the scenes to secure votes, and Scalise may believe his path to the speakership is viable if McCarthy finds he doesn't have the votes.
Either way, it's clear that Ryan intends to set up McCarthy for the position should Republicans retain the House. While Ryan has avoided endorsing a successor, the move to back Scalise into a corner should be interpreted as a signal of preference. And while Scalise has said in the past that he wouldn't challenge McCarthy for the GOP's top spot, members were under the impression that Scalise may be reconsidering that stance now that Ryan's departure is assured.
The current plan that Ryan laid out Wednesday is for him to serve as speaker through the end of the year, and hold leadership elections ― as planned ― at the end of November. At that time, Republicans would know exactly what position lawmakers are running for as the GOP's hold over the House is in question with the upcoming midterm elections.
Ryan said Thursday that he had already spoken to a number of Republicans who supported the timeline.
Calling all HuffPost superfans!
Sign up for membership to become a founding member and help shape HuffPost's next chapter