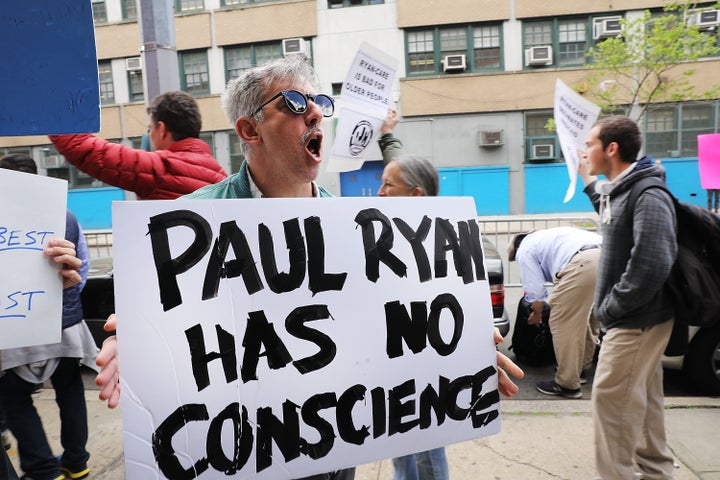 House Speaker Paul Ryan was greeted by a swarm of protesters during a visit Tuesday to Success Academy Harlem 1, a member of New York City's largest charter school network.
Demonstrators chanted "Shame! Shame!" as the Wisconsin Republican entered the school, and they held up signs, most of which criticized his position on health care.  
Ryan's is the latest in a series of visits by high-profile Republicans invited to the controversial public school, including House Majority Leader Kevin McCarthy (R-Calif.) and presidential daughter Ivanka Trump.
His visit comes less than a week after the House passed his health care bill, which would strip insurance coverage from 24 million Americans.
There's another layer to Ryan's visit. Success, which focuses on high achievement and top test scores, shares a building with P.S. 811, a District 75 public school that predominantly serves underprivileged children with special needs. Some parents attending the protest told Gothamist that specific programming for the special needs students had been cut, which made Ryan's visit, which focused on Success Academy, disappointing.
Ryan did visit a classroom at P.S. 811 before his visit to Success Academy. Mindy Rosier, a special education teacher at the public school, told HuffPost that it was a high-functioning autism class that "wouldn't have given him too many problems." 
Students at P.S. 811 are predominantly low income, in foster care or homeless in addition to having special needs, Rosier said. (School administrators did not return a request for comment.) 
"They all get money from the state to help serve their needs," she said. "If this health care bill goes through, that money would be slashed, so that could affect every single one of my students ― and that's just health care, not even looking at school funding."
School districts rely on Medicaid to provide services to special needs students. The health care law proposed by Ryan would slash Medicaid funding by $880 billion over 10 years while capping the funding given to certain demographics (like children or the elderly). And, if the funding goes, districts would still be required under law to provide services to special needs students.
"Eva Moskowitz tries to paint herself as a champion for New York's children. But today she has shown her true colors by standing with Paul Ryan, fresh off House passage of his healthcare law, that would eliminate coverage for hundreds of thousands of New Yorkers," Dan Cantor, national director of the Working Families Party, said in a statement. 
"Touring Success Academy, listening to these great kids and their committed teachers, hearing their stories. The quality of teacher training and preparedness was extraordinary. They have a lot to be proud of, and these remarkable kids are getting a great education. That's what matters — giving every kid a fair shot at the American Dream."

BEFORE YOU GO
PHOTO GALLERY
#TrumpBookReport Might Be Education Secretary Betsy DeVos' Worst Nightmare