So, that happened. In an era of near-total congressional gridlock, the House speaker's most important duty isn't counting votes or bringing bills to the floor -- it's raising money the party can use to help its candidates in the next election. GOP leaders are so desperate to hand Rep. Paul Ryan (R-Wis.) the gavel that they just gave up on a lot of that campaign cash.
In other words, Ryan probably secured one of the most powerful jobs in the world this week, and shrugged off one of the worst. It's a great deal for Ryan, and a good one for House Democrats.
Listen to HuffPost's analysis of House Republican chaos, the Benghazi hearings and the 2016 Democratic race in this week's "So, That Happened" podcast, embedded above. The Ryan discussion starts at the 30:52 mark.
A huge part of being in Congress is raising money. Members spend enormous amounts of time cajoling wealthy donors over the phone, in private meetings and at fancy dinners. Some of them, like current Speaker John Boehner (R-Ohio), seem to revel in rubbing elbows with the wealthy. And the speaker, more so than any other member of the House, is positioned as a national leader to secure the funds to help Republicans all over the country.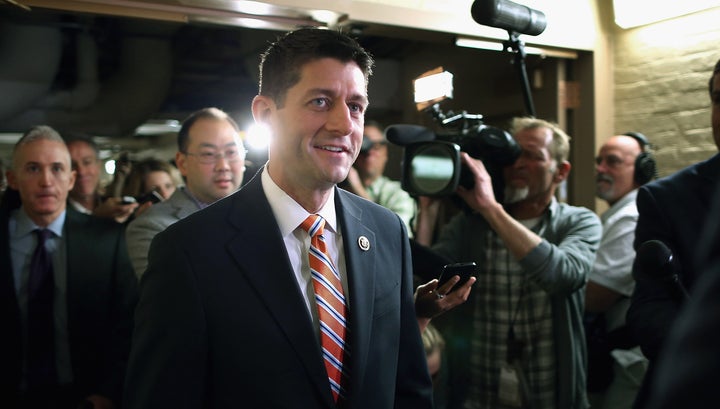 But sane members of Congress hate fundraising. It's annoying, boring and, at times, humiliating. Ryan just ducked out of many of those duties by insisting on reserving his weekends for his family. If he's going to be speaker, Ryan said, he won't be walking any golf courses with investment bankers on Saturdays. And by all accounts, he really meant it.
GOP leaders, of course, had little choice but to accept Ryan's demands. It's not clear if anyone other than Ryan would be able to get the votes necessary to succeed Boehner as speaker. And everyone in Washington knows that if Ryan is interested in one day running for president, the speaker job doesn't do him any favors -- the very nature of the post turns him into a polarizing partisan figure. In that negotiating scenario, Ryan can ask for anything he wants. He did.
This podcast was produced and edited by Adriana Usero and Peter James Callahan, engineered by Brad Shannon, with assistance from Christine Conetta.
To listen to this podcast later, download our show on iTunes. While you're there, please subscribe, rate and review our show. You can check out other HuffPost Podcasts here.
Have a story you'd like to hear discussed on "So, That Happened"? Email us at your convenience!
PHOTO GALLERY
Reactions To Paul Ryan's Speaker Announcement
Calling all HuffPost superfans!
Sign up for membership to become a founding member and help shape HuffPost's next chapter