WASHINGTON ― In October 2015, with Rep. Paul Ryan (R-Wis.) vowing that he would restore regular order and give members more control over the House, nine Republicans ― 10, if you count one member abstaining ― said no to Ryan becoming speaker.
On Tuesday, only one Republican voted against him.
When the House GOP held their internal elections behind closed doors in November, at least four conservative lawmakers left the room so they wouldn't have to audibly register their discontent with the speaker. Reps. Thomas Massie (R-Ky.), Walter Jones (R-N.C.), Paul Gosar (R-Ariz.) and Louie Gohmert (R-Texas) went into an antechamber of the sprawling Ways and Means Committee room and waited until the vote was over.
But exactly seven weeks later, only Massie, who is not part of the Freedom Caucus, spoke out in public opposition to Ryan.
"To drain the swamp, Daniel Webster," Massie said, voting for the same Florida representative who ran for the speaker's job in 2015. Webster didn't win then either, but the desire to reform the closed procedures of the House that he ran on helped derail former Speaker John Boehner (R-Ohio).
A little more than a year since Webster's bid, not much has changed in the House. Contrary to his promises, members of the House Freedom Caucus told The Huffington Post, Ryan hasn't opened up the legislative process. He may have even clamped down on it further, with GOP leaders now restricting which amendments can get a vote on appropriations bills.
That makes Ryan's seemingly stronger position in the Republican conference just 14 months after his first speaker election all the more remarkable, especially when you consider the coup that Freedom Caucus members were plotting just before Election Day. The caucus chairman at the time, Rep. Jim Jordan (R-Ohio), was supposed to run for speaker and prevent Ryan from rounding up the 218 votes necessary to keep his gavel. The thought was that the more-conservative lawmakers could at least negotiate for something if they blocked Ryan.
Then Donald Trump won the presidency, and the conservatives fell in line.
Members of the Freedom Caucus noted throughout 2016 that the procedural concerns they'd had with Boehner weren't really improving. So if the conservatives was so concerned with process and regular order when they founded their group, and if those matters didn't get better, why did every Freedom Caucus member vote for Speaker Ryan on Tuesday?
The answer for most members seems to be that Trump's victory has changed what's important.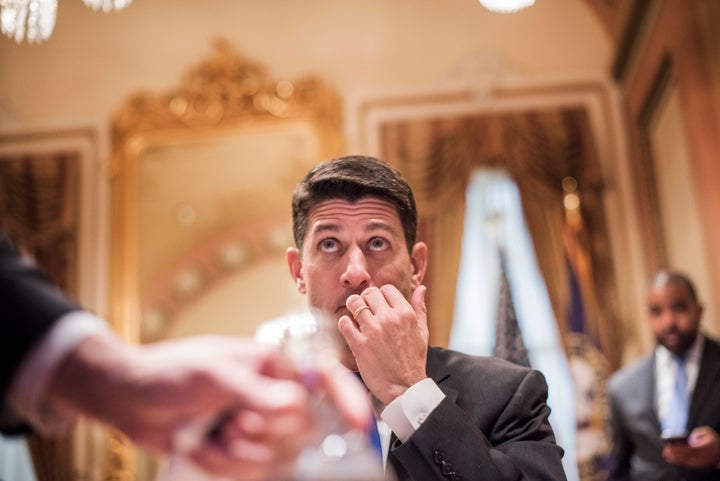 "Right now, there's a hope that we can all be unified and get some things accomplished in the first 100 days," Rep. Mark Meadows (R-N.C.), the caucus' new chairman, told HuffPost this week.
"We've been in a divided government. I think everybody was willing to look at the 115th Congress in a new light with the understanding that more conservative legislative solutions will be ruled in order," Meadows said.
Rep. Justin Amash (R-Mich.) said he felt it was reasonable to give Ryan some time with this new administration, and Rep. Raul Labrador (R-Idaho) said the caucus wanted to give Ryan a chance "to prove that they can do the right thing."
Neither Amash nor Labrador tried to suggest that Ryan had actually restored regular order in the House, although some caucus members did note that Ryan had made more of an effort to communicate with them than Boehner did. But members of the Freedom Caucus generally pointed to the idea of supporting Ryan as a sign of unified government when asked why they backed the speaker.
Of course, the other answer is that Ryan is actually stronger now. After Trump won the presidency and Republicans maintained a sizable majority in the House, it became much harder to argue that Ryan needed to go ― especially since Trump has seemingly made peace with the speaker, too. 
Voting against Ryan when there's no real push to get rid of him risks isolating yourself, and self-preservation is one of the strongest motives for a politician.
In the case of Walter Jones, an independent-minded Republican who has voted against his party's choice for speaker in three elections, voting for Ryan this time around was a matter of political choice.
"The price you pay if you don't support the speaker of the House, and the speaker of the House has no real opposition, it's not very politically wise," Jones told HuffPost.
"Get a strong vote, then that gives you some power," he added. "But if you got one or two people voting no, it's like a gnat," he said.
Jones knows well the price of being a gnat. He's been skipped over for an Armed Services subcommittee chairmanship for years and was removed from the Financial Services Committee in 2012. But Jones has a mission this year: He is trying to get a debate on the House floor over withdrawing troops from Afghanistan.
"So to me, I'd rather take my chances of at least asking the speaker to let me talk with him, and he looks at me and says, 'Well, you know, Walter voted for me this time, so I might give him five minutes,'" Jones said.
The price you pay if you don't support the speaker of the House, and the speaker of the House has no real opposition, it's not very politically wise.

Rep. Walter Jones
For other House members who walked out on the House GOP's internal speaker vote in November, this week wasn't the time to take a stand.
"You had an election in November. You have a president that's shown a willingness to try to get leadership here to coalesce and work together. And I think you got to give him a shot," Gosar told HuffPost.
Gosar, who is also part of the Freedom Caucus, didn't pretend that Ryan had taken care of his procedural concerns, but he said he felt he had to give Ryan a chance.
As for Gohmert, he actually had a conversation with Ryan on Tuesday, the day of the speaker vote, in which he said Ryan assured him that the Trans-Pacific Partnership was "dead" and that the House wouldn't legalize any undocumented immigrants before Trump had a chance to build a wall.
Gohmert said Ryan also threw in a commitment not to bring up any legislation that doesn't have the support of a majority of Republicans. That's the so-called Hastert rule, named after disgraced former Speaker Dennis Hastert (R-Ill.) ― although Gohmert said Wednesday, "I'm not sure I want to call it the Hastert rule."
Either way, Ryan's promises got Gohmert to yes, and that is perhaps a testament to Ryan's open door policy. 
Ryan spent a significant part of September trying to bring in every Republican House member for a quick meeting.
"On September the 29th, I had a meeting with Paul Ryan over what committees I was on and what committees I wanted to be on," said Rep. Randy Weber (R-Texas), one of the nine Republicans who voted against Ryan in 2015. "I told him at that time ... 'I'm going to support you, Paul, for speaker.' He said, 'Well, I didn't call you in here to ask you that.' I said, 'I know.'"
"I'm going to tell you," Weber continued, "this is the time for us to come together and do what the American people want us to do."
Weber also mentioned that in the 2015 election, he had made a commitment to Daniel Webster to vote for him and hadn't wanted to go back on that ― which mirrored the explanation from another Freedom Caucus member, Rep. Ted Yoho (R-Fla.), who also voted against Ryan in October 2015.
Yoho seems to have been won over by some of Ryan's lighter touches, like the revolving dinners the speaker has hosted with congressional lawmakers and his attempts to meet regularly with Freedom Caucus leaders.
You're always on a short leash.

Rep. Raul Labrador, on the position of the House speaker
Some Freedom Caucus members really do feel Ryan has taken strides to create a more open process. In October 2015, Rep. Dave Brat (R-Va.) laid out 10 principles for the next speaker that he said were essential to winning his vote. Even if some of those priorities remain unchecked ― like broadening opportunities for all lawmakers to offer amendments ― Brat feels good about changing his mind and voting for Ryan this time around.
"The process stuff I'm less worried about now, because the process is unified, right? The president and Ryan, the Trump agenda coupled with [Ryan's] Better Way agenda, is going through. Everyone's in agreement on that," Brat said.
Still, if this detente feels a little forced, it probably should. Ryan has not truly resolved the most significant procedural issues that Freedom Caucus members have decried since their group was formed in early 2015. Massie, who's keeping a low profile after being the single vote against Ryan this week, cited procedural concerns as his reason for standing against the speaker in November. And other House members who voted for Ryan acknowledge that things still need to change. 
"You're always on a short leash," Labrador said.
The question is who's holding the leash. Granted anonymity to discuss Ryan's standing in the Republican conference, two House members independently said they would expect any anti-Ryan coup to originate with Trump. And if Trump isn't asking for Ryan to go, it's not his time.
Calling all HuffPost superfans!
Sign up for membership to become a founding member and help shape HuffPost's next chapter