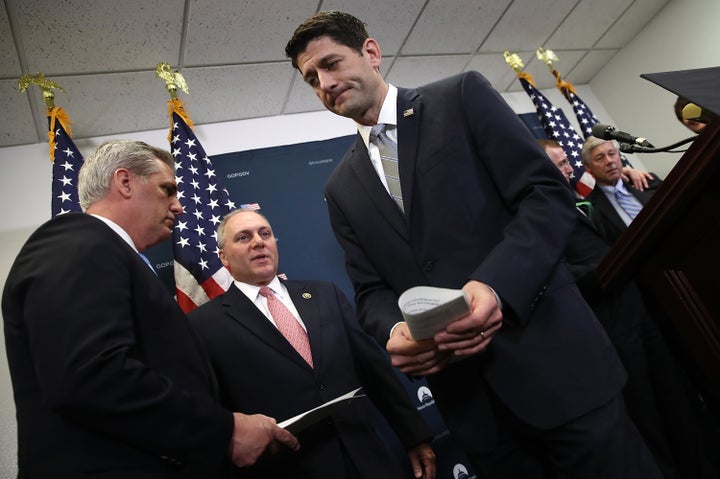 WASHINGTON -- Paul Ryan has said repeatedly that the most surprising aspect of being speaker is how much he likes the job. But with Donald Trump making the Republican establishment's job a lot less amusing, and conservatives making Ryan's own job a lot more challenging, the fun is rapidly waning.
His aides insist he likes the job, challenges and all. "Speaker Ryan is unfailingly optimistic, and I don't expect anything that happens this year will change that," spokeswoman AshLee Strong told The Huffington Post Wednesday.
But conservatives have drawn a line on the Republican budget, insisting they won't support the overall $1.07 trillion spending number that was set at the end of October in a deal with Democrats. They want to go back to the number set under sequestration, $30 billion lower for fiscal 2017 -- an instinct that puts the GOP budget, as well as the regular appropriations process, in doubt. 
All is not lost, however.
Budget Committee Republicans, who have been haggling with Chairman Tom Price (R-Ga.) over the spending blueprint, appear close to a deal to at least advance the budget out of their committee, members told HuffPost. In return for voting for the $1.07 trillion number, the prospective deal would give Republicans the chance to vote for separate legislation that would cut spending by $30 billion over the next two years and more than $100 billion over the next decade, and give them a vote on a Balanced Budget Amendment. 
The specifics of that deal are still taking shape -- where do the cuts come from, how much exactly, in what order does the House vote on that legislation and the budget, would the Senate have to pass the bill -- but GOP leadership is taking the temperature of their conference with a "survey" on Thursday that will give leaders an idea of whether a budget is possible at all.
It might not be. With fiscal hawks holding the line on a lower number and with defense hawks hinting that they'll need additional war money for their votes, there might not be a combination of 218 Republican votes for a budget. That threshold is needed to set the 2017 spending number so that the House can then move on to appropriations bills, which is the legislation by which Congress spends money and sets a number of policies.
It's not that Ryan isn't trying, you see; it's just that his job is impossible.
He's met repeatedly with conservatives and listened to their concerns. He and Price have floated all sorts of legislative combinations to get conservatives on board while not violating the deal Republicans struck with Democrats in October.
On Tuesday, Ryan even commissioned Senate Majority Leader Mitch McConnell to cross the dome and come before House Republicans to privately assure them the Senate is serious about passing appropriations bills -- as long as the House gets that pesky GOP budget out of the way. 
But conservatives, who already don't see the advantages of doing a budget, found much of McConnell's argument unpersuasive. 
A member asked McConnell what he would do if Senate Democrats blocked appropriations bills from coming to the floor as a protest against Republican obstructionism on a Supreme Court nominee -- a common worry among the GOP's conservatives. But McConnell "just kind of brushed it under the table," said fellow Freedom Caucus member Matt Salmon (R-Ariz.), saying only that he thought Democrats would allow spending measures.
"He never answered what the fallback position would be," Salmon said. "But that's the 800-pound gorilla and everybody knows it."
Salmon had other reasons to be doubtful. Even with Senate Minority Leader Harry Reid (D-Nev.) saying he'll allow appropriations bills to come to the floor, Reid has a track record of going back on his word, Salmon said. And even if the House got its act together, conservatives have serious doubts that the Senate will ever do a budget or appropriations bills. 
"I think they're pumping sunshine," Salmon said.
And that's just one problem for House conservatives. It's possible the whole process would lead to an end-of-year continuing resolution, which would continue current spending policies until the next president takes office (unlike a budget and spending bills, which Republicans could actually shape). "Why would we want to hold our nose and vote for something, especially when none of us really believe it will really get off the Senate floor?" Salmon asked. 
"Leader McConnell is doing and saying all the right things," fellow Freedom Caucus board member Mark Meadows (R-N.C.) told HuffPost on Tuesday. "I think that the real issue is there's a deficit of trust in believing that anything will get signed into law."
Meadows estimated that there's "well above 100" Republicans who don't want to vote for the higher budget number without at least offsetting that spending -- Salmon estimated that 80 Republicans don't want to vote on a budget at all -- and Ryan's challenge is convincing Republicans that voting for the budget and getting onto the appropriations process is worth sucking up the higher number.
But with a GOP climate dominated by Trump's disruption politics and Republicans seeing that this probably all ends with a continuing resolution, they're trying to figure out what's in it for them. 
Freshman Budget Committee member Rod Blum (R-Iowa) comes from a majority Democratic district. He's one of the most endangered Republicans in all of Congress. And yet he sees far more political upside to voting against a budget than finding a way to get to yes.
I don't like that saying, "Get to a yes."

Rep. Rod Blum (R-Iowa)
"I don't like that saying, 'get to a yes,'" Blum told HuffPost late last week, adding that spending cut votes that are just for show wouldn't be enough to convince him.
"My brand back in the district is fighting Washington, D.C., fighting the political class, fighting career politicians," Blum said. "And I always told people, 'if you like what's going on here, send my opponent.'"
Of course, Blum could end up supporting the budget in committee. Typically, one of the stipulations for being on the budget panel is a willingness to get the document to the floor. But if Price can convince his members to do that, there's no telling what sorts of obstacles might be thrown at Ryan and the rest of the Republican conference before -- or after -- the budget comes to the floor.
Case in point: the conservative group Heritage Action released a statement Wednesday that warned Republicans against voting for a budget with the higher number, saying that sort of blueprint would split the party and "exacerbate the anti-Washington sentiment so many members hear from their constituents."
Another fire for Ryan to put out.
Calling all HuffPost superfans!
Sign up for membership to become a founding member and help shape HuffPost's next chapter