NORFOLK, Va. -- One could easily imagine Democratic operatives cackling to themselves, "You're not in think tank-world anymore, Ryan!" as they watched the opening minutes of Rep. Paul Ryan's first speech as Mitt Romney's running mate.
The crowd of roughly 2,500 people standing outside under the gray morning sky gave a hearty reception to the 42-year-old Ryan. But as the Republican congressman from Wisconsin launched into his roughly 15-minute speech, it seemed at times as if he was addressing an audience at a policy think tank like The Brookings Institution or The American Enterprise Institute, rather than making a stump speech for national office.
"We're in a different and dangerous moment. We're running out of time. And we can't afford four more years of this," Ryan said. "Politicians from both parties have made empty promises which will soon become broken promises with painful consequences if we fail to act now."
The crowd paused, then applauded lightly.
This is Ryan's calling card: He is a wonk, and that's part of his appeal. But over the next three months, he'll need to take the arguments that he has made mostly to policy-minded insiders and figure out how to make his case to a much larger, far less attuned audience. He has been warning for years of the fiscal costs of not addressing government over-spending, debt and entitlement programs. But these kinds of sentiments are not the typical red meat of which campaigns usually consist.
Romney's choice of Ryan is a gamble that Americans are ready, hungry even, for a new kind of straight talk.
"Real solutions can be delivered. But it will take leadership, and the courage to tell you the truth," Paul told the crowd.
And as Ryan got going into his remarks and warmed up, he gathered momentum. It was clearly evident that Ryan is going to supply Romney with intangibles that favorability polls suggest the candidate has sorely lacked: energy, vigor, emotion, feeling.
"America is an idea. It's the only country founded on an idea," Ryan said emphatically. When he mentioned that rights come from God and not from man -- a bedrock belief of conservative governance -- the crowd broke into lusty chants of, "USA, USA, USA!"
When Ryan's wife, Janna, and their three young children, Elizabeth, Charles and Samuel, came on stage at the end of his speech, Ryan bent down on one knee and embraced his children with both arms.
For all his wonkiness, Ryan has been undergoing a transition over the past few years into a polished campaigner. That was evident from the way he bounded onto the stage, waving his right arm broadly toward the crowd, and in his delivery of key lines during his speech.
Romney, for his part, emphasized Ryan's character and his personal story.
"Paul's father died when he was in high school. That forced him to grow up earlier than any young man should. But Paul did," Romney said.
"Paul's upbringing is obvious in how he's conducted himself throughout his life, including his leadership in Washington. In a city that is far too often characterized by pettiness and personal attacks, Paul Ryan is a shining exception," Romney said. "He doesn't demonize his opponents. He understands that honorable people can have honest differences, and he appeals to the better angels of our nature."
"A lot of people in the other party disagree with Paul Ryan. I don't know of anyone who doesn't respect his character and judgment," Romney said.
Romney had already indicated this week that he wants the presidential campaign to move -- for political as well as substantive reasons -- away from personal attacks to a debate over ideas. His choice of Ryan is an aggressive move to shift the debate in that direction.
A colleague of Ryan's in the House was just as effusive in his praise of the House Budget Committee chairman.
"I personally think he's an incredible person -- deep thinker, thoughtfully conservative but reasonable, exciting yet safe," Rep. Patrick McHenry (R-N.C.) told The Huffington Post. "Enthusiasm for the ticket just went through the roof!"
What's unclear is how the country will respond to Ryan's budget plan and his proposals to overhaul Medicare, which Democrats will very likely paint in the direst terms possible.
Romney signaled his awareness of his vulnerability now on Medicare, and told the crowd that he and Ryan "will preserve and protect Medicare and Social Security, and keep them there for future generations."
Three separate attendees at the Romney event all said they knew of Ryan and his work before Saturday's announcement, and two of them said they had been hoping that Romney would either pick Ryan or Sen. Marco Rubio (R-Fla.).
"They come across as young Turks," said John Sutherland, a 50-year old Defense Department employee who came with his 20-year-old son, Kai.
Paul, Sutherland said, is "hardworking" and has "been engaged with the budget."
"I think it's good to have a young running mate," Sutherland said.
Sutherland said he was optimistic that Romney could win with Ryan on the ticket, but that he expects the election will still be a battle.
"That's going to be a knock-down drag out," he said. "You gotta prove that your changes are worth making."
Before You Go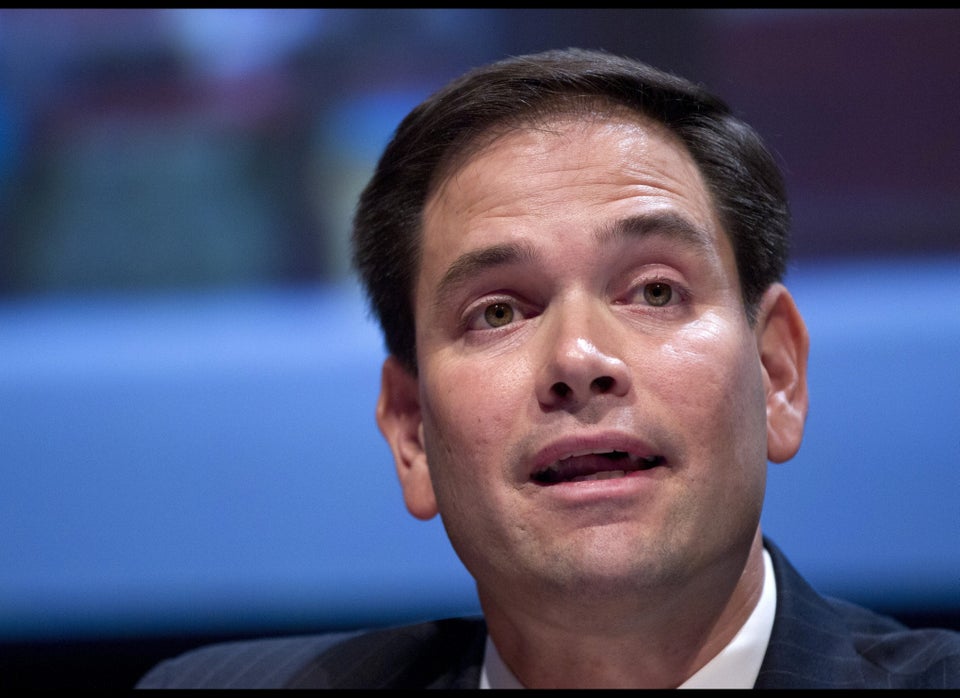 Political Reaction To Mitt's VP Pick
Popular in the Community