 WASHINGTON -- During Thursday night's vice presidential debate, Vice President Joe Biden attacked Rep. Paul Ryan (R-Wis.) for criticizing the president's stimulus act despite having sent two separate requests for stimulus funds for his district.
Biden was wrong. Ryan sent at least four requests.
A Freedom of Information Act request for correspondence between Ryan's office and the Environmental Protection Agency, filed by The Huffington Post, unearthed two additional instances in which the Wisconsin Republican petitioned for American Recovery Act funds. In addition, there were many other occasions in which the GOP vice presidential nominee asked the EPA for grant money for projects in Wisconsin's 1st District, which encompasses Ryan's hometown of Janesville and has a slight Democratic lean. Combined, the letters muddy Ryan's claim that the stimulus wasn't helpful and that government spending, more broadly, doesn't assist small businesses.
The letters, Ryan's spokesman Brendan Buck said, were sent as part of the congressman's basic responsibility to advocate on behalf of his district. "Part of being a congressman is vouching for constituents and helping them navigate the federal bureaucracy when asked," he said.
But the letters' language reveals a congressman who was involved in reviewing the applications and determining that taxpayer money could be useful economically. Moreover, the direct petitioning of the EPA could prove awkward for the Republican ticket, owing to the insistence among many in the GOP that the agency is a hindrance and should be eliminated.
On May 4, 2009, Ryan wrote a letter to the EPA office in Chicago expressing his "support for the National School Transportation Association's (NSTA) application to the Recovery Act National Clean Diesel Funding Assistance Program, which was submitted to the U.S. Environmental Protection Agency."
"I have reviewed the grant proposal that the NSTA has submitted, and I am confident that they would make effective use of the requested funds," Ryan wrote.
According to EPA records, the National School Transportation Association was awarded $2.442 million in stimulus funds.
Other efforts by Ryan were less successful. In late December 2009 and early January 2010, Ryan wrote three separate letters to the EPA on behalf of the Village of Sharon in an attempt to secure $550,000 in stimulus funds for utility repairs. The village, as Ryan noted, had worked to get the projects "shovel ready" so that they met requirements for the American Recovery Act. But despite Sharon operating under the assumption that the grant would be awarded, it wasn't.
"The Village insists that while they were getting the project 'shovel ready,' no actual construction commenced before October 1, 2008. The Village also contends that it met all of the requirements of the grant, scoring extremely high in the grant evaluation process," Ryan wrote on Dec. 2, 2009. "To rescind a grant award after it was announced and after a project was completed under the assumption that those funds would be paid would be economically devastating to this small community."
On Jan. 7, 2010, Ryan wrote again, asking for feedback and information. On Jan. 20, 2010, he wrote once more, saying that the "timeline" for the EPA's response "is not acceptable."
An official with the Village of Sharon told the Huffington Post that Ryan's efforts were for naught.
"When it came to getting the stimulus funds we were not approved," the official said.
Many of these correspondences were in line with what virtually every lawmaker does in carrying out his or her constituent duties. But as Biden charged in Thursday night's debate, for Ryan -- who has taken a hard line against both the stimulus and government spending in general -- the requests have opened him up to charges of hypocrisy and insincerity.
"I love that," Biden said. "This was such a bad program, and he writes me a letter saying, writes the Department of Energy a letter saying, `The reason we need this stimulus, it will create growth and jobs.' His words. And now he's sitting here looking at me."
As the AP noted, Ryan made many such petitions while in Congress. He asked the Food Stamps Access Research program to approve a grant proposal by the Kenosha community center for purposes of educating families about the nutritional benefits of food stamps. In 2002, he wrote the Agriculture Department to help with a loan guarantee to develop a pork packing and processing plant for farms. In 2010, he wrote the Department of Health and Human Services to send money to a Kenosha health center to help "thousands of new patients" get coverage.
The dozens of letters that Ryan wrote to the EPA underscore the dichotomy of Ryan's approach to the role of the government. The vast majority of the letters were banal efforts to help constituents with rules and regulations. Several of them were formal complaints about EPA overreach. But a number were requests for financial help.
Many of those requests sought funding to study area brownfields that could be redeveloped. Brownfields are former industrial properties -- a boarded-up factory, a shuttered gas station -- that might be contaminated by hazardous materials. When Ryan's hometown of Janesville requested federal monies to study its numerous brownfields, as previously reported by HuffPost, Ryan did not write a letter of support. But he did lobby the EPA on behalf of Kenosha and Racine brownfields projects.
On Oct. 10, 2006, Ryan wrote EPA administrator Stephen Johnson, expressing his "support for the Milwaukee Community Service Corps' (MCSC) application for the Brownfields Job Training Grant, which was recently submitted to the U.S. Environmental Protection Agency." On Dec. 8, 2006, he wrote again, this time in support of the City of Kenosha's grant application to the Brownfields Assessment Grant Program.
On Oct. 9, 2009, he wrote EPA administrator Lisa Jackson, backing Racine County's application for the EPA's Brownfields Site Assessment Grant.
"I have reviewed Racine's County's grant narrative, and I believe they would make effective use of the funds they would receive from the EPA," Ryan said. "I was pleased to learn that their proposed Brownfield's assessment project will help sustain, clean up, and restore the local community and the ecological systems that support them."
In the fall of 2011, Ryan wrote a regional administrator of the EPA, urging her to consider an application from a constituent whose business -- BioGenesis Enterprises -- had approached the EPA two years earlier seeking funding. BioGenesis, which had already received federal funding through an earmark under the Weather Resources Development Act, got consideration for additional federal money after Ryan's letter.
BioGenesis had sought funds to use the company's new technology for decontaminating sediment. The EPA ultimately rejected the funding request after several back-and-forths with the company. "As the company provided more details, it became increasingly clear that there were a number of insurmountable programmatic constraints and procurement requirements," the agency wrote Ryan on Dec. 28, 2011. "Unfortunately, it was not feasible to proceed."
The EPA went on to note that it was "unfortunate" that the agency simply didn't have the funding to support BioGenesis' "promising" technology. BioGenesis did not return a request for comment.
Ryan's success rate in helping out constituents is hard to ascertain. The Huffington Post contacted several, many of who said they didn't end up receiving help. Ronald Andersen is one those constituents. The owner of All Clean Pressure Washing of Wisconsin pursued a contract with the EPA in 2007 to help clean up federal buildings. He got a hand in the matter from Ryan. The congressman wrote a letter to the agency asking it to "carefully review" Andersen's "unsolicited proposal." The EPA did review the proposal, and decided to pass. Andersen continues to blame Ryan for not doing more.
"He said he is for small business -- he didn't help nobody in small business," Andersen told The Huffington Post. "He sent me a letter, that's about it. I thought he would help. All he did was give me excuses. ... He didn't do nothing for me. So I will never vote for him again."
CORRECTION: The Huffington Post originally reported that the Associated Press reported on the letters but did not post them. They did in fact post some of the letters.
Before You Go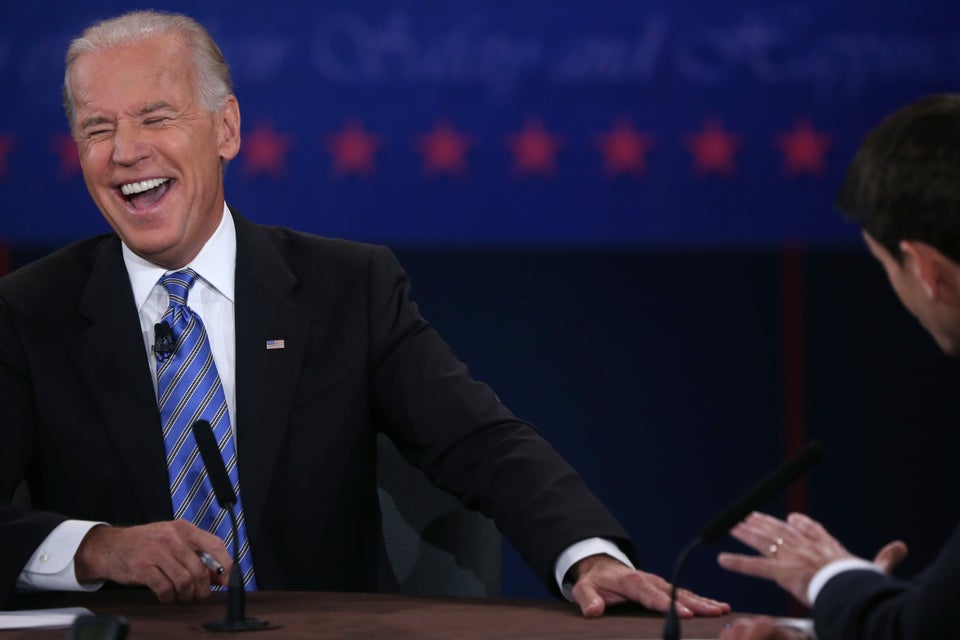 Joe Biden Makes Faces At VP Debate
Popular in the Community