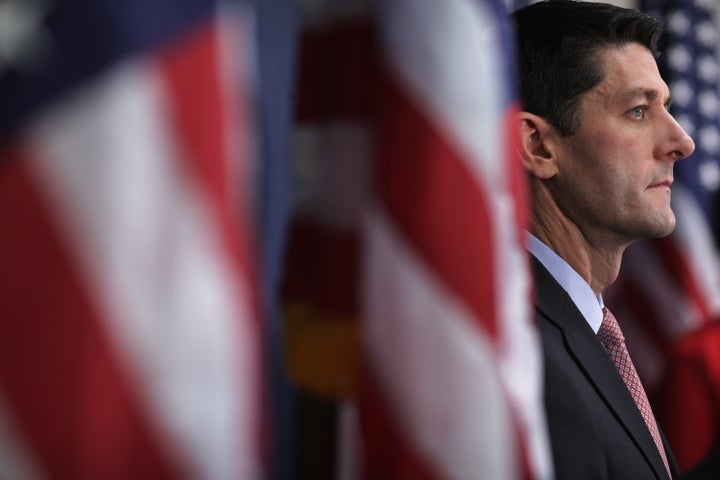 WASHINGTON -- House Speaker Paul Ryan (R-Wis.) told his Republican colleagues at a meeting on Tuesday that the chamber would look to move legislation this week to block Syrian refugees from coming to the U.S., attendees said.
Republicans have been discussing the idea of including provisions in an upcoming spending bill that would prevent the Obama administration from accepting Syrian refugees. Now, it appears Ryan wants to address the issue on his own as well.
It remains to be seen whether introducing separate legislation would come in addition to, or instead of, attaching a measure to the omnibus spending bill, which needs to pass by Dec. 11. Lawmakers coming out of Tuesday's weekly House GOP conference meeting seemed to think Congress couldn't block Syrian refugees "too many times," in the words of Rep. Ted Yoho (R-Fla.).
Another Florida Republican, Ron DeSantis, said he didn't think passing a separate bill this week would "preclude us from doing something, you know, later on going forward."
Many Republicans have called for a moratorium on accepting Syrian refugees -- and, in some cases, refugees in general -- after last week's terror attacks in Paris.
"This is a moment where it is better to be safe than to be sorry, so we think the prudent, the responsible thing is to take a pause in this particular aspect of this refugee program in order to verify that terrorists are not trying to infiltrate the refugee population," Ryan said at a press conference later on Tuesday.
Senate Majority Leader Mitch McConnell (R-Ky.) also called for a "pause."

"At the very least, it strikes me that we need a pause or moratorium because the American people are quite concerned and upset about the possibility of terrorists coming into our country through some type of refugee program," McConnell said at a separate press conference on Tuesday.
House GOP leadership has also created a task force to look at other responses, which will include chairs of the Homeland Security, Foreign Affairs, Armed Services, Intelligence, Appropriations and Judiciary Committees.
At Tuesday's meeting, Ryan called the Paris attacks "pure evil" and "an act of war," and said he was signing the annual defense authorization bill later that day so that it could be sent to the president. Ryan noted that the bill contains provisions that would require President Barack Obama to come up with a plan to defeat the Islamic State.
Members leaving the meeting said said the exact plan for votes this week and in the future has yet to be determined. But they agreed the House needs to do something.
"You would hope that kind of foreign policy decision is made by the White House," Rep. Mario Diaz-Balart (R-Fla.) told HuffPost. "But when you have a president who is so clueless, so over his head, so unable to recognize reality, unfortunately it looks like we're going to have to step in."
The president sets refugee admission figures each year, and in September announced plans to admit a total of 85,000 people by the end of fiscal year 2016, 10,000 of whom will be from Syria.
All refugees go through a vetting process that typically takes between 18 and 24 months. The United Nations Refugee Agency frequently screens applicants first as well. (Some Republicans, such as Rep. Tim Huelskamp of Kansas, have claimed that the U.N. is the only body vetting refugees. In fact, however, all refugees go through interviews, health tests and other security checks with the Department of Homeland Security and the State Department, with help from other government agencies.)
Homeland Security Secretary Jeh Johnson and FBI Director James Comey plan to visit the Capitol later Tuesday to brief House members on the Paris situation, and the discussion will likely include the security screening process for refugees.
Republicans argue that Syrians simply cannot be adequately vetted, and that admitting them will inevitably mean allowing in terrorists from the Islamic State. A Syrian passport was found near the remains of one of the Paris suicide bombers, who may have used the document to pose as a refugee.
Rep. Peter King (R-N.Y.) said the House had to do "whatever we have to do to stop the president from doing this ... Because he's just not telling the American people the truth."
"There's no vetting of the Syrian refugees," King added.
Members have introduced a slew of refugee-related bills in recent months. One piece of legislation that is reportedly under consideration, introduced by Rep. Richard Hudson (R-N.C.), would halt Syrian refugee resettlement until the administration affirmed to Congress that those being admitted were not a security threat. Hudson's bill would also mandate an audit of the screening process and require the FBI director to certify that background checks had been completed.
Other Republicans, including presidential candidate and Texas Sen. Ted Cruz, have called for the U.S. to accept only Christians from Syria, although some skeptics have raised questions about even going that far.
"How do you know?" Rep. Mo Brooks (R-Ala.) told HuffPost on Monday. "That's the first thing that comes to mind. Anyone who comes from a Middle Eastern country that has a significant population that supports actively or otherwise, al Qaeda, the Islamic State, or any other fundamental Muslim organization, there's no way to vet those people."
Brooks went on to emphasize that it was "impossible" to properly screen Syrian refugees.
"Anyone who says otherwise is flat-out lying to the American people," he said.
Democrats have firmly rejected the idea of halting the admission of Syrians. Obama said Monday that he has no plans to do so, although he stressed that people will be vetted.
Rep. Xavier Becerra (D-Calif.), chairman of the House Democratic Caucus, said at a press conference Tuesday that while he would support more rigorous screening measures, shutting the door entirely would be "an overreaction based on fear, and perhaps hate, and I wouldn't want to see that."
"To then say that some child or a mother should be denied refugee status after going through a rigorous process to qualify, who has proven that she fears death, torture, persecution would be such a sin on our American values," Becerra said at a press conference.
Senate Minority Leader Harry Reid (D-Nev.) didn't rule out congressional action on the vetting system Tuesday, but said he would wait on judgment until after a briefing with administration officials the following day.
"We also need to continue to make sure that the vetting process on refugees is as strong as possible and make it stronger if we can, and I think we can," Reid said at a press conference. "Congress has an important role to play, and our first task is to get all the facts."
UPDATE, 6:50 p.m. -- The task force determined a path forward in a meeting later Tuesday, according to an aide for House Majority Leader Kevin McCarthy (R-Calif.), who participated in the meeting along with several committee chairs. The aide told reporters the House will consider measures this week that would create "an effective pause" on refugee resettlement.
The House Republicans' plan would require officials at the Department of Homeland Security, the FBI and the director of National Intelligence to certify to Congress each month that each Syrian or Iraqi refugee admitted was not a threat to security. It would also require the FBI to certify that each refugee had received a background check before being admitted.
The final piece of the plan would instruct the inspector general of the Department of Homeland Security to review refugee resettlement and report to Congress on its findings each year.
The aide said the task force would continue its discussions.
House Homeland Security Chairman Michael McCaul (R-Texas) filed the bill Tuesday evening.
This story has been updated to include additional quotes from Ryan, as well as quotes from McConnell and Reid.
Michael McAuliff contributed reporting.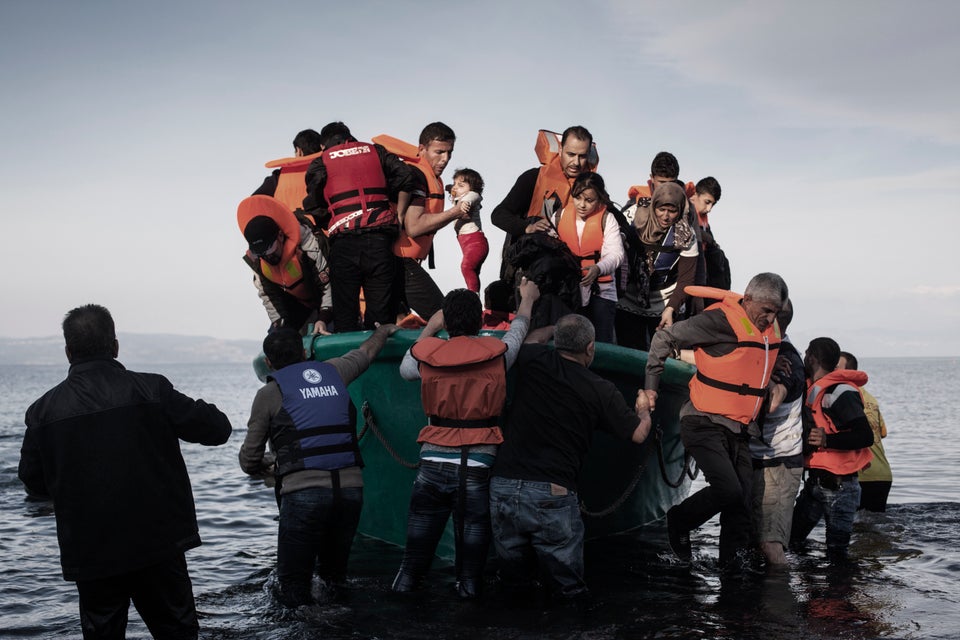 Images Show How Syrian Refugees Live And Why They Left
Popular in the Community