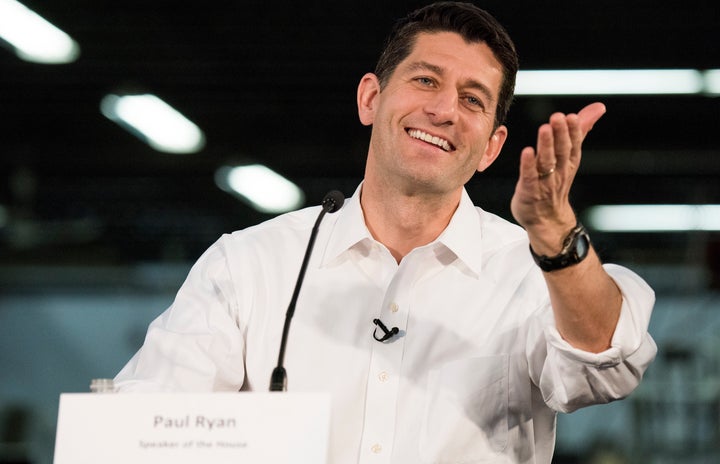 WASHINGTON ― House Speaker Paul Ryan once again found a way to defend, even praise, President Donald Trump and his questionable behavior, this time sticking up for Trump and his decision to fire FBI Director James Comey amid an investigation into possible Trump campaign collusion with Russia.
Almost exactly 24 hours after Comey's firing was announced, Ryan broke his silence during a friendly Fox News interview with Bret Baier, saying he saw no problem with Trump firing an FBI director who seemed to be increasingly interested in Trump campaign contacts with Russia.
"The president lost patience, and I think people in the Justice Department lost confidence in Director Comey himself," Ryan said, noting that Trump called him just before the news broke to let him know he had fired Comey.
"The truth is that James Comey, who is a worthwhile and dedicated public servant, I think he had just basically lost the confidence of a lot of Republicans and a lot of Democrats based on his conduct and his actions, and some of the comments that he had made," the Wisconsin Republican said. "And, most important, he lost the confidence of the president, and it is entirely within the president's role and authority to relieve him, and that's what he did."
Ryan added that it was important for the administration to move quickly with a replacement to avoid an FBI in disarray and that he didn't see any need for an independent investigation into Russian interference.
"I don't think that's a good idea," Ryan said of an independent investigation. "I think, first of all, we have three investigations going on. We have a House investigation by our Intelligence Committee, which is the appropriate committee to do that, I believe. And we have a Senate Intelligence Committee ― you just played [Senate Intelligence Committee Chairman] Richard Burr ― doing an investigation. And you have the FBI investigating all things Russia."
Burr, who is leading the Senate investigation, said Tuesday night that he was "troubled" by the timing and reasoning of Comey's firing and that the dismissal "further confuses an already difficult investigation by our committee."
The House investigation has been hampered by constant controversy, culminating in House Intelligence Chairman Devin Nunes (R-Calif.) recusing himself from the matter because of his contact with Trump officials.
Sen. John McCain (R-Ariz.) has repeatedly called for an independent investigation into Russian meddling with the U.S. presidential election, and other Republicans were coming out Tuesday and Wednesday in support of that idea.
But not Ryan. He argued, rather bizarrely, that the United States needed to be protective of its intelligence gathering secrets, as if a special investigation couldn't protect classified material.
"Don't forget that the methods and sources of intelligence gathering are also at play here," Ryan said, "and we have to be very sensitive that we don't compromise that information as well."
The speaker spent Wednesday touring a factory in Ohio and ignoring questions all day about the Comey matter, with his office referring reporters to his 6 p.m. Fox News interview.
But Ryan doesn't seem bothered by any of it.
"The president made a presidential decision and removed him," Ryan said.
Popular in the Community