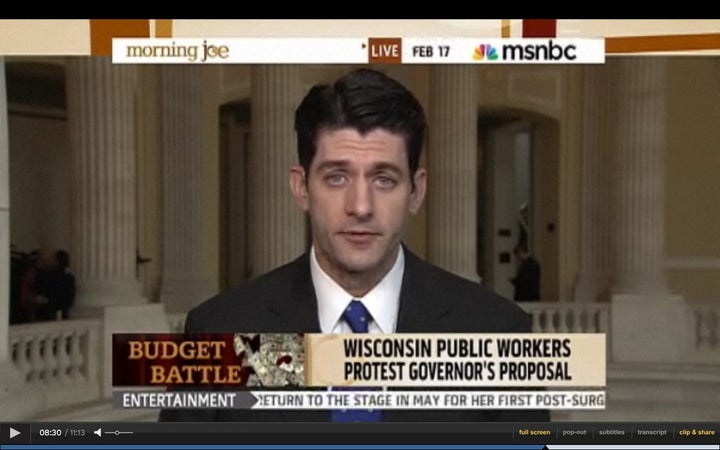 Rep. Paul Ryan (R-Wis.), chairman of the House Budget Committee, compared on Thursday the large, ongoing protests in his home state to those that took place in Egypt against former President Hosni Mubarak earlier this month, claiming that they're "like Cairo has moved to Madison these days."
HuffPost's Amanda Terkel reported on the controversial budget proposal by Wisconsin Gov. Scott Walker (R), which has triggered massive protests at the state's capitol building:
The proposal has caused many-thousands of demonstrators to flock to Wisconsin's state house and inside the halls of its capitol building in protest of what they characterize as an assault on state workers.
Ryan, however, claimed that the budget proposal is a necessary austerity measure and likened the clamor to a bigger, more violent, pro-Democracy one in Egypt.
"It's like Cairo has moved to Madison these days," Ryan claimed on MSNBC's "Morning Joe." "It's just, all of this demonstration. It's fine, people should be able to express their way, but we've got to get this deficit and debt under control in Madison, if we want to have a good business climate and job creation in Wisconsin."
Host Mika Brzezinski responded: "I think a few more people are gonna know who Congressman Paul Ryan is this morning."
Calling all HuffPost superfans!
Sign up for membership to become a founding member and help shape HuffPost's next chapter