 WASHINGTON -- When newly minted vice presidential candidate Paul Ryan entered Congress in 1999, he wasn't one of the richest lawmakers, with an average net worth of just $382,865. Ryan's limited -- by congressional standards -- wealth came from his involvement in two investment partnerships and his family's construction business. As of 2011, however, the presumptive Republican vice presidential nominee was worth an average of $4.9 million.
(See explanation for average net worth calculation below.)
The massive increase in Ryan's bottom line didn't come through exploiting his position for personal gain, the way in which most people think congressmen make money. Instead, he made his money the old fashioned way: he married into it.
In 2000, Ryan married Janna Little, a former congressional staffer turned Washington lobbyist who hails from a wealthy family of Oklahoma trial lawyers that is also related to the state's Boren political dynasty. Ryan's 2000 financial disclosure reflects the newlyweds' joining of assets. Ryan's average net worth increased from $345,007 to $1.186 million.
Despite a dip in their net worth in the two years after their marriage, the Ryans' value ran just below the $2 million mark until 2011, when Janna Ryan's mother, Prudence Little, passed away after a long battle with cancer. Janna Ryan received a one-third interest in the Prudence Little Living Trust, which the Ryans list as being worth between $1 million and $5 million. The trust is listed as a blind trust and was approved by the House Ethics Committee.
Ryan's average net worth was calculated by adding assets and subtracting liabilities listed in Ryan's annual financial disclosure forms, accessed at the website of the Center for Responsive Politics. Congressmen are required to file annual personal financial disclosure reports listing their assets, liabilities and financial transactions, including those of their spouse and dependent children. Since assets and liabilities are listed in dollar ranges, it is impossible to calculate a solid number for total net worth aside from an annual average.
Ryan's personal assets differ in type from those of his wife. Paul Ryan holds most of his wealth in stocks of Fortune 500 companies and a few funds. Janna Ryan's wealth -- aside from the Prudence Little Living Trust -- is held in a variety of investment funds, bank accounts and partial ownership of rights to oil, gravel, mining and timber interests.
Janna Ryan's interests in mineral rights include involvement in a partnership with Ava O Limited Company, Blondie & Brown, LLC and the Little Land Company, all located in Madill, Okla., and Red River Pine Limited Company. These assets make up a decent portion of the Ryans' net worth, as they are valued at a minimum of $350,005 and a maximum of $800,000.
Rep. Ryan owns stock through two partnerships, Ryan-Hutter Investment Partnership and Ryan Limited Partnership. According to Ryan's financial disclosure for 2011, these partnerships owned stock in big companies like Apple, Exxon Mobil, General Electric, IBM, Kraft, Nike, Phillip Morris, Starbucks and Whole Foods. His biggest stock holding is in Home Depot at a minimum of $100,001 and a maximum of $250,000.
Ryan's partnerships routinely trade stocks, although not as often as some members of Congress.
A series of trades of bank stocks at the height of the 2008 financial collapse raised suspicions that he might have traded based on inside information. The blog The Richmonder pointed to numerous trades of stock in banks tied to the financial crisis, including Goldman Sachs, JPMorgan Chase, Wachovia, Citigroup and Wells Fargo on September 18, the same day that Ryan and a select group of congressmen met with Treasury Secretary Hank Paulson, when they were informed that the entire global financial system could collapse within days.
These suspicions, however, are unfounded. The Paulson meeting took place at night after the markets had closed, meaning that the stock trades had been made prior to the dire warning delivered to Ryan and other congressmen.
Further, Ryan had been selling, buying and exchanging stocks far more than usual all year, and not just bank stocks. Some of these trades -- as noted by University of California, Berkeley, economics professor Brad DeLong in his refutation of the insider trading speculation -- were not the smartest trades, either.
DeLong examined Ryan's "part-time" trading strategy, determining that "his portfolio strategy underperforms the market by 2.5 percent/year."
The Romney campaign also told Talking Points Memo that the stocks were held as part of a Russell 1000 index fund that trades based on algorithms.
The Ryans' purchased a six-bedroom house in 2010 and took out a mortgage of between $100,001 and $250,000.
Before You Go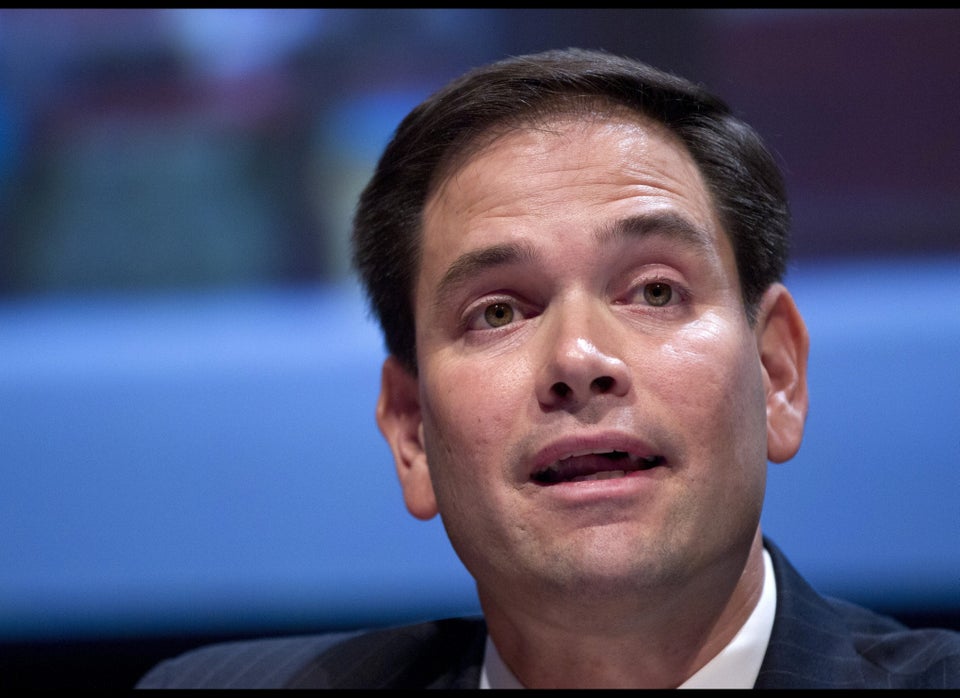 Political Reaction To Mitt's VP Pick
Popular in the Community