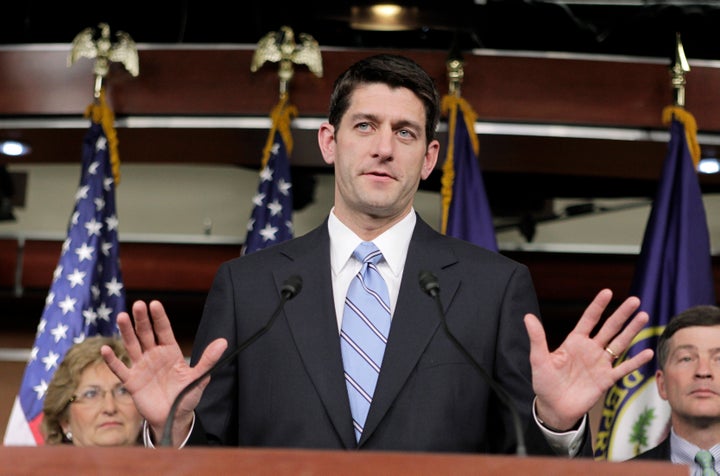 WASHINGTON -- The Republican Party's endorsement of sharply conservative prescriptions to fix ailing state and federal budgets is threatening to reunite the progressive movement and heal its disillusionment with the Democratic Party.

Over the past week, an informal coalition of non-government groups has plotted ways to make town halls increasingly uncomfortable for Republican lawmakers -- a coordination that is more advanced then previously reported.
The linchpin has been the 2012 budget proposal of Rep. Paul Ryan's (R-Wis.), which passed the House before the Easter recess.
A Huffington Post canvassing of advocacy groups finds some organizations have closely monitored the calendars of Republican congressmen -- especially House Budget Committee Chairman Ryan's -- and deployed attendees accordingly. Others have helped shepherd individuals to events and fed them talking points. Still others have dispatched cameras to catch particularly compelling exchanges or slip ups from GOP politicians.
Meanwhile, earned-media campaigns have been launched by both official and non-official Democratic Party organizations, and a centralized infrastructure is taking shape to help organize further publicity efforts.

Officials familiar with the push stress that it can't and shouldn't be described as "artificial" -- the charge that Democrats levied at Republican groups that spent heavily organizing Tea Parties against health insurance reform.
Indeed, much of the anger being directed at Republican lawmakers for their support of Ryan's spending plan comes from the grassroots, where the phrase "the Ryan budget" is verging on a rallying cry. The assist being provided from D.C.-based organizations is with an eye towards expanding the echo chamber.
Still, it's difficult to dismiss both the synchronicity and glee with which these groups have operated.

"I think the broader picture here is that there has been more cooperation across the organized progressive movement in the last three months than [anytime] since the 2004 election -- maybe the Social Security fight," said Justin Ruben, executive director of MoveOn.org.
"The unwritten story here is there is more energy and activity on the progressive side," he told HuffPost. "There is more happening now then probably since the Iraq war…. Lots of people who have never done anything before who are coming out."

Official Democratic Party representatives say their committees are nothing but spirits in solidarity with the town hall protesters.
The Democratic National Committee and Organizing for America -- still smarting from the backlash they incurred for getting involved in Wisconsin's budget fight -- have largely left current demonstrations to the demonstrators.
But not everyone is keeping their distance. The Democratic Congressional Campaign Committee (DCCC) has touted the disruptions at the town hall forums and, pivoting off those events, has been hammering the GOP's budget, launching a new web ad and the website Stop Benefit Cuts.

They've also chipped in with some organizational help: ensuring that people know where the events are and how to get there. Labor groups and progressive outfits have gladly filled in the gaps.
Americans United for Change, an Obama-allied group, has become the de-facto organizer of the movement. It has helped to cover various functions, including event responses. The group released a series of television ads on Monday targeting various House members. That followed a robocall with the same basic purpose.

The Center for American Progress, which also has close ties to the White House, has sent trackers to film various events. New Media Partners, a Democratic-oriented consulting firm, has pitched these same events to local and national reporters in search of more earned-media.
Service Employees International Union and Health Care for America Now (HCAN) -- two entities deeply invested in fighting Ryan's vision of Medicare reform –- have taken the lead on field operations. They've been backed by MoveOn.org, the American Federation of State, County and Municipal Employees, the Social Security Campaign, and other groups.
Even relatively new entities have gotten into the act: Protect Your Care, a pro-health-care reform organization launched just weeks ago, has been distributing talking points and general templates for letters to the editor and op-ed columns, all critical of Ryan's budget.

"A large number of progressive organizations are working together to help channel the growing anger over the Republican budget proposals," said Lauren Weiner, a spokeswoman for Americans United for Change. "This includes proactive press events highlighting our message in key target areas … as well as a growing presence at many Republican town meetings and paid media. Clearly, the more people know about the Republican budget plan, the angrier they get."

Added another party operative, with a bit more honesty and introspection: "It's a lot easier when progressive and party infrastructure are pushing same thing rather than different messages."

It is also, the operative admits, a lot easier when you're playing defense and not responsible for governing.
When President George W. Bush pushed for Social Security privatization in 2005, there was similar across-the-board organization by advocacy groups and campaign entities. Both now, as then, the primary impetus was that a number of stakeholders in the social safety net felt that their priorities were endangered.
The inspiration for a lot of this activity is Wisconsin, where the high-profile and locally generated battle against Republican Gov. Scott Walker sparked a dramatic, weeks-long showdown in the state capitol. In spite of public employees in the Badger State having lost the right to collectively bargain (if Walker's law survives court challenges), the progressive outrage the stand-off created has yet to subside.
"It's great that the national folks are interested, but this is happening here, on the ground," said Milwaukee County Democratic Party Chairman Sachin Chheda, noting that people in the state are so active that relatively few paid organizers are needed to focus their energy.
"Where normally you'd need 10 paid staffers to organize, we can do it with three," Chheda said. "It just doesn't take any effort to get 200 people somewhere," he said, adding that organizers had to move a recent rally three times, and still wound up with a crowd of 200 in a parking lot.
"We're expecting to be in non-stop election mode until November 2012 -- and we've never seen that before," Chheda said.
Democratic operatives are drawn to this energy like moths around the first campfire of the season. And they want to export it to other states.
"Right. Exactly," agreed one nationally focused Democratic operative.
"We're linking what's happening in Maine, and Wisconsin, and elsewhere with what's going on in Washington," said David Elliot, of USAction, which is linked to HCAN.
Most of it is pegged to Ryan and his budget. "If the Ryan proposal were to pass, it would be much, much worse for states," Elliot said.
His outfit is certainly aware of the town halls, and is paying attention to them, but they're not going to try to do what conservatives did two years ago.
"We're not working on the town-hall meetings like the Tea Party people did in August of 2009, but we are at most of them," Elliot said. "They're good at doing loud, and I just don't think that's the way we do things."
"We actually had more bodies at those town halls than they did, but they got the attention because of the anger," he said.
Still, Democrats wouldn't mind if a little anger on the left caught the attention of the press. And they're doing their part directly to gin some up with advertising.
Monday alone, The Alliance for Retired Americans began airing radio ads in Colorado, Missouri, and West Virginia for 7 days, http://bit.ly/h0ZHX1 and the DCCC launched robocalls, the first targeting Florida Rep. Allen West.
Whether or not it all adds up to an electoral swell for Democrats in 2012 remains to be seen.
Elise Foley contributed to this report.
Calling all HuffPost superfans!
Sign up for membership to become a founding member and help shape HuffPost's next chapter