Kingpin. Denver icon. Politco powerhouse. Capital Hill connoisseur. Tamale maker. Assorted titles and descriptions of Paul Sandoval's legend and influence chart the man's professional and personal oeuvre. However, Sandoval's most enduring and apropos legacy salutes the staunch and steadfast survivor. Even though he lost the battle to pancreatic cancer two years ago, family and supporters haven't surrendered the war against the virulent disease in his spirit, honor and memory.
On May 8, 2014, Colorado's political, academic and business leaders paid homage to the man and showed support for his final cause as they surrounded Sandoval's friends and family at the Denver's Brown Palace Hotel, combining a celebration with a fundraiser to benefit pancreatic cancer research at the University of Colorado's Cancer Center. Hosted by University of Colorado President Bruce Benson and energized through the recollections and remarks of Sandoval's widow Paula Sandoval and physician Dr. Colin Weeks, the evening served more as a testimonial to the late leader's personal rather than his professional resolve and support.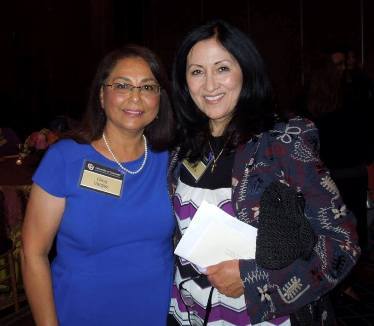 Long-time friends Gina Valdez and Paula Sandoval at the Brown Palace gathering in honor of Paul Sandoval.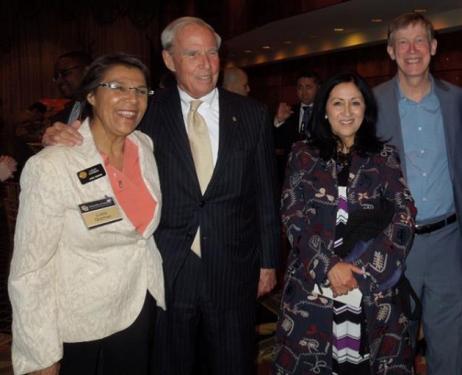 Colorado Senate Pro Tem Lucía Guzmán, University of Colorado President Bruce Benson, Paula Sandoval and Colorado Governor John Hickenlooper.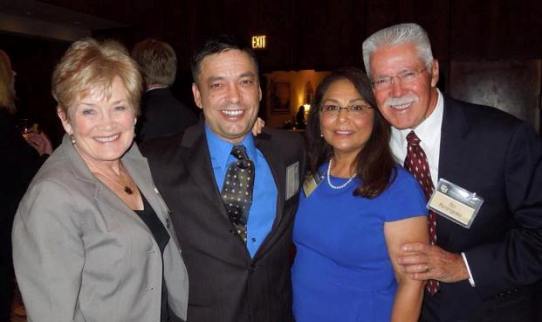 Pat Rodriguez, Wayne Trujillo (author of post), Gina Valdez and Bo Rodriguez at the Paul Sandoval event.
While history may spotlight the support Sandoval conferred on aspiring political leaders, the function highlighted the support and strength he extended to family and friends. Dr. Weeks spoke of Sandoval's pragmatic and honest attitude during the illness while Paula Sandoval, a former Colorado state senator and Denver city council member, recalled how her late husband decided against treatment outside the state to remain connected to family and friends. The unadorned, relaxed and, at times, emotional testimonials transported attendees from the Brown Palace's glamor and glitter to northwest Denver's cozy and casual La Casita, the family restaurant where the Sandoval name is renowned for tamales rather than political power. The political elite gathered throughout the room reminded that Sandoval's legacy rests upon more than just tamales and outstanding edibles (although some would argue that the food alone would support a legend). And the physicians in attendance reminded that Sandoval's crusade exceeded politics - and is far from finished.
REAL LIFE. REAL NEWS. REAL VOICES.
Help us tell more of the stories that matter from voices that too often remain unheard.