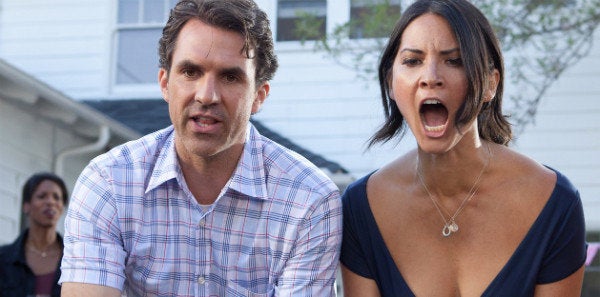 It's hard to imagine two more wildly different films than the lowbrow American comedy The Babymakers and the French art house drama Beloved. But their imminent release reveals that Paul Schneider is one of our most versatile actors. If it wasn't already obvious from All the Real Girls, The Assassination of Jesse James, Lars and the Real Girl and Bright Star that he is equally deft playing comedy or drama, just take a look at The Babymakers (August 3) and Beloved (August 17).
The former stars Schneider as Tommy, who has been trying strenuously to get his wife (Olivia Munn) pregnant. A visit to a fertility doctor reveals that his sperm is "confused," leading to often hilarious scenes at the sperm bank where he made supposedly effective donations years before. Jay Chandrasekhar (of the "Broken Lizard Comedy Team" known for Super Troopers) directed the comedy, based on a screenplay by Peter Gaulke and Gerry Swallow, and plays the hyperbolic thief enlisted to rob the sperm bank. Amid moments of implausible silliness, Schneider's perfectly timed reaction shots anchor and animate The Babymakers.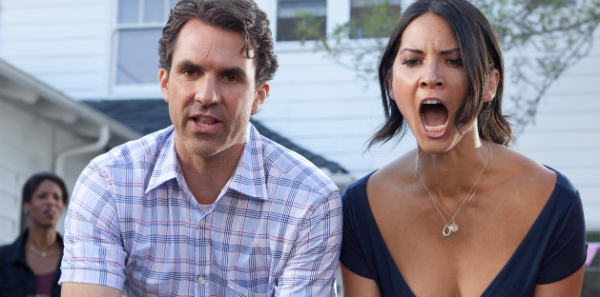 Credit: Millennium Entertainment
Schneider's sexuality in Christophe Honoré musical melodrama Beloved is more complicated. He plays Henderson, an American drummer in London who becomes the object of obsessive attraction for beautiful Vera (Chiara Mastroianni, whose real-life mother Catherine Deneuve also stars in Beloved). Despite sizzling eye contact when she first sees him onstage, he tells Vera he is gay. She nevertheless insists on becoming impregnated by him (the only plot link between Schneider's recent films), even if Henderson might be HIV-positive.

The idea of singing in this highbrow French ensemble piece (which was the Closing Night selection of the 2011 Cannes Film Festival) "didn't scare me at all," he recalled during an interview in Manhattan, "but speaking French did, especially for my huge monologue. Forget the acting: I had the only tiniest fingertip grip on the pronunciation." He credits Mastroianni with getting him through the challenge: she chose to remain on the set, at his side, to make sure he understood all the words.
Schneider was cast because the director had liked Lars and the Real Girl, where he played the impatient if well-meaning brother who doesn't know how to end Ryan Gosling's love affair with an inflatable doll. Similarly, Jane Campion was impressed by Schneider as the sharp, literate betrayer Liddil in The Assassination of Jesse James by the Coward Robert Ford, and cast him as John Keats' best friend, Mr. Brown, in Bright Star. Virtually unrecognizable as the poet's portly, British-accented, hirsute mentor, Schneider was so mesmerizing that the National Society of Film Critics named him Best Supporting Actor of 2009 (an award shared with Christoph Waltz in Tarantino's Inglourious Basterds).

Although he has worked with an array of acclaimed international filmmakers -- including Sam Mendes (Away We Go), Cameron Crowe (Elizabethtown), and Zhang Yimou (The Flowers of War) -- the 36-year-old Schneider said he doesn't always get what he hopes for from a director: "Give me actable directions, give me behavior! I've never had the experience of being totally unselfconscious and behavior-driven. Often, you're playing the cleaned-up, slightly better looking version of the director -- 25 percent slightly humiliating, 75 percent slightly self-aggrandizing. But they've given me things I didn't know I wanted. There's something to manipulating life, from a distance," he remarked about directing.

A graduate of the North Carolina School of the Arts, he has in fact directed a feature. Pretty Bird, a quirky comedy featuring Kristin Wiig, premiered at the 2008 Sundance Film Festival, starring Billy Crudup as a charming con artist who convinces an old buddy to invest in rocket vests. Realizing they need a real engineer, he finds the unemployed, volatile Paul Giamatti to put the materials together.
To the question of whether he will direct again, Schneider replied, "Absolutely." But he seemed more interested in talking as a cinephile than a cineaste, thoughtfully voicing his appreciation for a variety of movies. When he studied editing in college, one of his tasks was to clean the 70mm print of Lawrence of Arabia in the North Carolina school's archive. He cites this classic as one of his favorites, and adds To Kill a Mockingbird to a personal pantheon: "There is no warmer, heart-filled movie than this." After lauding The Great Escape, he shifts gears to a more contemporary and international frame by invoking A Separation from Iran as "one of the great films of the decade. The films I like have that foreign sensibility."
That he is the only American actor in Beloved as well as Zhang Yimou's Flowers of War -- China's entry for the Foreign-Language Film Oscar in 2011 -- fulfills his impulse. "After watching Kieslowski's Blue, I thought, 'I want to be the American in foreign films.' All of a sudden, that's been happening." But he remains inseparable from American indie features, an association that began with his UNC buddy David Gordon Green's first film, George Washington (2000). Whether he is understatedly romantic alongside Zooey Deschanel in All the Real Girls (which he co-wrote with Green), or playing a doofus in the smart dark comedy Live Free or Die, Schneider is reminiscent of a young Jack Lemmon (an actor for whom he expressed tremendous admiration).

"My blessing and curse in relation to movies is that I love all the disciplines," he mused. "I have books about architecture, music, painting, design... I'm a failed drummer. All I wanted to be was a musician. Now acting is the last stage of all these interests." Exhibiting self-deprecation rather than ego, his grasp of the totality of film-making led Schneider to invoke the Benedectine monks in appreciating "a symphony of equality that includes cinematic language, screenwriting, acting, editing, music, production design... No individual is more important than the group."
Annette Insdorf, Director of Undergraduate Film Studies at Columbia University, is the author of Philip Kaufman.
REAL LIFE. REAL NEWS. REAL VOICES.
Help us tell more of the stories that matter from voices that too often remain unheard.