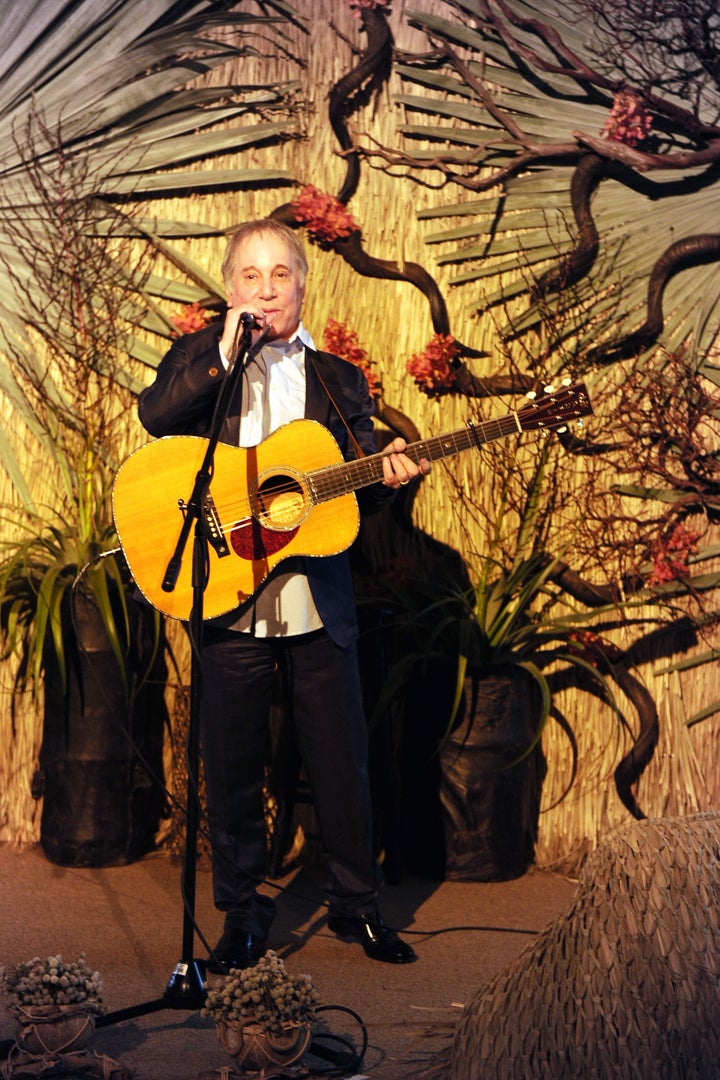 Dr. Richard Leakey is the first to admit that his friendship with Paul Simon is unlikely. "I really don't like music and he really doesn't like old bones," Leakey told the audience at last night's intimate fundraiser for the Turkana Basin Institute (T.B.I.), a non-profit organization dedicated to assembling a full fossil record of humanity's origins in Sub-Saharan Africa.
Still, the venerable paleontologist and conservationist -- who was introduced last night as "the man many believe responsible for saving the elephant population" of Kenya -- and the legendary folk-rock musician hit it off when the latter paid a visit to T.B.I. about four years ago. Simon's experience there inspired him to propose a benefit concert, which took place last night at the Highline Stages in Manhattan's Meatpacking District.
Real-estate developer Leonard Stern, philanthropist David Rockefeller Jr. and IMAX C.E.O. Richard Gelfond were among the 200 deep-pocketed guests on hand when Simon and veteran guitarist Mark Stewart took the stage for a stripped-down acoustic concert that bore no resemblance to the stereotypical phoned-in charity gig. The set was bookended by classics from Simon's days with Art Garfunkel -- "The Sounds of Silence" to begin, "The Boxer" to close -- and steered entirely clear of "Graceland," Simon's Grammy-winning collaboration with Ladysmith Black Mambazo and other black South African musicians. (That may be just as well, as it's hard to imagine what "Gumboots" or "Diamonds on the Soles of Her Shoes" would sound like on two acoustic guitars.) A medley that segued into "Mrs. Robinson," another Simon & Garfunkel favorite, prompted two rounds of applause -- one from hardcore fans who recognized the opening lyrics of the verse, and a second from everybody else when the chorus kicked in.
As a musician, Simon has aged gracefully indeed. His voice is in mint condition, his touch softer than ever. Charity audiences are notorious for yammering through concerts, but this audience was reverentially silent -- so much so that a fist fight nearly broke out following the performance when two guests accused a third of talking over the music.
Their irritation is understandable, given that the cost of entry was so high. The dinner alone raised $1 million -- a figure matched by Euclidean Capital president James H. Simons and his wife, Marilyn, bringing the total to $2 million. And that was before the auction, which brought in another six figures, as everything from a signed acoustic guitar ($19,000) to a painting by the Kenyan-born artist Wangechi Mutu ($42,000), to a nine-day Kenyan safari ($46,000), commanded eye-popping prices. Their generosity was spurred by the witty antics of auctioneer C.K. Swett, who told the crowd, "You'll never have an opportunity to advance scientific progress and drink so much at the same time."
In his speech, Leakey -- whose legs were amputated after a 1993 plane crash that some believe was orchestrated by his foes in the poaching underworld -- explained how the genetic record shows that all modern humans emerged from the Turkana Basin area 60,000 years ago. (There were humans elsewhere before then, but their lines appear to have died out.) He said T.B.I., which he co-founded with New York State's Stony Brook Institute, is working toward a "Eureka!" moment that will enable scientists to say, "This is where [human evolution] happened, this is how, this is why."
Which would be nice. Though it won't change the truth expressed in a verse Simon wrote for "The Boxer" that was left off the recorded version but surfaced again last night: "After changes upon changes, we are more or less the same. After changes, we are more or less the same."
For more information on the Turkana Basin Institute, including how to donate, visit turkanabasin.org.
Calling all HuffPost superfans!
Sign up for membership to become a founding member and help shape HuffPost's next chapter
BEFORE YOU GO
PHOTO GALLERY
Paul Simon Concert