 Underprivileged children suffer enough medical problems as it is, but PTSD? Even years of funding and observing health care for needy kids didn't prepare Paul Simon for that.
"We found something like 60 percent of the kids in Louisiana [as many as 20,000] were suffering from post-traumatic stress disorder after Katrina," said the Rock and Roll Hall of Fame musician, who recently spoke at length with The Huffington Post about children's health in the U.S. and the Children's Health Fund (CHF), the charity he co-founded with renowned child advocate and Columbia professor Dr. Irwin Redlener. PTSD was one of the "issues that we weren't even thinking of when we first started."
The duo created the CHF after touring a homeless shelter in Manhattan. The mandate of the charity is to bring mobile, pediatric care to neglected neighborhoods. It started in 1987 with one mobile clinic in Manhattan -- today they have 50 such units across the country, in 17 states and the nation's capital, and have enabled "more than 2.5 million medical encounters" to underserved children and families.
The CHF's milestone 25th anniversary will be celebrated in a benefit concert this week, on Thursday, Oct. 4, at Radio City Music Hall in New York, featuring Sting, James Taylor, Stevie Wonder, Amy Grant, Ruben Blades and many others, including, of course, Paul Simon. Read below to see his thoughts on Mitt Romney, Obamacare, and New York's soda ban.
HuffPost Impact: Can you tell us what it was you saw that day you first toured that hotel for homeless children 25 years ago, and what sparked the idea for the fund?
Paul Simon: There was a complete lack of medical attention -- medical opportunities -- available in the homeless shelters. And an answer to that problem was a mobile doctor's office. And so that's how we started. I bought the first unit. And we had five different places that we would stop each day of the week in Manhattan. That's how we started at first. Then when that [mobile] unit was busy all the time, I held a concert at Madison Square Garden [to raise funds for more]. There were a lot of people supporting it. I think James [Taylor] was there at that time, and he'll be at this one, too. And Springsteen was there, Black Mambazo played, Dion played. Billy Joel was there, Ruben Blades was there, I believe.
HPI: Sounds like a who's who of New York-area artists from the time.
Simon: It was all the people that I could think of from the New York area. Chaka Khan. So that bought the second [mobile] unit in New York. And then we went on to build a fixed site in the Bronx, which we've just expanded into a large, new building in the Bronx. So that's New York. And gradually, over the years, we now have 50 mobile units.
HPI: Have things changed in 25 years since you and Irwin initiated this effort?
Simon: In terms of health care for poor kids, unfortunately, not very much.
HPI: If nothing has changed in 25 years, what is your metric of success going forward?
Simon: Well, I would say nothing significant has changed in terms of the numbers. But in terms of our ability to treat patients and the sophistication of the tool that we use -- the mobile unit -- that's changed quite a bit. Working with hospitals -- the way things fit into cities -- that's changed, and become easier to accomplish because of the model that we started 25 years ago that's been refined and refined. So when we open a new unit, like say, in Detroit -- which we did about a year or so ago -- we know which hospital to connect with and how to get the specialist on board and what the unique issues are and what the health issues may be in Detroit. The way of gathering information -- that's increased. If I'm speaking to the issue of whether children's health in general is better -- I really couldn't tell you that. I can only tell you that the numbers are about the same. Maybe kids coming in are in better health, but still without a provider -- health care. And maybe with the new -- with Obama's health plan, I would think that we would start to see some improvement for poor kids.
HPI: How will the Affordable Care Act affect CHF?
Simon: I can't really tell you, because it's just about to be put into effect. So it's a little early to see. But I would think it would be a big help, in terms of the amount of funding for kids. We have a unit in Clarksdale, Mississippi, but it serves a lot of towns in the Mississippi Delta. It just doesn't stay in Clarksdale. But there are other places, along the Gulf Coast, after Katrina -- I think we had five units down there. And if i'm not mistaken, we still have five units that have stayed in the Gulf, since Katrina.
As it turns out, mobile clinics are very effective when disaster strikes. The first time we did that was Hurricane Andrew, down in Florida. And when a devastating natural catastrophe occurs -- it probably disables, or even knocks out hospitals, but it certainly [shuts down] small doctors' offices and clinics. They're just out of commission. Either electricity's gone, they can't refrigerate medicines, they can't get plumbing back, or their space is destroyed. It takes a longer time to get neighborhood clinics back up running -- if in fact you can get 'em back up running. You just couldn't even get 'em back up running in the 9th ward in New Orleans -- because it was just mostly destroyed. So the mobile units are effective in cases other than just for children where it serves a whole community.
HPI: What problems have you had to overcome, on a bureaucratic level, to get to where you are? Other than funding, what are the largest obstacles in your path?
Simon: The biggest problem is finding the right people to be there, and the right connection to the hospital, and that those people in the hospital are aware and there for us and want to be of help. That's not always the case -- you don't always get a match of people when that happens. Then the unit, it struggles to function right, and there have been a couple of instances over the years where we've had to close a program down.
HPI: You have 50 mobile units. Do you have full-time employees or contractors?
Simon: They're full-time employees and they're quite remarkable. Because they're paid, but they don't get paid anywhere near what they would make in the private sector, as doctors. And they sign contracts for a minimum of a year or two. So we know we can keep this unit functioning. But it's not volunteers. Because volunteers can come and they can say after six months, 'Well, I gotta go,' and then you're stuck. But we pay all our nurses and doctors.
HPI: Mitt Romney has suggested that those Americans without medical care can always rely on hospital emergency rooms. How do you react to that?
Simon: You know, of course you can go to an emergency room. But for most of the issues with children, they're not about an emergency -- they're about preventative medicine. You want to get to a child who might have some kind of hearing problem early on, so that it can be corrected, and you're not dealing with someone who has a loss of hearing for their whole life. Same with eye issues. Nobody's likely to go to an emergency room because they think their kid is not hearing particularly well. You go to an emergency room if you have an accident, and you break a bone or you get cut or you run a high fever or something like that. And even then, you're not getting pediatric care -- you're getting care from the emergency-room doctors, and you're waiting on line -- if you've ever been to an emergency room, and you've had to wait to be seen, you know how long it takes. Emergency rooms are really meant to be for an emergency. And one of the main things that the Children's Health Fund accomplishes is heading off emergencies. We're really trying to make sure that kids are healthy and go on to have healthy lives starting from a very early age, before there's any damage, and while the brain is still growing. The most important years -- those early years. To have a pediatrician keeping an eye on a child for those years. There's something that's an entirely different kind of medicine than having an emergency and going somewhere where that doctor is going to treat that particular issue. Just a different kind of medicine.
HPI: Yes. Do you have a message for Mitt Romney?
Simon: No, no, no. I'm sure -- you know, this issue of children's health is really apolitical. It's for the benefit of not just the children but the benefit of the country as a whole to have healthy, intelligent, smart kids who can reach their potential and not have that potential damaged or destroyed because of something that could have easily been rectified with pediatric care. And that -- to produce a generation of healthy people who will contribute to the country -- is really a big benefit to our country. And I don't think anybody would argue about that. You know, they may argue about how it could be funded, or something like that. That's a very important thing, and I try to stay apolitical with this -- because the kids, they're just kids. They're not Republicans, they're not Democrats, and obviously they don't vote. So you've got to look out for them. It's not really a political issue, about whether children should be cared for properly.
HPI: The 25th anniversary concert's lineup features a lot of paired performers -- Sting and Trudi Styler, James Taylor and his wife Caroline. Anything special or unusual about the performances that evening?
Simon: Well, it is unusual. We tried to find a little bit of different way about coming and performing, just to make the night have some element of surprise, and it certainly will, since I have no idea what Sting and Trudi will sound like doing a duet. I don't know what Stevie Wonder and his daughter [Aisha Morris] are going to sing. And I think that will be touching. I think Amy Grant -- and I think her daughter is also going to sing -- is going to perform with Vince Gill, and that's not something that happens too often. Edie -- my wife Edie -- is going to do some songs with Steve Martin, who she just made an album with. And we'll probably do a song together ourselves. And Tom Hanks is going to play with Rita Wilson. And play something on guitar -- I think he just learned the guitar for this. I don't think we'll see the usual performances.
HPI: Paul, you're a New Yorker. What do you think of the large-soda ban that Mayor Bloomberg has proposed? That sort of affects kids and health, as well.
Simon: Well, actually, I don't live in New York anymore, but I feel like a New Yorker. I think it's a good idea not to drink large quantities of soda. I don't particularly like the idea that it was a government law -- it doesn't make me comfortable -- but I understand where it's coming from, with the obesity problem that we all have -- or that the kids have. Still, it makes me uncomfortable that it's mandatory and not voluntary.
HPI: Where do you live now if you're not in New York?
Simon: I live in Connecticut. I'm still in New York -- I was just there, my office is in New York, I still have a place in New York -- but I've been in Connecticut for about 10 years.
HPI: I assume that you're still a Yankees fan, even though you're living in New England now?
Simon: Oh absolutely, that comes through the DNA. That's from my father -- that's how I first heard the Yankees. Sitting on his lap, as a six-year-old, listening to Yankee games.
Before You Go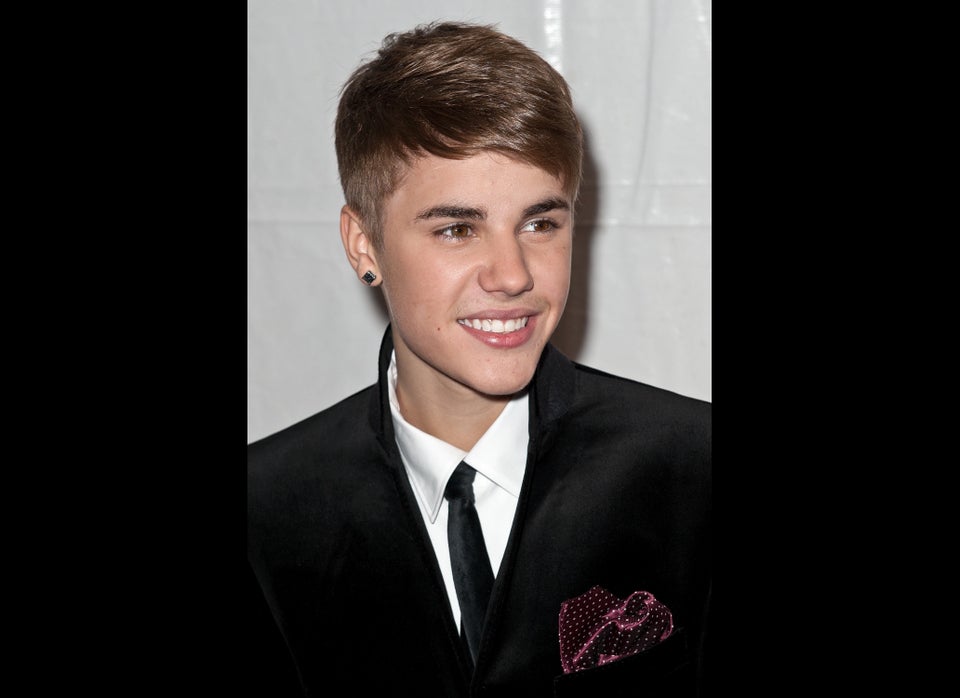 Most Charitable Celebs
Popular in the Community